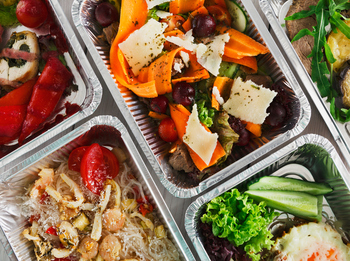 All Rights Reserved
When it comes to caring for senior loved ones, few responsibilities are as critical -- or as time-consuming -- as buying, preparing, and cooking nutritionally balanced meals.
"Providing nutritional meals for seniors is a huge issue on many different levels," says Lynette Whiteman, executive director of Caregiver Volunteers of Central Jersey, a nonprofit that helps the homebound elderly remain independent. "Not only are many home-bound seniors unable to get themselves to the grocery store, but some of them also have dietary restrictions or even problems chewing and swallowing. When we're younger we take it for granted that we just go to the store and get food, but for older people it can be a real struggle and something they worry about all the time."
Unfortunately, many older Americans are not getting the meals (or nutrition) they need. According to a 2015 National Public Radio report, "There are hundreds of thousands, maybe even a million seniors living in their own homes who are malnourished."
What's more, according to the nationwide food bank network Feeding America, about 2.9 million households with seniors age 65 and older experience "food insecurity," and more than 1.2 million households comprising seniors who live alone experience the same.
"Eating well is so important to seniors living at home and remaining independent, because eating poorly has so many downsides for general health, mobility, and overall quality of life," says Tim Murray, founder and president of Aware Senior Care, a North Carolina-based in-home care organization for seniors. "Not only is it challenging for older people to shop and prepare meals, but their motivation is also sometimes pretty low, because it's not always a lot of fun to make a meal for just one or two."
The good news is that it's 2017, and an increasing number of web-based businesses and non-profit organizations now offer meal delivery and food prep services for caregivers and their homebound loved ones. Here are a few of the most popular, highly rated options with a variety of offerings to fit your aging loved one's needs.
Ready-to-cook meal delivery services
It's one of the fastest growing segments of the on-demand economy—pre-assembled meal kits you order online which are then delivered to your door with pre-portioned ingredients and recipes for you to cook at home. And while many of these companies are primarily marketed to busy young professionals and harried working parents, they can also be fantastic options for caregivers of older adults.
1. Blue Apron
Leading the charge on nationwide ready-to-cook meal packages, Blue Apron's two-person plan costs $60 per week and comes with three recipes per delivery (which comes out to $9.99 per serving). Like most of these services, it's a little pricey, but the culinary options are diverse and highly rated by customers.
Learn more at blueapron.com
2. Hello Fresh
Caregivers can choose how many people they need to cook for (anywhere between two to four) and how many nights per week they want deliveries (anywhere between two to five). The classic plan starts at $9.99 per meal and includes eight different recipes comprising meat, fish, and seasonal produce.
Learn more at hellofresh.com
3. Chef'd
What sets this service apart is their emphasis on customizing meals to unique dietary needs, offering everything from vegetarian and gluten-free options to recipes evaluated and selected by registered dietitians to ensure they meet the American Diabetes Association's nutritional guidelines. Light meal servings start at $5.25 per serving.
Learn more at chefd.com
4. Green Chef
With a two-person meal plan delivered weekly for $10.49 per meal, Green Chef emphasizes organic-only, GMO-free ingredients and a wide range of dietary lifestyle options.
Learn more at greenchef.com
Prepared meal delivery services
Many family caregivers simply don't have the time to cook for their loved ones, but if that's you - don't sweat it. There are numerous options for meals that are already prepped and cooked for you. All you have to do is reheat and serve them up.
1. Silver Cuisine by bistroMD
This nationwide meal delivery service is specifically tailored to common culinary challenges facing older Americans, including weight gain, diabetes, and high blood pressure. There are a few plans to choose from—healthy heart, diabetes, low sodium, and gluten-free—and each snack or meal is priced between $5.95 and $17.95 and comes with consultations from registered dieticians and bistroMD founder Dr. Caroline Cederquist.
Learn more at bistromd.com
2. Magic Kitchen
In addition to traditional prepared meal options, Magic Kitchen prides itself on offering an entire menu specifically designed for seniors, with meals that are not only nutritionally balanced but also dynamic and interesting. Each meal comes with an entrée and one or two side dishes, and they can be purchased in seven-meal variety packs or individually.
Learn more at magickitchen.com
3. Personal Chef To Go
Offering delivery of prepared meals nationwide that follow the American Heart Association's guidelines for healthy living, this service starts at $70 for a five-meal sampler and offers a 16-meal plan for $175.
Learn more at personalcheftogo.com
4. Veestro
This service is unique in that all of its prepared meals and juices are entirely plant based, 100 percent organic, and preservative free, making it an ideal option for seniors with special dietary needs or allergies. Individual meals range between $5 and $11, and bulk meal orders average around $8 per meal.
Learn more at veestro.com
Deliveries from local grocery stores and non-profits
1. Grocery stores
Most grocery chains offer a service that lets you order everything online or over the phone and have it delivered to your doorstep the same day for a nominal fee. And even if home delivery isn't an option at your local grocery store, now there are numerous web-based services that will do the job of shopping for you, such as Shipt, Instacart and PeaPod.
Learn more at
2. Non-profits
Whiteman says senior caregivers should contact their local Area Agency on Aging, a nationwide network of more than 620 organizations servicing local elderly populations usually grouped by either county or municipality.
"There are many non profits around the country that offer local meal delivery and food prep services, and many times people don't even know they exist," says Whiteman. "If you're a caregiver and food delivery or prep is something you've been looking for, find their number and make the call. If you don't ask you could be missing out on some wonderful local options that are sometimes completely free."
Learn more by contacting your local Area Agency on Aging.