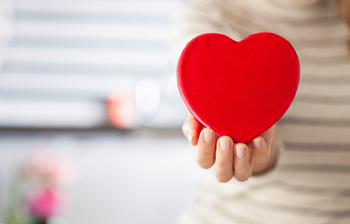 All Rights Reserved
Although February is the month when we celebrate love and the awareness of heart health, knowing more about the risk factors of heart disease--especially if you're a family caregiver -- is important all year round.
According to the Centers for Disease Control and Prevention (CDC), heart disease is the No. 1 killer of women in the U.S. -- twice as many women die from stroke or cardiovascular disease than from all cancers combined, including breast cancer. It's the cause of one in three deaths every year, with someone dying every minute due to heart disease.
However, unlike Alzheimer's disease, which has no cure and can't be prevented, 80 percent of heart problems can be avoided with the right lifestyle choices. While all women must pay attention to heart health, research shows that caregivers are at higher risk than others.
For instance, a study by the Commonwealth Fund found that caregivers have twice the risk of developing a chronic illness, based in part on prolonged stress, which can damage the arteries, leading to heart disease.
The role of stress
"From my perspective as a practicing cardiologist, stress is a huge, huge risk factor for heart disease," says Dr. Kavitha Chinnaiyan, a cardiologist at Beaumont Hospital in Royal Oak, Michigan and the author of The Heart of Wellness.
"If you are doing everything right, but you are stressed and anxious all the time, then your body is going to produce certain kinds of chemicals and hormones that will have the same effect on your heart as risk factors [like smoking, obesity, etc.]," she says. "If these hormones remain elevated they will wreak havoc on your body, changing your physiology and beginning a cascade of inflammation."
If you're experiencing fatigue, burnout, exhaustion and depression (which may manifest as a sleep disorder, malaise, crying or apathy, among other symptoms), you may be at the point where your stress level is unmanageable, says Dr. Suzanne Steinbaum, a preventive cardiologist from New York and author of Dr. Suzanne Steinbaum's Heart Book.
Both doctors agree that taking time for proper stress management is essential. "I cannot recommend meditation enough, as it helps change your perspective over time," says Chinnaiyan, who teaches this practice. "When you are centered and grounded and refreshed, you can see your loved one in a different light and you can give from a different place."
For her part, Steinbaum encourages caregivers to take care of the basics, like exercise, diet and sleep, and to seek emotional support from friends. "It's also important to be realistic about the health of the person being cared for, and to try to stay optimistic and positive through the struggle of illness," she adds.
Although an overly busy schedule can get in the way of "me time," it's nevertheless essential to take breaks, says Steinbaum. "You have to take the time and make the space and room to care for yourself -- without this, it will be impossible to care for anyone else." As Chinnaiyan points out, caregiving can go on for many years, so if you don't take time for yourself it compounds everything. "If you are running on empty you can't really give," she says.
Sadly, studies conducted by the National Alliance for Caregiving show that caregivers often turn to bad habits to cope with the stress. Choices like smoking, inactivity and an overreliance on fast food often result in weight gain and lowered energy levels, compromising your ability to care for your loved ones.
Go red in February -- and year-round
Steinbaum is also a national spokesperson for the American Heart Association's Go Red For Women, an initiative to raise heart health awareness among women. (Studies showed that only 55 percent of women realized that heart disease is their top killer, and less than half knew the healthy levels for blood pressure and cholesterol.)
The Go Red for Women website contains valuable tools, such as the Go Red Heart CheckUp and information about how to stay heart-healthy at any age. You'll also find important facts about the warning signs of a heart attack or stroke and how to be aware of the differences.
Tell 5 friends and follow these 5 heart health tips
The AHA also encourages women to talk to at least five friends about heart disease prevention. Take a minute to read this list of five things women over 50 can do toward this goal.
Know your family history. You have a greater risk of developing heart disease if a parent or grandparent had it. A 2011 study showed that a mother's stroke history can help predict her daughter's risk of heart attack or stroke.
Don't smoke. That means avoiding secondhand smoke too.
Drink in moderation. While too much alcohol adds calories to your diet, which can cause weight gain and increased blood pressure, having four ounces of red wine a day may not affect your risk, according to some physicians.
Eat a heart-healthy diet. Make sure you consume lots of fruits, vegetables, omega-3 fatty acids (found in foods such as wild-caught salmon and walnuts), and fiber-rich whole grains. Stick to less than 1,500 mg of sodium a day and avoid sugar-sweetened beverages.
Know your numbers. Do you know what your good (HDL) and bad (LDL) cholesterol numbers are and what they should be? How about your body mass index (BMI)? Are you getting at least 30 minutes of cardiovascular exercise per day? Do you have a waist measurement of 35 inches or less? If you don't know your numbers, find out today by checking the [https://www.niddk.nih.gov/health-information/communication-programs/win] Weight Control Information Network maintained by the U.S. Department of Health and Human Services and the National Institutes of Health. Learn what these numbers mean and how to maintain healthy scores.
It's often hard to find a balance between self-care and caregiving, but by taking control of your heart health, you'll increase your ability to continue to be the heart of your family.