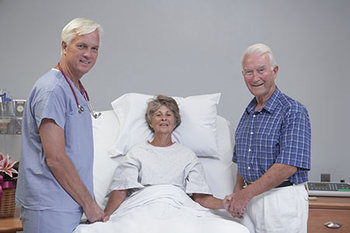 All Rights Reserved
Being hospitalized is stressful both for an older parent and for the family as a whole. Testing and treatments have become complicated, and often the hospitalist physician is unknown to the patient and family.
One of the biggest challenges we face is how to successfully transition a patient from the hospital to home. The goal is to prevent the patient from becoming sick again, soon after arriving home, and being readmitted to the hospital. In fact, this has become such an important problem that Medicare has changed its policy so that hospitals will not be paid for the readmission if it occurs within 30 days of the first admission and if the first admission was for heart failure, heart attack, or pneumonia.
Those who care for a loved one who has been hospitalized can help prevent a readmission.
As you prepare to bring your loved one home, here are some things to ask while your loved one is still in the hospital:
Become educated about your loved one's illness.
The more you educate yourself about the illness, the better you'll be at preventing another hospitalization.
What is our loved one's diagnosis?
Is this something new or a flare-up of a chronic problem?
What is the treatment plan while in the hospital and once at home?
How should we monitor our loved one (i.e., take blood pressure, check wound, etc.) and how often?
What should I expect in the coming weeks?
Learn about your loved one's medications.
Review all prescriptions with the medical team. It's helpful to bring in the medication bottles that were used prior to the hospitalization so that the medication names, doses, and dosing schedule can be reviewed. Sometimes patients get confused and take both their new and old medications. This can result in very serious side effects. You should have a new, updated medication list when you and your loved one leave the hospital.
Some things to ask the medical team are:
What medications and doses have changed or been stopped?
What are the new medications?
What are the possible side effects?
Is any blood work required to monitor the medications?
Ask the medical team to call in the medications before your loved one leaves the hospital. This will assure that the medications are available once you get home and that the cost will be covered by medical insurance. Sometimes a medication is ordered that is not covered, which results in delays in getting the medication. If a medication is not covered, an alternative can usually be found.
Don't delay administering medications once your loved one is home. A missed antibiotic or blood pressure medication (for example) can result in rehospitalization. It's important to have a good understanding of the medications, and of the processes necessary to ensure that medications are taken appropriately.
Know when to get help and whom to call.
What are the warning signs of our loved one getting sick again?
Whom do I contact for questions or call if our loved one develops worsening symptoms once he or she is home?
All patients discharged from the hospital should see a doctor within seven days of discharge. Having this appointment has proven to prevent readmissions. You may need to ask for it! Bring all medications and the discharge paperwork to the follow-up appointment with the doctor.