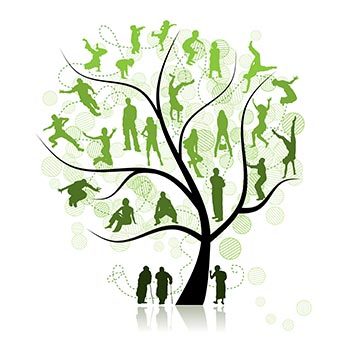 All Rights Reserved
Ever wondered where your family came from? Perhaps you've searched endlessly through courthouses, archives, and cemetery libraries to piece together facts about your ancestors. Ancestry.com's vast records help you find your family's story and build your very own family tree. Here, find out what our panel of family caregivers thought of Ancestry when they gave it a try.
What Is Ancestry.com?
Ancestry.com is the world's largest online resource for family history research. Instead of searching through numerous public records offline, you can scan through scads of data with a few clicks of your mouse.
Ancestry has been digitizing and indexing handwritten historical records since 1996. They've also developed an efficient and proprietary system to pore through the data, to help you explore and discover ancestors. Today they have more than 10 billion digitized records. Plus, Ancestry's 2 million subscribers are adding to the database by filling out family trees, scanning photos, and incorporating additional documentation.
Why Genealogy Is Interesting to Caregivers
Making a family tree is a great activity to share with an aging loved one. Tracing genealogy can give you a reason to reminisce and retell favorite family stories. A tool like Ancestry helps answer questions and piece together details that your loved one might not remember. And if your loved one suffers from memory loss, this kind of tool can help you fill in gaps.
One Caring.com member began a family tree years ago, seeking information about her relatives. "Unfortunately, by the time I asked for her help, my mom suffered from mild Alzheimer's," she said. "This product helped verify what she had accurate and supplied missing information for me to select from for use in my own family tree."
Another reviewer stated, "I shared what I was doing with my 92-year-old mother-in-law. It was very interesting to her, and as I continue to work on the site I think we will have many good conversations that will capture anecdotes and stories for my children, my grandchildren, and me. It's important to capture this information and also an affirming exercise for her."
What Caring.com Users Liked About Ancestry
It's easy to use. Most Caring.com members agreed that Ancestry.com was easy to use. "Graphics are good and you learn immediately whether there is additional information available on other people's trees or from public records," said one reviewer. "I was particularly impressed that I could view actual public documents like 1860 census lists. That's cool!"
The amount of information is impressive. Each Caring.com member who tried this product was impressed by the amount of digitized information available on Ancestry. "I remember hundreds of trips with my dad, traipsing through cemeteries in the heat of summer or sitting waiting for him to pull ancient documents at courthouses across the South," said one reviewer. "Working on my ex-husband's family for my children and grandchildren, I've not had to get up out of my chair, unless I want to refill my tea glass."
It sparks conversations. In a fast-paced age of change and technology, it's easy to pass time without having meaningful connections with relatives. By nature, this product harbors the perfect motivation to reach out to family members near and far. One Caring.com member said, "It's one thing just receiving names and putting them in a tree, but when a document pops up with specific information about when and where an older ancestor was, it allows you to elaborate more with older relatives and loved ones about their experiences. I really liked this product because it gives us a reason to talk about things we would never talk about and gives my family members the joy of reminiscing about family."
It helps find long-lost family members. Another Caring.com member said she was able to find information about her great-grandfather's brother that she'd never been able to verify before. "We knew he had a brother who came to New York City in the '30s, but no one knew anything about his life. Ancestry pulled up the original document with the names of the family members he entered with, including his correct birth date and country of origin to verify that he was the right person." This began a new quest to find living family members in New York City for her and her family.
It helps verify heritage. One member of our community used Ancestry to verify her family's Native American pedigree. "I can use this information, which verifies our Native American lineage, to seek grants for my son's college expenses."
What Caring.com Users Didn't Like About Ancestry
Instructions could be clearer. While members agreed that much of Ancestry is intuitive, "some vital instructions are omitted," said one reviewer. "There aren't too many words involved on the tree -- but there are several icons and graphics that catch your eye. For example, the green leaf, which is called a 'hint,' gently waves around on the family tree to indicate that there are relevant documents that can be explored." The lack of instructions may be frustrating for those who aren't comfortable poking around on a website to find what they're looking for.
Some of the data put in by other Ancestry users might be incorrect. Like a phone book, Ancestry has records of several people with the same name who lived during the same time. One reviewer explained a frustrating experience she had when a family member was misplaced on someone else's family tree because that person failed to investigate details:
"Some people haven't taken the time to verify certain information. I was looking at sources of information on my father's mother and someone had attached her to their family line, using an entirely different maiden name than the family into which she was born. Her first and middle names are not particularly common but are not entirely uncommon, and it happens that someone else with the same names was born at about the same time as my grandmother. This person just decided that because the first name and middle name matched, then she must be the right person. Sadly, she paid no attention to the fact that my grandmother was born in Texas and the person in their line with the same names was born in Virginia!"
You Should Try Ancestry if . . .
You have no living relatives to verify information about family history.

You're looking for a reason to connect with family members, or you're hoping to find more family members you didn't know about.

You're pretty good with computers and are comfortable trying out new software.

You're detail-oriented.
How to Try Ancestry
You can start exploring your family tree at www.ancestry.com. Memberships range between $12.95 per month billed annually to $22.95 per month billed in monthly payments for a Discovery Membership. World Explorer Membership and Gift Memberships are also available online or via phone by calling (800) ANCESTRY ([800] 262-3787) seven days a week, 10 a.m. to 10 p.m. ET.