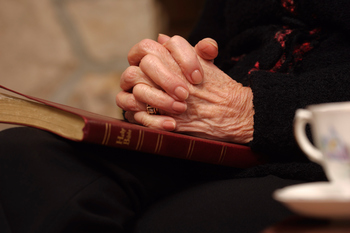 All Rights Reserved
More than a million people in the U.S. over 65 live in a senior care facility, and that number is only expected to rise in the coming decades. In fact, the Small Business Development Center predicts it will double by 2030. If you or an aging loved one is among that group, chances are you're considering an assisted living facility.
Given the cost of assisted living, most of which is paid out of pocket, and the possibility that your loved one could live and build a community at an assisted living facilities for years, it's wise to take your time to find the right one.
Christian living facilities are an option for people who are Christian or who find a Christian approach to care appealing. But, there are no universal standards for what to expect from a Christian assisted living facility, so we put together a few questions to ask as you research different communities.
1. What is the history of your facility?
The story of the assisted living community will let you know a lot about the community's philosophy, as well as which Christian denomination they primarily affiliate with. "From the beginning we've existed to help people at the end of life to have the best quality of life they can," says Lindsay Morris, marketing coordinator for Saint Simeon's Senior Community in Tulsa, Okla. The non-profit, long-term care community was established as a mission of the Episcopal Diocese of Oklahoma at a time when there were few such facilities in Tulsa, explains Morris.
2. Do you have a chaplain on staff?
If not, how are pastoral care duties coordinated? "The advantage to having a chaplain on staff is that anyone who has an emotional or spiritual need, whether they are a resident or staff, has someone they can get wise counsel from," says Morris. St. Simeon's has a chaplain on staff who is available as needed, and attends residents on their deathbed at any hour, she says.
3. What kind of religious instruction or activities do you offer?
Each assisted living facility provides different opportunities. Saint Simeon's, for example, provides over 500 general, social, and recreational activities per month, says Morris, including regular Bible studies, chapel services, hymn signing and more. Take a look at a community's activities calendar to find out what is offered.
Think about the ways in which your loved one has been active in his or her faith community and look for similar activities, or ask whether the community can start organizing a particular activity. For example, people who have enjoyed knitting, quilting, or sewing faith groups might look for similar groups in an assisted living facility.
4. How do you provide pastoral care to people as their health changes?
You might want to ask about the faith offerings available to your loved one depending on their health status. For example, are Bible studies and hymn singing offered in the memory care unit? How will people with limited mobility be able to get to and from a chapel service or Bible study?
5. How are different denominations accommodated?
If your loved one belongs to a Christian denomination other than the facility's primary denomination, ask about options for other pastoral staff to visit. For example, Saint Simeon's is an Episcopalian-affiliated facility, but pastors and priests from other denominations also conduct religious services on campus according to a set schedule.
6. What is the continuum of care?
Morris emphasizes taking into account not just your loved one's current health and emotional needs, but what he or she may need in five years. Find out what arrangements the facility makes when a resident needs more intensive daily medical or memory care.
7. How are food and drink preferences handled?
Take a look at the assisted living community's menu and ask about any dietary requirements or preferences your loved one has. Also, if alcohol is a concern, ask whether it is allowed or served. Some Christian assisted living facilities host Happy Hour gatherings with alcohol.
"We want the residents to continue practicing their faith as they did before they came to live here," says Morris. She points out that for residents of Saint Simeon's, the faith community and traditions they have lived with all their lives can provide great comfort, even if they're experiencing changes in memory and cognition.
"People with memory and cognition problems still enjoy and can recall the old hymns they have been singing their whole life," she says. That commitment to supporting an individual's faith journey even as their health changes with age may exemplify the qualities you're seeking in a Christian assisted living facility.