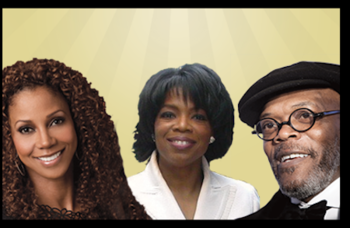 All Rights Reserved
Role models are often thought of as essential for children or young adults. But having someone to look up to is important at any age, especially when you're embarking on new or demanding tasks such as caregiving. Here are some words of wisdom from public figures that may help you along the caregiving journey.
1. It's OK to Laugh
Of course it's hard to make light of the challenges that come with caregiving, but allowing oneself to see the humor amid the trials can provide a needed way to de-stress.
At a celebrity-hosted fund-raiser for the Alzheimer's Association called "Hilarity for Charity," actor Samuel L. Jackson, who lost his mother to Alzheimer's in 2012, acknowledged the hardship involved in watching older parents lose themselves to dementia. "Alzheimer's is a cause close to my heart, and one I care deeply about," he told attendees.
Jackson also took time to share the humor that can arise in the everyday moments shared with those we care for. He recounted how whenever his mother and aunt would stay with him, they would hide their purses from his maid, thinking she was a stranger. Later, chaos would ensue as they tried to find their purses, having forgotten where they hid them.
"It's a pretty devastating disease," Jackson said, "but [those who have it] can also be very funny."
2. Accept the Hard Decisions
Tough decisions arise while caring for an aging parent, and the emotions that surface can linger for years. But decision making is a necessary part of the caregiver role.
Actress Holly Robinson Peete, married to NFL star Rodney Peete, has, like 7 million other Americans, juggled long-distance caregiving for a parent with working in her career and raising children.
When it became clear that Robinson Peete's father required 24-hour care, she and her brother made the decision to move him to a care facility. "The day we moved my dad into the facility was the worst day of my life," she says. "To this day, since my father passed away, I still feel a tremendous amount of guilt. That I wasn't there, that it didn't happen on my watch."
While the pain stays with her, time has also allowed Robinson Peete to be more accepting of the decision. "The guilt has never really gone away, but I don't hold myself accountable anymore -- it was a hard choice, but really the only choice," she says.
"It's important for people to understand that you have to move on with your life."
3. Let the Sun Shine In
Remembering good memories and taking in happy moments while caregiving can be as important as allowing oneself to feel grief and anger along the way. These positive reflections can help balance out the trying times.
Oprah Winfrey hosted a Q&A with contemporary thought leader Panache Desai on her series Super Soul Sunday. At one point Desai gives advice to a woman struggling as the primary caregiver to her failing mother: Part of getting through the process is surrendering oneself to the taxing emotion that comes with the experience.
While Winfrey recognizes the truth in his words, she also offers, "Could we learn as much from the joyful times? It seems like you've got to get hit over the head with a hammer in order to get 'the lesson' or to get the experience that's going take you to the next level."
Understanding what a remarkable role caregivers across the country play, Oprah.com devotes an entire portion of its website to caregiving resources. One article that focuses on taking care of oneself includes more of this positive-focused energy, including such tips as "rewriting your worst days as Saturday Night Live skits."
"I want to say, can't I just learn from the joyous times?" Winfrey points out.
---
Sources
1. "Seth Rogen Raises $400,000-plus for Alzheimer's at Star-Packed Event." The Hollywood Reporter. http://www.hollywoodreporter.com/news/seth-rogen-raises-400000-alzheimers-447214. Accessed January 22, 2014.
2. "Samuel L. Jackson Will Host the Fifth Annual Shooting Star Gala to Benefit the Alzheimer's Association." Social Work Helper. http://www.socialworkhelper.com/2013/05/23/sam-l-jackson-shooting-stars/. Accessed January 22, 2014.
3. "So Far Away: Twenty Questions and Answers About Long-Distance Caregiving." National Institute on Aging, National Institutes for Health, U.S. Department of Health and Human Services. http://www.nia.nih.gov/health/publication/so-far-away-twenty-questions-and-answers-about-long-distance-caregiving/getting. Accessed January 22, 2014.
4. A Cast of Caregivers: Celebrity Stories to Help You Prepare to Care. Sherri Snelling. Balboa Press, Bloomington, IN. 2013.
5. "Holly Robinson Peete Talks About Caregiving." Thirdage.com: Health for Boomers and Beyond. http://www.thirdage.com/caregiving/holly-robinson-peete-caregiver. Accessed January 22, 2014.
6. "Q&A with Panache Desai: How to Care for an Elderly Parent and Stay Present -- Super Soul Sunday." Oprah Winfrey Network, YouTube.com. https://www.youtube.com/watch?v=uMDOPboxLOY. Accessed January 22, 2014.
7. "Connected Caregivers: A Network of Resources to Help You Stay Strong and Supported." Oprah.com. http://www.oprah.com/packages/aarp-caregiving.html. Accessed January 22, 2014.