When a Parent Moves In: How to Get Your House Ready
By
Mard Naman
, Caring.com senior contributing editor
100% helpful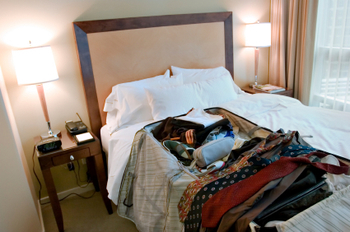 Preparing for your parent or other older adult's arrival
If you've decided to move your parent, or another family member into your home, it's time to think about the specifics. Start big -- where will she sleep, how will she get around -- then tackle the details of making your home a comfortable and safe place for her to spend her time.
Just as you'd babyproof to make your home safer for young children, it's a smart move to "elder-proof" your house to make it safer for an aging adult. Not only can taking these steps prevent nasty accidents, it will also make life a lot easier and more comfortable for her.
Initial changes Some fixes are easy and inexpensive -- grab bars in the bathroom and nonslip mats under throw rugs, for example. If she's less mobile and your home has stairs, you may decide to put in a more expensive ramp or stair-lift. And all sorts of devices -- from easy-opening door handles to walk-in bathtubs -- are available to make her life in your home much more manageable.
Ground rules If you live on one level, you're in luck. For older adults, a one-story home is ideal. If your home has more than one story, it's easiest and safest if her bedroom and bathroom are on the first floor, along with the kitchen, so she won't have to negotiate stairs.
Getting around It's also preferable to have no steps or raised thresholds between one room and the next. These potential falling hazards create barriers that can be difficult to negotiate for someone who's frail.