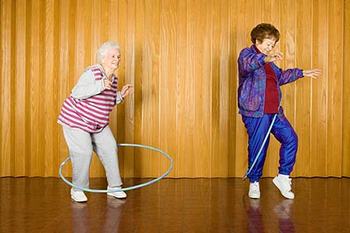 All Rights Reserved
Ilene Greenberg of Chestnut Hill, Massachusetts, has four close friends from high school who live in Connecticut, New Jersey, Massachusetts, and New York. Two are in first-time marriages, one has never married, and there's a remarriage and a same-sex marriage.
The women, all 61, have decided that if they find themselves alone later in life, they want to live in the same apartment building in New York City. "It's reassuring to know that I am never going to be alone and that we'll watch out for one another as we age," says Greenberg. She's hearing other boomers talking about wanting to rent or buy next door to their friends, too, in the future.
Senior Housing Option #1: Home Sharing
For now, the most popular "kid" on the housing block is called "home sharing." Here's the idea: You rent out a room or rooms in your house, let's say, or live at someone else's and share common areas. Or you might move into a place new to everyone, renting or buying, or even purchase a share of an owner's home. Whatever the arrangement, it's a way to significantly shave living expenses, have companionship, and perhaps feel safer. Home-matching services are springing up to meet the demand.
Senior Housing Option #2: Cohousing
Members typically buy a townhouse or condo in a community and share some outdoor and inside space. (A few communities allow rentals.) Residents shape the community and make all decisions by consensus. The majority of the 150 or so cohousing projects nationwide are multigenerational, although a handful are age 50+ (referred to as "elder" or "senior cohousing" ).
Whether they include all ages or just a certain age, every cohousing project has a common house with a kitchen -- you can prepare and eat a meal or two a week with other residents if you choose -- a living room for meetings or hanging out, a bedroom or two for guests or a future caregiver, and whatever else the community wants, from a dance or yoga studio to a teen room.
Suzanne Marriott, 72, had been married for twenty-eight years and lived in a four-bedroom house. But after her husband died, she felt lost. "There was a huge gap and I needed to find meaning in my life," says the former high school teacher. She heard about cohousing, went online, and found Wolf Creek Lodge, a project in Grass Valley, California, still in the planning stages. "It sounded like a stimulating and fun way to live with people who were caring and supportive," says Marriott. She also liked the ecological aspect of sharing resources.
Marriott worked with other members for six years, finally moving into her one-bedroom condo last October. "I have privacy when I need it, but community at my doorstep," she says. Living communally has come in handy. When she had a hip replacement, neighbors took her to the hospital, visited, and brought her home from rehab. Marriott rallied the troops when another member was having chemo. And she recently returned from a Baltic cruise with two women who also live at Wolf Creek Lodge.
Marriott paid $285,000 for her condo (that included construction costs for the whole building and the common house) and now pays $380 per month to cover heat, gardening, and homeowner's insurance. Cohousing homes generally run $200,000 to $600,000.
To explore cohousing, go to nationalsharedhousing.org/ or www.cohouseholding.org.
Senior Housing Option #3: Niche Communities
These are for retirement-age (whatever that is!) people who share the same interests or lifestyle. For instance, it might be a university-based retirement community (UBRC) on or near a college campus where you can take courses. Or LGBT housing for older adults. Or, really, any affinity group. There's a nudist community in Florida; who knows, dog lovers, techies, or country music fans may decide they want to live together.
If you're an age 62+ wannabe or former actor, writer, musician, or artist, you might attach your star to one of three senior arts rental communities in Southern California. Sylvia Blackwell moved into the NoHo Senior Arts Colony in Los Angeles last February. The 85-year-old takes a creative writing course and has already penned a memoir. If the muse strikes, she might also head over to NoHo's visual arts or digital arts studios. A gleaming theater onsite houses a professional acting company, with performances open to the public. Blackwell loves being surrounded by screenwriters, actors, and other creative types. "I have a new life," says the widow. "It's nice to make new friendships at my age."
Senior Housing Option #4: Multigenerational Living
How about Mom, Dad, and maybe those adult children under the same roof with you? Oh, and maybe the grandkids!
U.S. Census Bureau data puts the number of Americans in this arrangement at around 57 million. That reflects a 10.5 percent hike in multigenerational living from 2007 to 2009. A couple of good reasons: Pooled finances go further, and don't forget the built-in babysitters and eldercare help. There's another: the frighteningly high costs of long-term care that can run $81,000 to $92,000 annually for a nursing home, and more than $42,000 for assisted living.
People from some cultures, especially Asians, African-Americans, and Latinos, are more accustomed to group family living than are non-Hispanic whites. According to a survey by national homebuilder PulteGroup, 32 percent of adult children say they expect to share their home someday with a parent.
Developers are taking note. In 2011, the Lennar Corporation unveiled NextGen, a model that's like two homes in one. Each home has its own kitchen, living room, entrance, and garage, but the dwellings are attached by an interior door that can be kept open or closed. The idea is that an older parent or in-law (or a surly teen) can live in the smaller space, the adult child's family in the other. The multigen model, priced from $200,000 to more than $1,000,000, is now in 15 states and 200 communities.
Emily and Eddie Wiseman of Jacksonville, Florida, spent two years looking for a place where they and their two kids could live with Emily's mother, Marie Small. "We had a unique need," says Eddie. Nothing they saw felt spacious or private enough until their realtor suggested a NextGen home.
They moved in last September. The Wisemans have four bedrooms on their side, including an office for Eddie, an architect. In her house, Small has a kitchen, living room, bedroom, and bathroom. "I think the setup is great," says Small. "It gets me close to my family, and yet my house is completely separate from theirs. It gives me privacy and them privacy." The Wisemans no longer worry about her. When Small lived alone in South Carolina, "we were calling all the time," says Emily.
Eddie hopes he never moves. When he and his wife are much older, they could move into Small's space and have one of their children and their family move into the other. Or a newly married child might take the smaller place. He knows if Plan A doesn't work out, he can always rent out the one-bedroom house.
Senior Housing Option #5: The Village Model
Don't want to leave your home or community? Think "villages," formed around neighborhoods and geographic areas.
You join one (on average $400 per year for an individual, $650 for a household) and stay put with the support of volunteers (many of whom are members) and vetted, often discounted, service providers. Simply call one central number for requests or recommendations. Need a carpenter? A dog walker? A healthcare agency? What about a ride to the movies or the doctor's? Villages also offer rich opportunities to get out of the house and socialize at interesting events.
Jim Mayfield, 80, call his membership in Capital City Village in Austin, Texas, a "godsend." Because of glaucoma, he no longer drives. Volunteers take him wherever he wants three times a week (the grocery store is high on his list, as are monthly outings with his veterans group). His membership is just $200 a year on a sliding scale. "When you're alone and want to maintain your independence and don't have a lot of money, you can't afford $20/hour for someone to come over and help," says Mayfield, who moved in 2000 from New York to Texas. He's planning on leaning on his village after an impending eye operation.
So far, there are 144 villages -- the first, Beacon Hill Village in Boston, began in 2002; another 115 are in the works in urban, suburban, and rural areas. See if there's one near you at www.vtvnetwork.org.