Gold Choice Deltona
Offers Assisted Living
2306 North Normandy Blvd., Deltona, FL 32725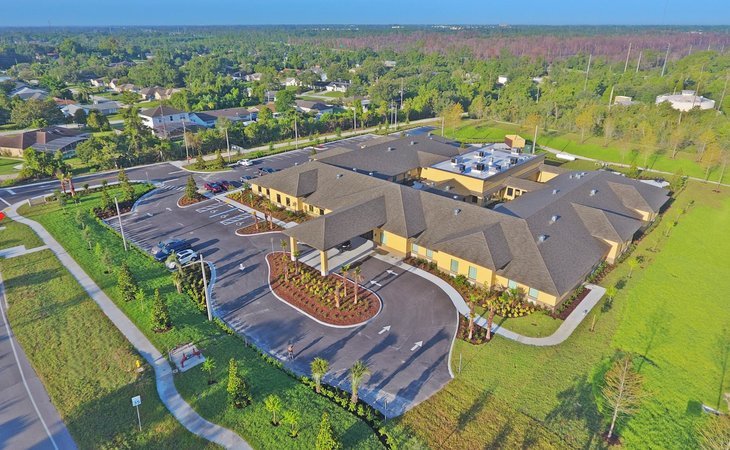 ---
Questions about Gold Choice Deltona
What programs or activities does Gold Choice Deltona offer to enrich residents' well-being?
Full activities calendar - live entertainment, outings, special events, coffee hours
What transportation services does Gold Choice Deltona offer to assisted living residents?
Arranged transportation available through front desk.
What safety features or security measures does Gold Choice Deltona offer to assisted living residents?
Call bells available in all rooms. Memory care unit is separate and secured, including outdoor courtyards.
If Gold Choice Deltona accepts dogs or cats, what indoor/outdoor areas can they enjoy?
Dogs and cats allowed for extra fee. Outdoor courtyards available to all residents. Assistance with pets available upon request.
What safety features or security measures does Gold Choice Deltona provide to protect residents who wander?
All staff trained in elopement procedures. Residents are assessed as needed for changes in behavior and increase in cares needs. Memory care residents reside in a separate secured unit that is monitored 24/7. All memory care courtyards are fully enclosed without exterior access, allowing memory care residents to enjoy the outdoors without wandering.
---
Costs for Gold Choice Deltona
---
Services and Amenities of Gold Choice Deltona
Room and housing options
Companion Suites:

We Do Offer Companion Suites

Studio Apartments
Housing Extra:

Detached Homes
Costs
Assisted Living Starting At:

$2600/month
---
About Gold Choice Deltona
Gold Choice Senior Communities in Central Florida is dedicated to bringing you and your loved one's quality assisted care at affordable rates. Our focus is on providing independence and commitment is to your DIGNITY - COMFORT- VALUE. Experience what we can do for you!
Affordable Assisted Living & Memory Care Services
Currently we offer Affordable Assisted Living and Memory Care Services in Ormond Beach with easy access from Daytona Beach, Holly Hill, Port Orange, Flagler Palm Coast, Deland, and Deltona. Gold Choice Senior Communities plans to open 2 additional affordable care facilities with all private rooms in Palm Coast and Deltona by 2016.
AFFORDABLE ASSISTED LIVING
Assisted Living is a great and affordable option if you or your loved one experience difficulty managing day-to-day activities. Gold Choice Senior Communities is built around seniors wanting active, independent lifestyles while still getting a little help and relief with daily tasks like meals, self-care, and housekeeping. We like to say we offer HOMEMADE CARE – independence when you want it with the comfort and security that comes with care and support when you need it. With a full range of care levels, you or your loved one is able to stay with us as need increase.
AFFORDABLE MEMORY CARE
Our Affordable Memory Care suites are perfect for loved ones experiencing Alzheimer or Dementia -related challenges. Our Memory Care unit is specially designed for living spaces and supportive environments that assist our residents with cognitive challenges. We have taken every detail into account to make your loved one as comfortable as possible. Special life enrichment areas are set up to allow memory care residents to enjoy their favorite past times like gardening, kitchen work, and other life skills. 24-hour a day staff ensures that your loved one is cared for and looked after every hour of the day.
SHORT - TERM CARE & RESPITE STAYS
Respite and short term care is a great choice if:
You aren't sure assisted living is for you just yet, but want to try it out.
You are a caretaker in need of a short break.
We applaud our families committed to providing personal care for their aging loved ones. We are pleased to offer short-term respite stays to give you a break to take care of yourself. There is peace of mind knowing that your loved one is receiving the best care possible.
No matter their care level, your loved one will receive companionship, care, delicious cooked meals, and social activities. Private suites are used for respite and short-term stays. During their stay, they also have use of a private suite. Rest assured that your loved is fully cared for by our professional and friendly staff while you care for yourself.
Thank you for your interest in the Golden Choice Senior Communities. Please give us call to schedule a free tour.
---
Map of Gold Choice Deltona
---