Danberry at Inverness
Offers Assisted Living, Independent Living, and Memory Care
235 Inverness Center Drive, Hoover, AL 35242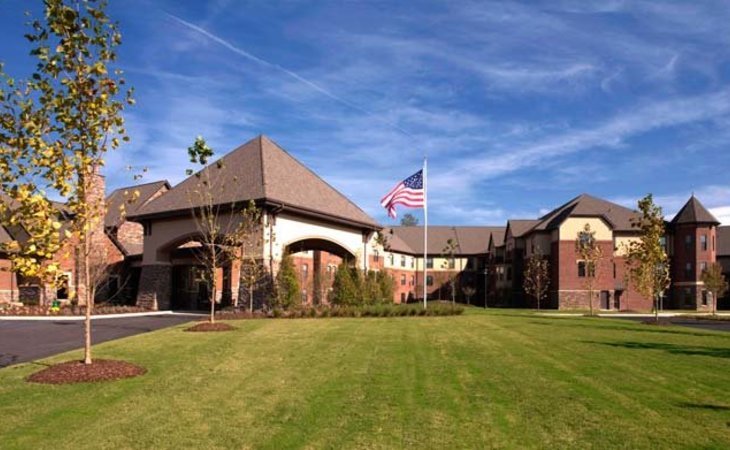 Top Nearby Assisted Living
---
Reviews of Danberry at Inverness
Assisted Living Reviews for Danberry at Inverness
October 17, 2019
I visited this facility
Danberry is a wonderful place to live. The staff are all very caring to the residents.
October 10, 2019
I am/was a resident of this facility
We had looked at two other senior living communities before visiting Danberry. We immediately knew this was the one for us. We have lived here for 5 years. The staff is very good and they have very few turnover with the senior staff. The staff is super friendly, the interior and grounds are immaculately kept. Our apartment is exactly what we need and we love our deck. We have made many new friends. Moving to Danberry was the best decision we made.
Provider Response
5 Year Resident, we're happy you found our staff to be so supportive during your experience here at Danberry at Inverness. Your recommendation means so much to us and we're so happy to have earned it. Thank you again for taking the time to let the world know about your positive experience. Have a great day!
January 31, 2018
I am/was a resident of this facility
I lived at Danberry at Inverness for three years. I go out there once in a while and have lunch with some old friends. I had a 739-square-foot one-bedroom apartment. It was quite lovely, and it had a full kitchen with stainless steel appliances. It's more expensive than some other places, but it's 5-star nonetheless. The staff was well trained, and the turnover was minimal. The food was excellent. The activities were great and well planned. I would play bridge and go out to lunch. They had their own swimming pool, library, and a bar and grill. It's kind of expensive.
November 28, 2016
I visited this facility
Danberry was very nice. I liked the actually setting. It had a great big area inside when you walk in. They had like a bar and restaurant right there. It had more of a country club feel. However, the apartment is on the smaller size. It had a very nice atmosphere.
November 23, 2016
I visited this facility
I have a friend who has an aunt that lived at Danberry, and she's happy there. It's beautiful, and the food is good. They do what their site says.
November 23, 2016
I visited this facility
Danberry was very nice and very new, but it was also very expensive. They had everything. We liked it because the memory care had its own entrance. They had a courtyard there too. The main lobby was humongous. The building was brand new. It was very nice and very pretty. However, they did not seem to have much activities going on as the other place.
October 11, 2016
I visited this facility
Danberry At Inverness was very nice but above the budget. It was absolutely beautiful.
September 30, 2016
I visited this facility
Danberry At Inverness was beautiful and top-of-the-line, but it's expensive. Memory care is quite expensive. From independent up to memory care, it's wonderful. The staff who gave us the tour was very good, and she did a great job. They have a pool, and they have a place where the independent people could go down at night and have a cocktail or glass of wine if they wanted to. It's just absolutely beautiful -- very quiet, serene, and nice -- and you couldn't ask for a nicer place, but you had to be able to afford it.
June 10, 2016
I visited this facility
Recently my aunt for whom I am Power of Attorney moved into Danberry at Inverness, Hoover, AL. Birmingham is her birthplace and she has family and friends that visit often. The facility is clean, staff is helpful, receptive, and knowledgeable. The other residents are very nice. The amenities for Danberry are top notch, really it is more like a mountain retreat than a place for old folks! Pricey, but worth every penny!
May 10, 2016
I am/was a resident of this facility
I'm in Danberry (Danberry at Inverness). It's a very nice, beautiful place, but the food could be better. I would like to be back in Atlanta, but Danberry is a nice home away from home. It has beautiful trees and an abundance of flowers. In the entertainment department, I would like to see more things to entertain me like playing cards and different kinds of card games.
February 29, 2016
I am a friend or relative of a resident
My mom was put into Danberry At Inverness. I was impressed with the employees, the cleanliness, and their care for the residents. The staff was very good. The rooms were very nice. I have eaten there and it was very good. They did have singing, exercise, bowling, and bingo. They did have all sorts of things.
February 11, 2015
I visited this facility
The only placed I went was Danberry, and it was very nice. My parents were there, but they wanted to come home so they went home. However, it was a good experience. It was one of the nicest that I had ever been in. I liked the way the rooms were set up. I liked the staff. It didn't have the appearance of a nursing home/assisted living atmosphere. They had a lot of programs for the seniors to do. They had exercise, swimming, and card playing.
January 26, 2015
I visited this facility
Danberry at Inverness was a gorgeous facility. It was really classy. When you walk in, it was like you're walking into the Ritz Carlton, and then if you look over to your left, there was an indoor pool. It was a great place. They are always filled-up; there is hardly any vacancy. They have buses that will take the ladies to get their hair done or go to doctor's appointments, to Walmart, or just go shopping. These were all-included; the only catch was that it has to be within 30 miles, which was easy because most of the hospitals and doctor's offices were close by. If it was farther away, they would have to charge you probably like $15 extra. They get three meals a day, and if you were sick and you were in your room, you just call them and tell them downstairs that you don't feel good, and they will bring your meals to you. Everyday at 4:30, except Sunday, you can go down and mingle with the other residents and have a glass of wine and socialize.
August 28, 2014
I visited this facility
Danberry At Inverness is a gorgeous facility. It's beautiful and clean, and the people there were nice, but they just weren't as warm and friendly. The only thing that kept me from choosing this place is that the only room they had available was smaller than what I wanted. I know they do have activities, but I really don't know what they are because I was just there for an hour visit.
July 29, 2014
I am/was a resident of this facility
I like Danberry very much. I came to live here January this year. So far, I have no complaints. The staff is very courteous. They do their job very well too. I also find the place clean and well kept. Their food is excellent. I play bingo with the residents. They have a wonderful library which is a good thing because I love to read.
July 11, 2014
I am/was a resident of this facility
Danberry is only about five years old. So, everything is up-to-date, all electronics and all security things are brand new. The building is outstanding. The grounds are well kept and lovely. What I was noticing as I was going around was that they are staffed to do the job. In other words, there is a man in-charge of maintenance and he has a crew of people who get things done. They have a leader of the maid service and enough people to do their job. I go run around looking at the place just to see about dining and you can go back three weeks later, the same people are there. It is just organized. It looks to me to be a successful operation and it's hard to be successful. Some of the employees are not all that heavily paid. I use to have a bunch of stores in malls and it drove me nuts to try to keep everything going. So, I watch and I say: "This place was organized" The management that they have seem to be good. If you have a problem and you try to address yourself to it, they seem willing to try to hear what it is and see if there is a way to fix it and that's what it is all about. I've been here for two years and the main thing is the sense of community; the quality of staff and how they perform. If you have been active all your life and busy running stuff, then all of a sudden you are sitting here watching television, you just have to learn to adjust on how to be a senior citizen in a senior retirement home. I think these people seem to have an understanding of that and are earnestly trying to make your life pleasant. We play bridge and poker. We have some boxes built up out back where I have some tomatoes grow and I have some fresh tomatoes yesterday from my tomato plants. This place is aces!
June 25, 2014
I visited this facility
The visit at Danberry was very good. They have an exercise facility that is in the building. The rooms are spacious and very comfortable. Regarding the staff, everyone I saw was very nice.
May 10, 2014
I visited this facility
Danberry was five minutes from my brother. It was a fairly new and fully staffed facility. It was at full resident capacity. It was extremely well maintained and nice, and only $39 a month more for all inclusive services from what we were paying for in the facility mom was at. We felt like it was a better value. The staff was supremely fabulous. They had physical therapy staff. The rooms were more spacious than most, and they were equipped for people in wheelchairs and walkers. It was easy to navigate, so it was good. They had a couple of different dining rooms, and their main dining room operated like a restaurant, so you could order from a menu. I haven't eaten there, but my brother did, and he was happy. They had a heated indoor pool and a gym. They had a salon with beauticians, aestheticians, and manicurist. They had garden, trails, outdoor living, and a lot of nice amenities.
September 26, 2013
I visited this facility
We have a lot of friends at Danberry, but to me it was not as friendly. The outside is fine and they did have some nice amenities. But I did not see any direct outdoor access for my apartment.
June 25, 2013
I visited this facility
I liked Danberry. The people there were very nice. The only reason why I didn't want to move there was because of the traffic.
February 28, 2012
I visited this facility
I love this facility. I have visited here often with our GA girls group with the church. We visited at Christmas time to sing carols with the residents and during February for a Valentines visit as well as other times. I have also visited this facility with our girl scout troop to play games and entertain the residents with music. It is a lovely facility. The residents seem very happy and they are very social. All the rooms were unique, decorated by the residents. It was really sweet when husband and wives lived together. The residents shared pictures and drawing from their families. The residents entertained us just as much has we entertained them. The facility was also the cleanest facility that I have visited. It did not have that "smell" that is sometimes noticed in these type of facilities. It was also very spacious and the greeting and meeting areas were beautifully decorated like a 5 star hotel. I have visited many assisted living facilities and this is by far the one I would like to reside in, in my older years.
See all Assisted Living reviews (21)
See fewer reviews
Independent Living Reviews for Danberry at Inverness
October 15, 2019
Other
Danberry is a wonderful place to live. The staff are all very caring to the residents.
January 19, 2017
I visited this facility
Danberry at Inverness was a very nice, beautiful place. They went out of their way to make sure that I took the tour and met the staff and people in charge as well as some of residents. The rooms were smaller than the room that I had, so I felt like I was going to feel really cramped. It was very nice, but I did not get to mingle with the residents.
Provider Response
Thank you for visiting our community and considering Danberry for your future. We have several floor plans to offer that vary greatly in size, some as large as 1610 square feet. Please contact us at your convenience so we can start planning for your next visit by scheduling appointments with our residents for private showings in advance that meet the specifications that are important for you. We will also be sure to give you an opportunity to get to know more of our residents so that you can hear more about the lifestyle that Danberry offers our residents daily. Thank you again for your interest and we look forward to hearing from you soon!
August 23, 2016
I visited this facility
Danberry (Danberry at Inverness) was fantastic. It was probably the most ideal place to retire. The staff members were wonderful. The community had three levels of care - independent, assisted and memory care - so it was great for advanced aging. It was clean and offered multiple activities. The staff was friendly. Danberry would be my no. 1 choice. My in-laws have decided to stay there.
February 18, 2016
I am/was a resident of this facility
Danberry is a 5-star senior living community. The staff is very good and they have very little turnover with their senior staff. They have same people here since they opened up. I wish we came to this 2 years earlier. We're pleased with everything. The apartment that we have is really first class. We have the garden level apartment. We have a patio area where we put camellia trees up and flowers. I'm very much involved with the activities as well. I have just been elected as a president for one of the activity communities here which work with the Executive Director. I lead the current events discussion group every Wednesday afternoon. We have a lot of different things going on here. We lived in Florida and built our house for 15 years by the beach but we've made more friends here in 6 months than we did in 15 years down there.
January 27, 2016
I am/was a resident of this facility
We have looked at other places and it took us a long time to decide where to go. We chose Danberry because there are a lot of things going on and the people are just so friendly. It's the whole package just came together. We love to be at Danberry. We've met a lot of interesting people and made a lot of friends. We have a library there people who loves work. It's a really great place. The dining room is really packed and the food is wonderful but sometimes it takes awhile to be served. The food is really good though. We're part of Danberry players. We have plays and skits here. We take part on exercises and play volleyball too. We really enjoyed these activities.
December 18, 2015
I am a friend or relative of a resident
My parents bought a cottage at Danberry at Inverness. They have all kinds of activities. They have on-site nurses.
September 13, 2014
I am a friend or relative of resident
Danberry is an amazing place. The staff is super friendly, the grounds and interior are immaculately kept and the residents seem genuinely happy to be there. We don't have a single complaint. Moving our family member to Danberry was one of the best decisions we've ever made.
July 31, 2014
I am/was a resident of this facility
Moving to Danberry at Inverness was one of the best decisions we've ever made. We really, really like it. We moved in here a little over a year ago and the apartment is exactly what we needed right now. I like the fact that we have a washer and a dryer in the condo and not down the hall. The furniture that I brought in fits nicely too. Our meal plan includes the main meal plus the continental breakfast. We can choose the main meal either in the middle of the day or in the evening and we don't have to tell them every time. We also like the residents here too. We have met some very interesting people with different backgrounds.
July 31, 2014
I am a friend or relative of a resident
The people at Danberry at Inverness have all been very pleasant. I haven't spent more time there because my husband broke his hips two days ago before he was about to move in there and we were spending a lot of time at the hospital, but they were very cooperative. I know it's going to be a great place to live than at home and it's the best thing we've done. They have more stimulation there with regards to mental and physical activities.
July 29, 2014
I visited this facility
I came out to Danberry when it first opened. I looked at the houses and the apartments. Then, I moved in on September 2012. I find the place very clean. You never see it dirty. The staff come and clean my apartment every week. I have no problems with the place. All of the staff is extremely nice, young, energetic and caring. They go out of their way for the residents. I just love all of them. On the other hand, the food is an up and down thing. I mean it is institutional food, sometimes good and sometimes not. We have had good chefs and bad ones. Right now, we have a good one but the one before him was terrible. They also have activities that people enjoy. However, I kind of do my own thing. Overall, my experience here is very good.
July 22, 2014
I am/was a resident of this facility
I will greatly encouraged anyone who is looking for a retirement community to totally consider moving to Danberry. The staff here is as wonderful as the residents. They go out of their way to do whatever they can to help and assist the residents. I love a lot of things they do here such as shoot games and pool. I also love the exercise room where I work out. When I first got here, the food was really good. For whatever reason, it kind of tapered a little bit. Then they had this new chef and the food slowly picked back up. Basically, I just love getting to know other people and eating lunch and dinner with others. I've been living here since March 2012. I couldn't have been in a better place.
July 22, 2014
I am/was a resident of this facility
It's just been three weeks since I've been at Danberry at Inverness. All the people here are extremely nice and helpful. I am very happy here.
December 30, 2013
I visited this facility
Danberry of Inverness was a very nice and clean facility. They have independent, assisted and skilled nursing. I visited this place for my father. The staff was very nice, friendly, and accommodating. They have an indoor pool. They also have a movie theater, a bar, and a library. Based on my visit, I would highly recommend this place.
See all Independent Living reviews (13)
See fewer reviews
Memory Care Reviews for Danberry at Inverness
October 07, 2019
I am a friend or relative of a current/past resident
Experienced & Knowledgeable staff. Very Professional and Compassionate. Chandy made our move an absolute breeze.
Provider Response
Hi Denice Mullins! We're so happy we were able to help you out! Please let us know if there is anything else we can do for you; we are more than happy to help!
---
Services and Amenities of Danberry at Inverness
Costs
All Inclusive Rent
Fee Structure Extra:

We Offer A Month To Month Rental
Room and housing options
1-bedroom apartments
2-bedroom apartments
3-bedroom apartments
Companion Suites:

We Do Not Offer Companion Suites

Studio Apartments
Housing Extra:

Kitchenettes Available
Dining options
In Room Kitchenette
In Room Kitchens
Dining Room Shared Meals
Room Service For Meals
Dining Extra:

Multiple Dining Venues Available, Diabetic And Low Salt Options Available
Features
Beauty Barber Shop
Computer Room
Resident Transportation
Coffee Shop
Party Space
Hiking Trails
Tv Room
Garden And Patio
Resident Parking
Pool
Spa
Features Extra:

Fitness Room/Gym, Bar, Ballroom, Theater, Creative Art Studios, Card And Billiard Rooms, Wellness Clinic, Bistro, Library
Cleaning services
Laundry For Linens
Private Cleaning Services
Housekeeping
Laundry For Clothing
Technology and entertainment
Cable In Rooms
Internet Enabled Rooms
Wifi
Technology Extra:

Mobile Call Pendant Monitored 24 Hours
Health services
Skilled Nursing
Medication Management
Physical Therapy
Nurse On Staff:

Yes
Activities
Offsite Activities
Music
Games
Stories
Religious Services
Lectures Discussions
Book Clubs
Wii Sports
Tai Chi
Fitness Room
Yoga
Gardening
Cooking
Arts And Crafts
Activities Extra:

Computer Classes
Financial guidance
Home Sale Assistance
Va Benefits Consultation
Financing Advice
Guest services
Guest Parking
Guests At Mealtime
Overnight Guests
Range of services
Physical Therapy
Occupational Therapy
Licenses
Licenses:

Assisted Living License
---
About Danberry at Inverness
Danberry at Inverness offers Independent Living, Assisted Living, and Memory Care and is located in Hoover, AL, a suburb of Birmingham. Danberry is owned and managed by Life Care Services, a national network of retirement communities that provides assisted living and memory care services. Residents have the opportunity to live as independently as possible with support from healthcare providers and a staff that coordinates an array of activities and events. Danberry at Inverness is an all inclusive rental community not requiring a large buy-in fee.
FACILITIES AND AMENITIES
Danberry at Inverness offers 160 Independent Living (1 ,2 ,& 3 Bedrooms), 48 Assisted Living (private studios & 1 bedrooms), and 24 Memory Care (private suites). Residents have several dining options, including restaurant-style dining, in-room meal delivery, and customized meal options for diabetics and vegetarian dining options, all prepared by a professional chef.
Residents have access to an on-site gym, theater, creative arts studios, card and billiards rooms, bistro, fitness studio, library, a beauty and barber shop, a saltwater pool and a spa. There is also Inverness Hall, the ballroom, which residents can use free of charge to host parties and events with friends and family.
Danberry at Inverness also has plenty of outdoor space, with gardens, a patio and hiking trails. Pets are welcome both outside and inside the facility.
HEALTHCARE
Danberry of Inverness offers residents access to an on-site staff--including nurses-- available 24-hours a day to assist with healthcare needs. In addition, a doctor, nurse, speech therapist, dentist, podiatrist and occupational therapist visit the facility regularly to provide residents with one-on-one healthcare services.
Staff provide personalized assistance with daily activities including bathing, dressing, grooming and medication management. There is an on-site medical clinic where residents can meet with the doctors.
For residents who require rehabilitation services, Rehab Care is onsite to provide if needed. Grandview Hospital is the closest hosiptal nearby, less than 2 miles away.
HEALTH PROGRAMS
For residents with dementia, Danberry at Inverness offers care at its Garden at Danberry Memory Care. According to the facility's website, the Garden Memory Care center uses a technique known as "CONNECTIONS" to provide care to residents with Alzheimer's disease and dementia.
This approach helps staff focus on each resident's abilities, experiences and needs to create a safe, comfortable and productive environment. Staff members use research-based care techniques to help residents with memory care needs make the most of each day.
ACTIVITIES AND EVENTS
Every day at Danberry at Inverness offers residents opportunities to learn a new skill, interact with neighbors and explore the surrounding area. The facility employs a full-time, on-site activities coordinator who plans on- and off-site activities and events as well as a full time fitness director.
On any given day, residents can participate in on-site computer courses, cooking classes, Wii sports competitions, yoga, gardening, lectures, book clubs and group fitness activities. Religious services are also held at the community every week.
Danberry at Inverness organizes group outings to local sites such as the Alabama Jazz Hall of Fame, the Alabama Mining Museum, and Veterans Memorial Park as well as to nearby dining, shopping and entertainment venues.
---
Map of Danberry at Inverness
---
Senior Living Communities near Shelby County, AL
Senior Living Communities near Hoover, AL
Other Senior Care in Hoover, AL