Avendelle at Lazy River
Offers Assisted Living and Memory Care
2268 Lazy River Drive, Raleigh, NC 27610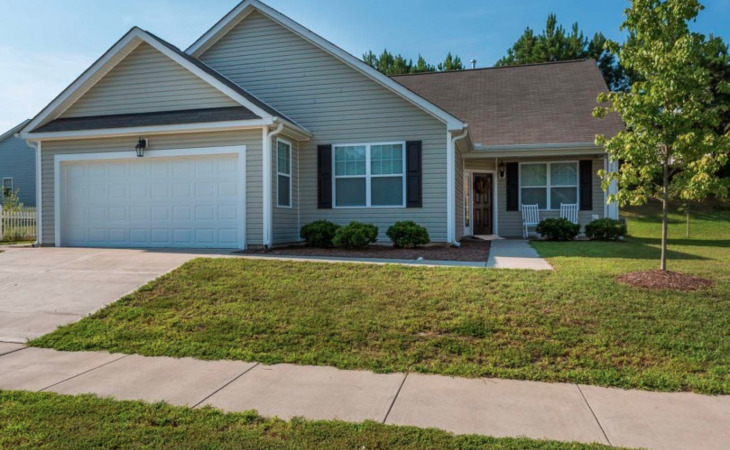 ---
Questions about Avendelle at Lazy River
Describe the overall population of assisted living residents at Avendelle at Lazy River. What is their average age? What are their favorite things to do?
The average age is about 75. Favorite activities are reading, watching TV, listening to music and taking walks when the weather permits.
What programs or activities does Avendelle at Lazy River offer to enrich residents' well-being?
We have games, trivia and even have kids come in to volunteer from time to time. We are flexible and try to accommodate each resident. If you want to request something specific please feel free to get in touch.
What makes the chef or dining program at Avendelle at Lazy River exceptional? What kind of menu can assisted living residents expect?
3 delicious and nutritious meals per day plus snacks if they like. Our "chef" loves to cook and she prepares all the meals as if she was in her own home. She says she wants to open a restaurant one day.
What safety features or security measures does Avendelle at Lazy River offer to assisted living residents?
Avendelle at Lazy River takes safety very seriously. Take a look at a few of the safety measures we have in place: - Fire alarm system - Sprinkler system - Door alarms - Bed and chair alarms - Security system - Fire extinguishers - COVID-19 screening station - Hand sanitizer - Masks for all visitors - Policies and procedures for Infection control and medication administration
How does Avendelle at Lazy River keep residents' families informed about their loved ones?
Mostly by phone check in but families are encouraged to visit as often as they like. Staff has even been know to video chat or send photos by text.
What is the care staff-to-resident ratio at Avendelle at Lazy River during daytime and nighttime hours?
1st and 2nd shift = 1:3 3rd shift = 1:6
What ongoing senior care training does the staff receive?
Continuing education is very important and each member of the staff completes multiple classes on varying topics depending on their level of training.
What safety features or security measures does Avendelle at Lazy River provide to protect residents who wander?
For wanderers we have in place: - Door alarms - Bed and chair alarms - Written policies and procedures for wanderers
What programs or activities does Avendelle at Lazy River offer to keep residents engaged? How does the staff engage residents' long-term memories?
We have a full activities calendar that includes music, games, stories, trivia, jokes, quizzes, movies and more.
Describe the neighborhood around Avendelle at Lazy River. Is it located in a residential neighborhood, a business district, a rural setting, or other type of locale?
We are a Family Care Home located in a residential neighborhood. Our home looks like a home because it is a home.
---
Services and Amenities of Avendelle at Lazy River
Costs
All Inclusive Rent
Entry Fee
Assisted Living Starting At:

$6000/month

Memory Care Starting At:

$6500/month
Room and housing options
Housing Extra:

Private & Shared Rooms
General
Resident Capacity:

6

Minimum Age:

60

Pets:

No Pets Allowed
Licenses
State Licenses:

FCL-092-222
Get Costs
---
About Avendelle at Lazy River
Avendelle at Lazy River is located in Raleigh, NC (just off of New Hope Road close to New Bern Avenue), and is an elderly care home positioned in a peaceful, upscale neighborhood. This is a private-pay residence focusing exclusively on assisted living provided by an expert staff.
Amenities & Information:
24-hour personalized care and supervision
Medication administration and management
Visiting physicians via Doctors Making Housecalls
Visiting hairdresser
Private and semiprivate bedrooms
Social, leisure, recreational, and educational activities
Alarm system on exit doors
Cable TV in all residents' rooms
Telephone available for residents' use
Housekeeping services for all residents (includes laundry, cleaning of bedrooms, etc.)
Three nutritious meals per day and three snacks (We are happy to accommodate special diets and food preferences)
Emergency Backup Generator
Fire Sprinkler System
Our Passionate Professionals:
While our assisted living homes are superior environments for our residents, it's our caregivers that keep them that way. Our caregivers are expertly-trained, always professional, and dedicated to what they do. Most importantly, they're extremely passionate about working with seniors. We continue to be amazed by their commitment, service, and resilience in an industry that can be draining at times. Simply put, our caregivers never stop caring.
Inspire Independence & Health:
When a new resident enters one of our homes, we strongly believe that means they do not stop caring for themselves. While we certainly help our residents with whatever they need, we continue to encourage our seniors to remain active until it is simply no longer realistic. With each day we make it a priority to get seniors involved in everyday self-care, such as grooming, cooking, light physical activity and games. It's our experience that remaining active keeps the body, mind, and spirit in better working order for longer.
Incorporate The Family:
We've always said that Avendelle is like a big family. We are not a large senior care living institution. We promote family time and encourage the family members of our residents to stay in close communication with their loved ones, to send mail, and to visit often. A visit from a family member simply means so much to a resident. We also make a point to stay in good communication with families and update them with any necessary information.
All-Inclusive Pricing:
Many other assisted living facilities pack on additional fees. Costs initially discussed can quickly escalate due to these initially non-disclosed add-ons. However, here at Avendelle, we make it a point to be all-inclusive with our pricing. Our cost is reflective of all services which we provide. We do not have hidden fees, and we do not accumulate add-ons. We maintain a high standard of integrity in our pricing.
What Makes Us Special
The home is convenient to both I-440 and I-540, as well as multiple shopping centers and restaurants, a bonus for residents and their families. This home features spacious, sunlit rooms, large showers, and a fenced-in back patio that's perfect for relaxing in the evenings. Residents here enjoy the one-on-one attention they're able to receive from caregivers.
Get Costs
---
Map of Avendelle at Lazy River
---
Senior Living Communities near Wake County, NC
Senior Living Communities near Raleigh, NC
Other Senior Care in Raleigh, NC