Oliver Woods Assisted Living & Memory Care
Offers Assisted Living and Memory Care
1330 West Oliver Street, Owosso, MI 48867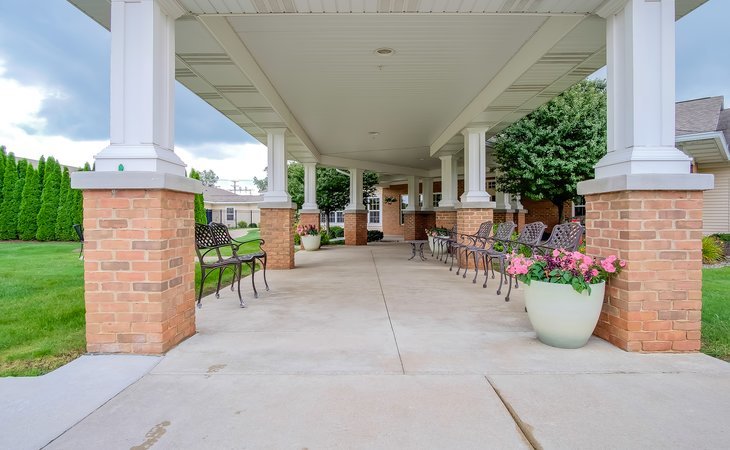 ---
Reviews of Oliver Woods Assisted Living & Memory Care
Assisted Living Reviews for Oliver Woods Assisted Living & Memory Care
April 22, 2022
I am a friend or relative of a current/past resident
The staff here is very attentive and caring. They made mom feel at home right away.
October 05, 2021
I visited this facility
Oliver Woods has been a blessing for my mother. She receives quality care and opportunities for social interaction that she didn't have prior to becoming a resident there. I am grateful for the entire Oliver Woods community of administrators and caregivers. It brings so much peace of mind knowing mom is taken care of. Thank you Oliver Woods!
September 20, 2021
I visited this facility
Oliver Woods Assisted Living & Memory Care was very clean and very well maintained. The employees were excellent. The reviews I saw online really swayed me because there were no negative remarks. At first, I was not going there, but I'm glad I did because it was excellent. I didn't see any people sad; everyone was happy. They were sitting outside with family. They were either being pushed in the wheelchair outside on the sidewalk or they were walking with family or employees. It was just a very nice place. The people I talked to were very caring, very compassionate, and very helpful. Most of the other places had hardwood floors; but at Oliver Woods, they had carpets in the bedroom and living spaces. That's important in case they fall. They might break something. The carpet really swayed me, and it was clean; there were no spots on it. There was no smell to the place; it was really good. I met with the director that showed me around, and I also met with the secretary/nurse that was there. I met with one of the helpers that accommodated the patients. They were very knowledgeable, very helpful, and kind. They weren't short or brief, and they acted like they had all the time in the world to answer any questions you had. I was very impressed with the whole place.
September 04, 2021
I am a friend or relative of a current/past resident
My husband came home from Oliver Woods Assisted Living & Memory Care. The reason why he was there in the first place is that it had the best reputation here in the county, and it's a beautiful facility. The staff is very good, very nice, but the communication is deplorable. And then at night time they only have two people and one nurse or nurse's aide for 13 patients. And the director told me that the state says he can have one person for 15 people. I asked what they'll do if all the people have medical problems, what are they going to do if there's an emergency? And she said that she has to try and get somebody else to come over from another building because that's the only thing they do. And with the amount of money they charge, it's just wrong. That was my biggest concern. I understand from talking to other people that it's pretty common that they have so few people. But the fact they're not nurses, but they take care of the patients, bring their meals, bring their meds, do their laundry, and clean their rooms out. For 15 bucks an hour, it's just crazy. Other than that, the people there and the nurses that took care of my husband were very nice, and it's a beautiful facility. They should maybe do some work in some areas because their communication just stinks. They knew he was coming home last Friday and they never told me they were going to be putting asphalt on the parking lot. And so we had to make arrangements and I had to park like two blocks away to get his things out and take them back out to the truck. And they should have told me stuff like that. But it's hard to find a place for whomever in your family that needs assistance. A doctor comes in once a week if you want to see him, and there's one nurse there that is supposed to be dispensing the medication. I think the staff should just be focusing on the patients, but here you're having to do all the other things. And my husband has a problem with his bladder. So they have a lot that they have to wash every week, and I just admired them much better. I think probably out of all the facilities here in the county, it's about the best. They're excellent in other areas and he had good care. The staff is wonderful. They are trying to do anything they can to accommodate you. He had a beautiful room and he had a bathroom with a walk-in shower. The halls are very large and there are no encumbrances. They had activities there like bingo and all sorts of other things that they do. It's close to $6000 a month, I don't think it's worth all the money that they charge.
Provider Response
Thank you for your review. We are glad you appreciated our kind staff and beautiful community. Our staffing standards are well above the state minimums. Additionally, we are in the process of adjusting our shift times to accommodate additional staffing, to help us exceed our resident's and family's expectations. Our residents' experience and care are our top priorities, and we appreciate your compliments. Please reach out to the Executive Director if you would like to further discuss ways in which we can improve our communication. Thanks.
August 25, 2021
I visited this facility
I would have wanted to know if there were multiple food selections for each meal plus if dietary special needs like diabetic, low sodium, etc could be available. Laundry care could be improved as to timing, folding right after the dryer stops with no wrinkles. More training of new inexperienced staff should be a must. The rooms are adequate but the source of air for residents with allergies seems to have many allergens. For wheelchair residents the closet poles should be lowered to encourage self care.
August 25, 2021
I am a friend or relative of a current/past resident
This is, overall, an excellent facility. My Dad has been a resident nearly 5 years first as Independent Living and then Assisted Living. He doesn't really like the food much but has no other complaints. The love and caring between him and staff is mutual. During Covid crisis when residents were basically isolated in their rooms the staff arranged for him to change rooms so he could be across the hall from his lady friend, Alice. This was excellent and I commend them for doing that. Unfortunately she is no longer at the facility. The staff have been excellent at answering questions and responding to any concerns. My only complaint is the continuing presence of unvaccinated staff members. This poses a risk to all elderly residents despite vaccination status as their immune systems are not so robust. Plus they were vaccinated six months ago and it is clear immunity wanes with time. It would be a shame if Covid found its way back into the facility interfering with daily activities and family visitation Thank you
Provider Response
Hello, Thank you for taking the time to review Oliver Woods Assisted Living & Memory Care! We are so happy to learn that your dad loves our team and that your family feels their love for your dad. We also appreciate learning that you feel our team went above and beyond to make accommodations for your dad to be near his friend. We agree that the pandemic has created unique challenges, and our team has continued to acclimate accordingly to keep our residents, visiting guests, and employees safe. Our employees continue to wear masks according to CDC guidelines whether they are vaccinated or not. We will continue to make decisions with our residents' safety as a main priority. If you would like to connect with us directly, please reach out to our Executive Director. Thank you!
See all Assisted Living reviews (6)
See fewer reviews
Memory Care Reviews for Oliver Woods Assisted Living & Memory Care
October 09, 2021
I am a friend or relative of a current/past resident
Oliver Woods Memory Care provides outstanding care to the residents. They provide a safe and comforting home for residents including a private bedroom, kitchen area and a common area with daily activities. The facility is very well maintained and continues to impress. The Oliver Woods staff provide outstanding care to the residents. Staff take the time to not only get to know the residents but also provide compassion. Overall, our family is grateful to have a safe and comfortable environment for our elderly parent to live. From the initial meeting, recommended transitions, and day-to-day needs the Oliver Woods team has been great to work with!
October 04, 2021
I am a friend or relative of a current/past resident
Oliver Woods is a beautiful facility, filled with kind and caring staff members! They truly love what they do and make the residents feel safe, cared for and loved on a daily basis. The rooms are clean and well taken care of. There are MANY activities for residents each and every day. I love that the staff is constantly looking for activities that residents might enjoy and that they act on these ideas, planning for the many needs in house. My mom seems to enjoy anything that includes music, art and even BINGO, which she has never liked! Oliver Woods has many in house services that make it easy for those residents who would have a difficult time leaving the building, such as medical care, foot care, hair care and nail care.
August 25, 2021
I am a friend or relative of a current/past resident
Oliver Woods is a great facility and I trust them 100% with my mother who is suffering from Alzheimer's. They actually care about the people more than they do about money and that's a rarity in this day and age. The rooms are very clean and up-to-date. They do lots of activities with the residents and the staff is very friendly and keeps me up-to-date on everything going on with my mother. They call me if there are any problems and they constantly keep in touch. It is a very safe facility as they locked down immediately when the pandemic hit. I highly recommend this facility for anyone who is debating on where they should go or where their family should go. It's hard to see somebody go through with my mother is going through but I know she gets good care and that gives me a sense of security that I really need especially in these times we are in.
March 29, 2015
I am a friend or relative of a resident
Oliver Woods is a little expensive, but a great place to go. The staff and the services were great. Anything my mother in law needed she got. They were there; it was 24 hour care. The facility is fairly new. It's very very nice and open. They got everything you needed. The sanitation is very good. It was great. They have four buildings; it depends on what care you need as to what building they put you in.
Get Costs
---
Services and Amenities of Oliver Woods Assisted Living & Memory Care
Licenses
State Licenses:

AL780258989, AL780314126, AL780262260, AL780282845
Costs
Assisted Living Starting At:

$3950/month
Memory Care Starting At:

$4600/month
Get Costs
---
About Oliver Woods Assisted Living & Memory Care
Welcome to Oliver Woods, a Leisure Living Community in Owosso, Michigan. Here, our assisted living option allows seniors to maintain a level of independence while receiving personalized attention for daily needs. For those facing memory impairment, our care team places an emphasis on forming relationships that nurture and support both the resident and their family. At Leisure Living, we form close-knit and caring communities who share in life's journey together.
Amenities:
Nutritious meals designed to meet a variety of dietary needs
Multiple floor-plan options
Wheelchair-friendly
Walk-in showers with safety bars
Interior walking areas
Life enrichment activities
Housekeeping and laundry services
Peaceful outdoor spaces
And more
Assisted Living:
Our Assisted Living community provides personalized care in a comfortable, home-like environment. Assisted Living residents stay active and engaged with robust life enrichment programs and maintain as much independence as possible while being supported by around the clock care. Residents are provided with freshly prepared meals and housekeeping services to meet their needs and allow for a worry-free lifestyle.
Memory Care:
Moments Memory Care™ is Michigan's first trademarked Memory Care Program. We focus on providing a safe, comfortable environment for those experiencing memory loss. Our Moments program balances residents' physical and emotional needs with individualized care planning and specially trained care team members.
Get Costs
---
Map of Oliver Woods Assisted Living & Memory Care
---
Senior Living Communities near Shiawassee County, MI
Other Senior Care in Owosso, MI