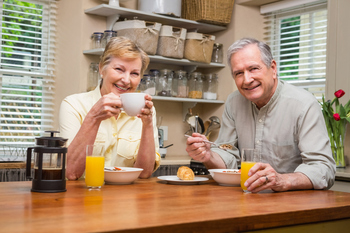 All Rights Reserved
Let's face it – you still feel too young to move into a retirement community. But your friends and even family might be dropping by with glossy marketing materials touting the continuing care retirement community near you (or, in the case of adult children, near them). Maybe it's time to take a long, serious look at whether a continuing care retirement community (CCRC) is right for you, before an unforeseen health crisis forces you to make a quick decision.
CCRCs 101
A continuing care retirement community is a residential community for people over age 62 that includes independent living housing, assisted living housing and a skilled nursing facility. The philosophy of these communities is that you may move into the community for independent living and then move to CCRC's assisted living residences when you need more help with activities of daily living. The skilled nursing residence would be available to you if at some point you need medical care or memory care throughout the day and night.
Each CCRC is unique – some provide housing in cottage-style developments while others might include townhomes or apartments in a multi-story building. Since each is so different, and there are no standards to guide your selection, the AARP emphasizes that it is important to shop around.
Here are two more reasons to start your research now:
1. Many of the most desirable facilities have wait lists.
Expect to spend between six months to two years on a wait list for high quality CCRCs.
2. You need time to downsize.
Even if you are moving into an independent living cottage or apartment, you are still going to have to downsize from your family home. The time you spend on the wait list is also a good time to manage the emotional and logistical challenges of deciding what to keep, what to give away and what to store.Stephen Schimpff, MD, and his wife started looking for a CCRC near their home in Baltimore, Maryland, after a knee injury sidelined his wife from her usual activities for over a month. In their early 70s, the couple wanted to remain active and realized after that experience how quickly a health event could isolate them. Soon after the injury, they began to look for a continuing care retirement community that suited their lifestyle but also provided closer community and continuity for them over the coming decades.
"We are glad we made the move when we did. We are still together, and we were able to take a year to downsize," says Dr. Schimpff, who acknowledged that the first few months of the transition required some adjustment, just as any move to a new community does. His advice is to take your time shopping for the CCRC that suits you. Tour the grounds, ask about activities and services that are important to you, sample the food several times and take time to read over the contract ("Yes, the contract is long," says Schimpff, "but you don't need to be a doctor, lawyer, or architect to understand it.").
5 Signs it's Time to Look for a CCRC
1. You're reading this.
Finding the right continuing care retirement community takes time, so it's best to start thinking about it early. "If you have to choose one quickly, your first choice is not going to be available," says geriatrician Theodore T. Suh, MD, PhD, on staff with the University of Michigan Geriatrics Center. The time to begin your search is now. Start by finding out what is available in your community. You'll likely have a better experience if you move in early.
"The people who do best are the ones who can move in early and age in place. What that means also is they tend to be able to live in that environment for longer, because they are so used to the environment that they can manage it much better," says Barbara Resnick, PhD, CRNP, professor of gerontology at the University of Maryland School of Nursing and a staff member at Roland Park Place, a CCRC in Baltimore.
2. Daily chores are increasingly difficult.
Perhaps you are in good health overall and still active, but shoveling snow, raking leaves, and cleaning the house are a drain. Don't wait until they become impossible. "By the time a person makes the decision to leave home, they have been so desperately holding on that it takes a heavy toll," says Ilene Warner-Maron, PhD, RN, in the department of Aging and Long-Term Care Administration at Philadelphia College of Osteopathic Medicine.
National estimates suggest the average age of a new CCRC resident is 80. "What we are seeing is people who take too long to decide," says Warner-Maron. If you wait too long, you likely will move into the assisted living residences. But if you move earlier, you could enjoy the independent living residences with a reduced load of daily chores.
3. You're lonely.
Social isolation and loneliness are threats to your long-term health. A continuing care retirement community will give you your own private living space, but also provide plenty of opportunity to meet new people, participate in activities, and have company during meals and other daily events.
4. You want stability.
Choosing a continuing care retirement community makes it less likely that you will have to move every time you need to change your housing or level of care. "You want to minimize the number of times a frail older adult has to move," says Dr. Suh. Even though you might have to move to another apartment in assisted living or a skilled nursing room, you will still be in the same community with which you have become familiar.
5.You want safety.
Just as a knee injury stalled the Schimpffs' lives temporarily, any small injury or fall can derail your plans. A continuing care retirement community provides numerous safety checks, argues Resnick. CCRC staff will check on you to make sure you are healthy and safe, and you can call for help at any hour.
"It really is a gift to your children," says Resnick, explaining that having staff support as needed is very reassuring to adult children and grandchildren who might live at a distance or not be available immediately to help if you fall or become sick. Food safety is also enhanced at a CCRC, she says.
Even if you're not quite ready to move out of your home, taking the time to find out what is available in your community will help you get prepared for a move that ideally should enhance your future.