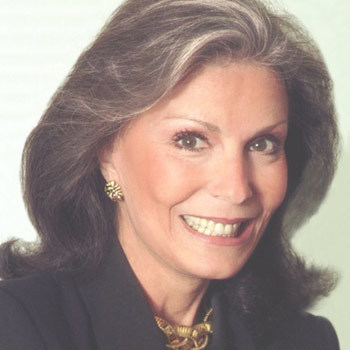 All Rights Reserved
"The man I live with is not the man I fell in love with and married." So begins author Meryl Comer's story. In her book Slow Dancing With a Stranger: Lost and Found in the Age of Alzheimer's, she chronicles the tough, daily realities and responsibilities of being a full-time caretaker for her husband, Dr. Harvey Gralnick. Gralnick was chief of Hematology and Oncology at the National Institutes of Health when he was formally diagnosed with Alzheimer's disease 13 years ago, at age 58.
At first, she was puzzled by changes in his behavior -- the once careful doctor started misplacing important documents at work, and the formerly loving husband lashed out at home.
"He has slowly been robbed of what we all take for granted," she writes in the book about his ability to navigate the basics of daily living: bathing, shaving, dressing, feeding, and using the bathroom. "His inner clock is confused and can't be reset. His eyes are vacant and unaware."
But for someone who's been an active caregiver for many years, she finds energy as an advocate in the fight against Alzheimer's disease, which affects 5.4 million people in the U.S. and 44 million worldwide, and which is the sixth leading cause of death in the United States.
The impact on caregivers is huge. In 2013, 15.5 million family and friends provided 17.7 billion hours of unpaid care to those with Alzheimer's and other dementias -- care valued at $220.2 billion, which is nearly eight times the total 2012 revenue of McDonald's.
Alzheimer's currently has no cure, but some treatments for symptoms exist and research continues. That's where Comer, a former broadcast journalist, is putting her focus these days, as cofounder of Women Against Alzheimer's and president and CEO of the Geoffrey Beene Foundation Alzheimer's Initiative. These are roles that, she says, "saved my life."
In my Q&A with her, Comer shares her thoughts about the stressful emotional and financial hardships for families, and how Alzheimer's disease can be a slow killer of the health and spirit of the caregiver -- the secondary victim. "The best compliment I get is that I told the truth about this experience and didn't fudge it at the edges," she says.
But make no mistake, she's not out for sympathy. Her greatest hope is that she can rally caregivers to step up and speak out for early testing, more research, and greater support.
What are some ways you've found to take care of yourself and your own health as you've cared for your husband and, now, a parent with this disease?
Meryl Comer: The biggest challenge for a caregiver is a goal that you may or may not make. The hardest part is you can't make plans with friends, and that increases isolation. The way I have managed is to take solitary breaks like a hike or a workout at the gym, which I call "survival training." I find that, in that moment, exercise reenergizes me. I also need quiet time alone. I can't meditate because my mind is too cluttered. But I think it's good. You have to find things that are restorative to you, and that is very personal. So for me, that means connecting with nature. It doesn't mean getting dressed up and going to a party, since socializing can add pressure.
My grandchildren are my antidepressant of choice. When you oversee deterioration, putting love into something that's reflected back, like children, has been sustaining. My friends took me out to breathe and I never talked about the disease. I left it behind and lived vicariously in their lives.
But here's my strategy for survival. I set up expectations for myself. It's important to set the time for yourself, but then be prepared to change it if you have to -- you only frustrate yourself by anticipating things that slip away. I don't tease myself with the theater I missed or the movies I didn't get to see. I played whatever strengths my husband had for as long as he had them. Then I couldn't mourn the loss of that functionality. I had to let it go. I have survived by living forward. I have deliberately forgotten the pain of each day. I reprioritized. I have had to let things go emotionally to move to the next crisis. Things I would have fretted about, I could no longer fret about.
The danger of my strategy is that you can lose your self-identity. It felt almost impossible to set boundaries to protect myself. Caregivers need to set boundaries as much as they can, and I have to admit, I wasn't as successful as I would have liked to be.
Bottom line, how you manage your personal pain matters, because this disease can swallow you up. I am turning my fight outside as an advocate, and that gives me strength.
For caregivers managing the marathon of an illness like Alzheimer's -- since it's definitely not a sprint -- how does a caregiver keep his or her spirits up when it's a such a long struggle and even well-meaning friends can't understand the burden on you?
MC: Share your story. Tell the truth. The caregiver is the keeper of the secret; we know what this disease does to both patients and families. It's infectious to families -- it infects the spirit. I wrote the book to unlock the conversation that it's time we bring this disease and its cruelty out in the open. I want the next generation of caregivers to have better options than I did.
We always believed it was important to protect the loved one's dignity, and we locked them away. But someone had to call it out like it is, to ease the burden. My greatest fear is that mine will be the family next door by mid-century. That this will be so prevalent and all my neighbors will have the same issues I do.
I'd like caregivers to use whatever energy we have to step up and own in and say that we are also good research partners and we can accelerate the research. Participation will help keep spirits up!
I want caregivers to participate in our new 21CBT®/Caregiver Health-eBrain Study, a pioneering virtual health study to assess the cognitive toll of Alzheimer's and dementia caregiving, using online brain performance tests. Visit our website. It only takes 20 minutes.
There's no ice bucket needed with this. We can make our point that caregivers matter and contribute to science.
This is our moment to make a point. We refuse to be taken down by this disease that is taking down our loved ones. This is a very different attitude than a support group that only commiserates. It's proactive energy that's in your face. Support groups serve their purpose for helping people share. "Woe is me" attitudes lock us in place.
I didn't want to write this book. This was not cathartic. But my spirit rose and called me to speak out for this purpose. We have to get angry about it. We have to be honest about it.
What's on the horizon right now that makes you feel hopeful about Alzheimer's research for treatments and, possibly, a cure?
MC: What I hope for in my lifetime is a disease-modifying drug that buys a patient and his family at least five more years of quality of life. And that will be transformational. So that the patient will know he had grandchildren, or that there was another anniversary to celebrate.
Alzheimer's is the most common form of dementia, a general term for memory loss and other intellectual abilities serious enough to interfere with daily life. Alzheimer's disease accounts for 60 to 80 percent of dementia cases. Why is there such confusion about Alzheimer's vesus dementia, and how do you clarify the differences when people confuse the two?
MC: First of all, no one wants a diagnosis of Alzheimer's because it's viewed as a slow death sentence. So anything but that is the first pick.
Alzheimer's is just the most common form of dementia. I don't care what you call it. If it involves the mind and the memory, many of the caregiver issues are the same. And that's why the power of caregivers together is that we speak a common language and are counted.
Of all diseases, is Alzheimer's the costliest killer, as Business Week called it last year? What can a person do if faced with huge mounting bills related to care for a loved one?
MC: This disease is bankrupting. Get yourself an accountant and an attorney to find the best options for you personally. It's very individual.
I interviewed Senator Rockefeller, whose mother had the disease, and he said. "I don't know how people do it." And when a Rockefeller says that to you, that says everything. The point is they don't.
I was told I could divorce my husband to protect assets. How obscene. We need better options. Don't think for a moment that you're covered by Medicare. That assumption is a mistake most people make. Medicaid does pick it up, but only if you have almost nothing to your name.
Another smart thing to do is get yourself long-term care insurance while you're healthy.
I found this passage in your book particularly moving: "My mother used to squirrel away prescription drugs. When I confronted her about what she was doing, she always replied, 'What happened to your husband won't happen to me. I'll take care of it. That's not living!' But Alzheimer's often robs people of their abilities in an incremental fashion; few of us know when too much has been lost. My mother never used those drugs, and now her mind is too demented to have a say about deciding when enough is enough." What can we learn from our loved ones who miss the boat about making their own choices?
MC: I think what's misunderstood about this disease is that it slips over you and you lose control without knowing it. This is not a fair fight, and you are left with no choices. You lose your independence and control very quickly. Denial is very dangerous. The most important thing you can learn is that it's always too soon before it's too late.
With the progression of Alzheimer's, you need to make your end-of-life decisions early. Otherwise your family members are left to guess, and making decisions as a surrogate is excruciating. If you love your family and friends, don't put off having the "end-of-life wishes" conversation.
In your book you write, "Alzheimer's creates a vacancy in our lives that cannot be filled. I want to enjoy being with those I love while I can still make memories with them. Memories warm us. Separated from our memories, good or bad, who are we?" Good question. What's the answer? And perhaps more important, how do you keep the best memories of your loved one -- when he or she was vibrant and well -- alive when you're faced with such a diminished version of that person?
MC: When Hurricane Katrina hit and I watched people go through their houses and recover items that mattered -- they were picking up the pieces -- I saw that they rescued sentimental objects, touchstones of better times, and photographs.
So I create my own memory palace and mine is my living room, and it's piled with a visual story of where we traveled and what we did. I find comfort in that.