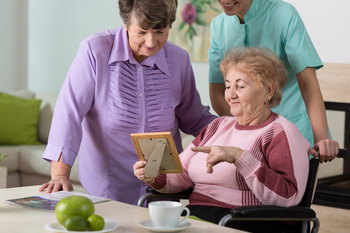 All Rights Reserved
A few years ago, I looked through a locked door marked with the word "secured," large and in red above a small glass partition. As I buzzed to gain access to the plain-looking main room of the memory care center, I saw several seniors pacing the hall and one woman rocking back and forth while moaning softly on a sofa, clutching a baby doll. Other residents visited with love ones – laughing, talking and eating lunch and trying to make the most of the bleak surroundings. Disengaged attendants sat in the back of the room.
It was a disconcerting snapshot of what some of us have experienced when we've entered a memory care facility for seniors with dementia.
But with greater industry awareness, increased focus on best practices and more options available these days, families don't have to settle for such limited and impersonal care.
What Memory Care Facilities Offer
Memory care communities provide 24/7 security and personal care. For seniors who are confused to such a degree that they're disoriented and a possible danger to themselves or others, having round-the-clock supervision is essential. You don't want your loved one wandering off or leaving an appliance on or subjecting other residents to angry outbursts. Assistance with toileting, bathing and grooming is an important part of memory care, too.
Historically, the differences between assisted living and memory care senior facilities have been striking. With many if not most assisted living centers that also offer memory care, social activities and freedoms haven't been as available to memory care residents, and the range of behaviors in memory care centers can range from severe short-term memory loss but otherwise functioning to outbursts and near-complete withdrawal. This melting pot aspect can leave higher-functioning residents feeling like it's harder to socialize with people on a similar level.
The increased need for putting more "care" into memory care
"About 10 percent of assisted living facilities serve only people with dementia," noted the US News & World Report article "Why Ongoing Vigilance Is a Must When a Parent Lives in Memory Care." "Another 12 percent have some kind of dementia care unit, wing or designated floor. The need is there: Some 40 percent of residents in assisted living have dementia."
The need is there, but is the best care there, too? As people live longer and incidences of Alzheimer's disease and other types of dementia are on the rise, the need for both assisted living and memory care homes increases, too.
That day I peered through the door window to the memory care wing of my mom's assisted living home, I tried to imagine her living there and I couldn't. Moving my mom to an assisted living community was hard enough. She was fiercely independent and agreed to go to the home we chose together only because her husband needed the extra care and she wanted to be with him.
She adapted and, in time, grew to love the activities offered and accepted the restrictions on her freedom, such as the requirement to always sign out when leaving the premises and give up keeping even low-risk household products with even a hint of medication – like Pepto Bismol – in her apartment when the facility took over her medication management. A few years since moving in, she's at a point where she realizes she needs some help and is grateful for the care she receives, and that is a huge relief to me.
Like many of her peers at assisted living, mom has cognitive decline and the prospect of one day moving her to a memory care home is daunting. We hope to avoid it, but if not, we're hopeful for advances that will improve the experience.
3 Key Advances in Memory Care
Compared to what was available at memory care homes a few years ago, these three relatively new developments in memory care are making a positive impact.
1. Personalized care vs. a one-size-fits-all approach
"Person-centered care that's focused on each individual's needs and preferences is a best practice now," says Lori Smetanka, executive director of the National Consumer Voice for Quality Long-Term Care. "This type of care plan takes into account a person's typical life patterns, such as waking, sleeping and activities, as well as their likes, dislikes, and care needs.
Caregivers tuned into the individual's needs and wants are better able to provide care. This approach also allows an individual to keep and use personal belongings, including clothing, furniture, and other items, to the greatest extent possible."
2. Smarter approaches to communication, security and medication
Recent memory care advancements include new communication best practices including using what's known as empathic validation, less intrusive security cameras for 24-hour surveillance, and personalized monitoring devices such as Wanderguard. There are also new medications, which can help curb potentially dangerous dementia behaviors such as wandering.
But over-medication can be as much a problem as under-medication. "There are efforts to reduce the use of antipsychotic medications, which we know can cause serious side effects and even death for people with dementia," says Robyn Grant, The National Consumer Voice for Quality Long-Term Care's director of public policy and advocacy. A more holistic focus on available medications and their side effects help residents get the most suitable mix of the medications and dosage.
3. Making the setting feel like home
Many of us know all too well that unpleasant feeling residents and family members have when we enter memory care to visit someone and think, I'm definitely in a dementia wing. "Increasingly, long-term care facilities are moving away from the sterile, institutional feeling and creating more home-like settings," says Smetanka. "Incorporating personal items in resident rooms and creating comfortable common areas help residents and families feel more at home."
From a design standpoint, many memory care centers now offer both outdoor and indoor spaces aimed at being comforting as well as secure and soothing. Many facilities now build in visual memory cues to help residents get around, in addition to well-marked paths, gardens and access to nature.
A lot of facilities are also widening the range of activities that keep residents of all physical and cognitive abilities more engaged. A few years ago, you didn't see as many music programs, exercise classes, cooking clubs, and art programs in memory care.
Making Sure Your Loved One Gets the Best Possible Care
Residents exhibit a range of behaviors in memory care communities (e.g. everything from severe short- term memory loss but otherwise functioning to outbursts and near-complete withdrawal). But with more person-centered care these days, it's easier to make sure your parent is getting the best care and making the most of their remaining years with attentive staff and fellow residents on their level.
"The first thing you can do is to help staff get to know your loved one," says Smetanka. "Focus on your loved one's likes [and] dislikes, what they enjoy, dislike, what comforts them, and how to respond when they are distressed. If a resident shows behaviors that are concerning – withdrawal, outbursts, aggression – staff should be assessing what the resident might be trying to communicate. Are they hurt or in pain? Bored? Hungry? Tired? Adjustments can be made to the plan of care to address the resident's needs."
The second thing to do is to get involved. More loved ones are participating in a loved one's care ¬these days – from regular in-person and video visits to speaking up when there's a problem ¬– and that can only lead to better care.
Finally, ask questions about staff training. How much training does the community's staff receive? Are they trained to stay engaged with residents, rather than ensconced at a nurses' station? Will they help foster relationships between residents of similar cognitive levels?
One thing is clear: advances don't just happen by accident. Sure, new scientific breakthroughs in medication and technology offer a tremendous amount. But nothing spurs progress as much as family caregivers whose active concern for loved ones propels the memory care industry to raise the bar and provide the best care possible.