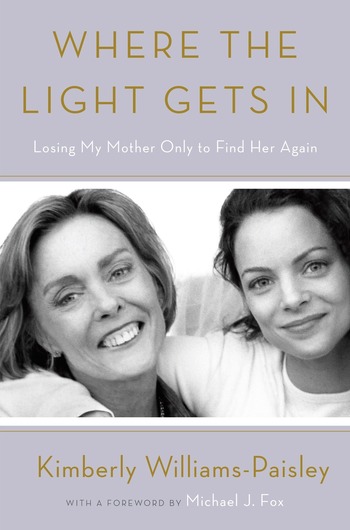 All Rights Reserved
Becoming comfortable with the uncomfortable has become a new mantra in Kimberly Williams-Paisley's life as she's tried to make sense of the disease that forever transformed the mother she knew and loved. Known for her role in the Father of the Bride movies and as the wife of country music artist Brad Paisley, the actress and writer watched as her mother went from the vibrant, capable, funny woman she'd always been to someone completely different.
It's been 11 years since Linda Williams was diagnosed with a rare form of dementia called primary progressive aphasia. Today, she lives in a long-term memory care community, and has received hospice care intermittently.
In her new memoir, Where the Light Gets In, out today, Williams-Paisley opens up about her family's experience caring for her mother. She includes everything from the heartrending and the frustrating to the surprisingly sweet moments she experienced as her mother's illness progressed. She also shares what she learned about caregiving, what she wishes she'd done differently, and why it's so crucial to have a strong support system.
We sat down with Williams-Paisley to learn more about her experience and the lessons she hopes to impart to other caregivers.
On why she wanted to write about her mother's illness:
I wrote an article [about this experience] for Redbook magazine a couple of years ago and the response was just incredible. I was surprised by how many readers told me, "I relate to this story, I'm in the same situation."
I knew then that there was a need for a book like this to reveal how dementia can devastate entire families. It's the guide I wish we'd had 10 years ago, because often—without even knowing it—we desperately needed a roadmap and warnings about where the hazards were...it was therapeutic for me to write. But it has been sobering to realize that my story repeats itself in millions of homes in the U.S. and around the world. That some 15 million in the U.S. alone are caregivers, as my dad was, for people with Alzheimer's and other dementias. And that funding for research and direct aid to patients and caregivers is tiny compared with the growing need.
On how her mother's dementia affected the whole family, and particularly her father, Gurney Williams, who became a full-time caregiver:
When someone has to quit their job and become a full-time caregiver, it impacts the family in so many different ways. In our family's case, our dad started to wither away. We were afraid we were going to lose him even before we lost my mom. He thought he could do it all himself. And it was very uncomfortable situation for a long while – his three kids trying to be advocates for him, convincing him he couldn't do it all, searching for the best home health aides and keeping them on the job while my mother resented most of them.
On the importance of having tough conversations about long-term care:
I think my mom didn't spell out clearly enough what she wanted for her care as her disease progressed. And that's one of the most important messages in the book. Write down your end-of-life preferences. There are many simple documents that can help you think about difficult topics like do-not-resuscitate orders or who will make health decisions when you can't. My parents completed a lot of this paperwork. But we needed more.
My mom, one time, told my sister "I don't want your dad to take care of me," but she never made clear what exactly that meant.
So by the time [our dad] was taking care of her, she had lost that perspective, and forgotten she said it. She wasn't even really aware of how much he was taking care of her, and he didn't have a predetermined plan. These are hard conversations for families, but I wished I'd pushed a little harder to engage in them.
On some of the more difficult caregiving situations:
There were a lot of tough times out in public. And the challenging part was that her pride in many ways was still there, so I couldn't treat her like a child. But at the same time, I had to protect her from herself, and protect my children from her. I was juggling so much, and trying not to upset her and to make sure nobody got hurt. So I found what I really needed was backup. I needed someone else there with me.
And we had to be very delicate with all of it – I was walking on eggshells all the time when I was with her or talking on the phone with her and my dad. It was not easy to talk about what was really going on. That's part of what led me to write the book For so many years we couldn't talk about the truth, because it would send my mother into a pit of despair. She would spiral down emotionally, and at times lash out physically. So to avoid that, we couldn't talk about what was really happening as the disease progressed. To be able to share the truth now has been liberating.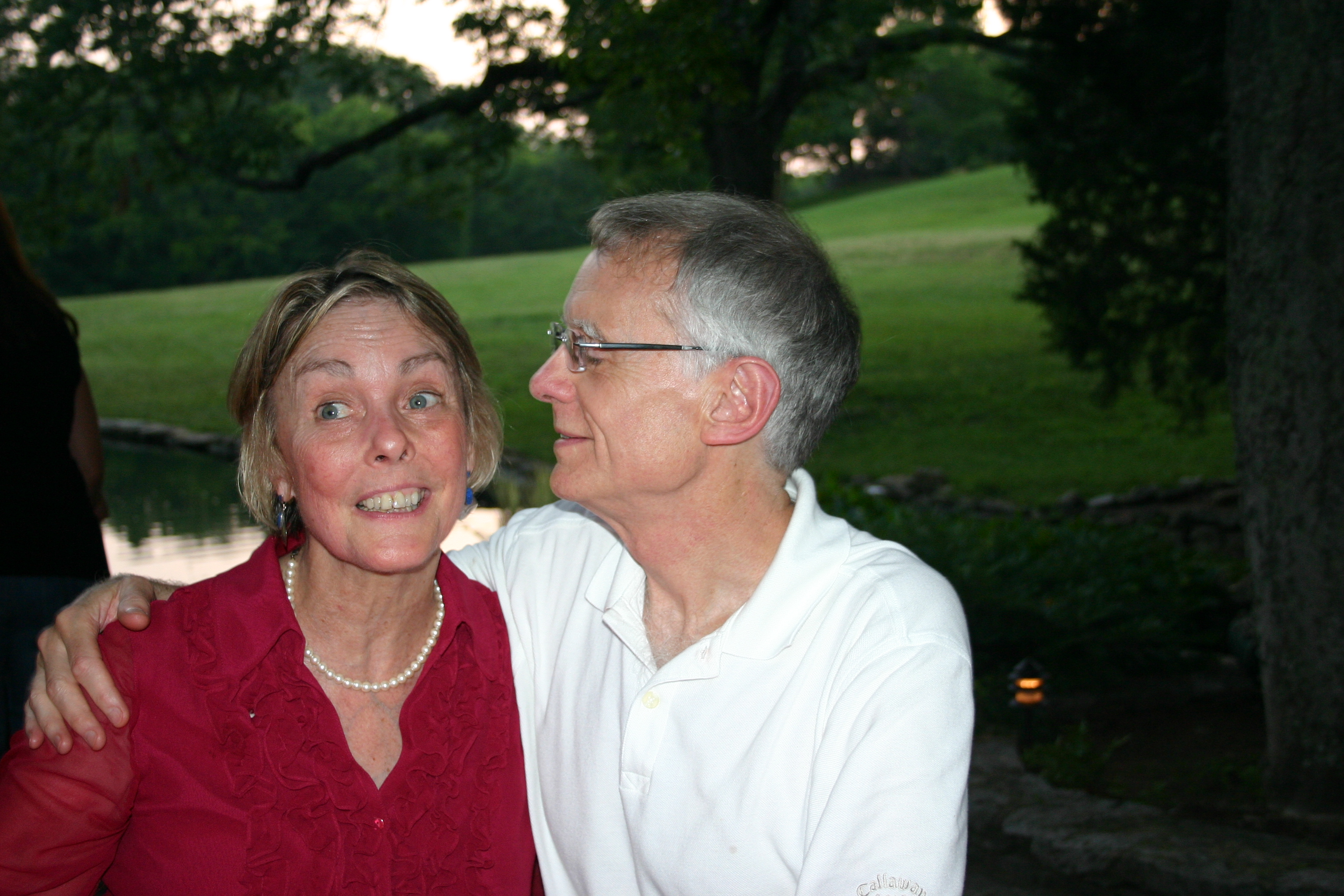 Linda and Gurney Williams (courtesy of Kimberly Williams-Paisley)
On the unique challenges of being a long-distance caregiver:
Guilt haunts many caregivers, whether they are hands-on or long-distance. "Why can't I do more? Why can't I do it better?" It was a constant companion for my dad.
And I was pulled in a tug-of-war between two demands. I had a career, and my kids who really needed me. That was my primary caregiving duty. But I was constantly aware that my mom and my dad were floundering in New York and could have used my support in person.
Most of the time I and my siblings just couldn't physically be in New York with my dad. All we could do was listen from afar. We'd hear about how mom was still driving when she was a menace on the road, or how he had a heart attack scare one day (false alarm). It was usually impossible to see firsthand what was happening or to know how to help from far away.
What we've tried to do as a family is talk about our regrets, forgive each other readily and give each other permission to let go of guilt over situations we could not control.
On the importance of having a support system:
I couldn't have done any of it without my family, and I will always be grateful to my sister for all that she did. She carried a lot of the burden of the caregiving duties, and was often there by my dad's side and for the hardest parts.
We all stepped in in ways that we could. We've all relied on each other and come together in ways we hadn't before. It's allowed our family to evolve and change and we've supported each other through that, and I'm just so grateful to all of them that they allowed me to tell this story, because this is their story, too.
On what she would do differently:
I wish we could've set up interventions with my mom early on and tried to get her to write down and talk more about what she wanted for her care.
The other thing we missed out on was connecting with other people who'd been in the same position who could have advised us on what plans to make and how to start saving money earlier for long-term care. We could've gotten better advice and linked in to support groups. I wish we had called the Alzheimer's Association 24/7Helpline—800-272-3900—just to check in. We didn't know early on that they were set up to provide information and resources for families dealing with all kinds of dementia, not just Alzheimer's.
On worrying that she'll develop dementia herself one day:
Many people I've met as I worked on the book have bouts of forgetfulness, trouble remembering a name or finding the car keys. These lapses alone aren't usually signs of dementia and I've learned not to fear them. Typically when they happen to me, I haven't had enough sleep or my mind is overloaded with too much going on. At first, I hoped my mom's symptoms were simply the result of job stress.
But the difference was her decline in speaking and writing got noticeably worse over two years and to the point when her communication struggles consistently interfered with daily life. So, I have to remember that when I forget a word or forget where I put something, that it's not necessarily at all a sign of a long-term illness. But I think the question will always be in the back of my mind.
---
In Where the Light Gets In, Williams-Paisley shares more honest insights, personal stories and resources for caregivers and loved ones of those with dementia. For a chance to win your own copy of the book, enter our #giveaway by following Caring.com on social media below!