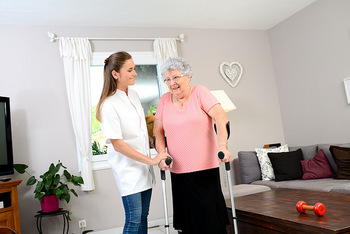 All Rights Reserved
What It Is
Homecare, also known as in-home care, is non-medical care provided in the client's home. It includes custodial care and assistance with activities of daily living such as eating, bathing and providing medication reminders. Homecare workers are professionally trained caregivers who provide companionship and are responsible for maintaining a safe environment for the person receiving care.
What to Expect
Homecare can be arranged without a physician's order and is different from home health care, in that caregivers do not provide nursing care. For example, while they may provide medication reminders, they are not allowed to administer medication. Neither are caregivers housecleaners; although some light housekeeping may be necessary and appropriate, heavy housecleaning is normally not expected. Homecare workers may provide care within a facility setting; check with the agency you have chosen to verify whether it offers this service.
Need help locating the right non-medical home care services for your loved one? Caring.com provides a FREE Homecare Referral service that matches the appropriate agencies to your needs.
Paying for Homecare
Neither Medicare, Managed Care or Medicaid do not cover homecare. Medigap policies D, G, I and J, and Minnesota State's Extended Basic Plan cover homecare if the individual is simultaneously receiving skilled home health care. As such, most non-medical in-home care is either paid for privately or by using a long-term care insurance (LTCI) policy. As many people wish to live at home as long as possible, LTCI policies have grown in popularity. Find out more about the latest on LTCI policies and what kind of LTCI policy suits your needs along with detailed description of all reimbursements types.
Some states offer payment for family caregivers, and in some states being a Medicaid recipient automatically qualifies a person for homecare. Check with your state Medicaid office to see what is offered in your area.
Medigap
What It Covers
Medigap policies D, G, I and J, and Minnesota State's Extended Basic Plan policies have a benefit that covers home health and homecare. The coverage varies according to the policy you choose. The benefits may include assistance with activities of daily living such as bathing, grooming, medication monitoring, meal preparation, light housekeeping, laundry, errands, grocery shopping and transportation.
Conditions and Limitations
In order to be eligible for these benefits, the individual must currently be receiving Medicare-covered skilled home health care.
LTCI
What It Covers
LTCI policies vary. Some do pay in-home care benefits, but the amount of coverage depends on the individual policy. For information on how to determine what kind of LTCI policy suits your needs, visit our Financing Long Term Care Expert Column.
Conditions and Limitations
Policies differ on conditions required to qualify for homecare benefits. Each policy has a cap on the number of visits. Older policies require a prior hospital stay or time in a skilled nursing facility; the newer policies require that beneficiaries be physically or cognitively impaired.
Finding and Assessing Homecare
Homecare workers can be hired privately or by using either a full-service or referral agency. Gilbert Guide provides national homecare listings for full-service agencies along with information on how to find and assess both agency and private-hire caregivers.
Let us help you find the right homecare agency that fits your need with our free homecare referral service.