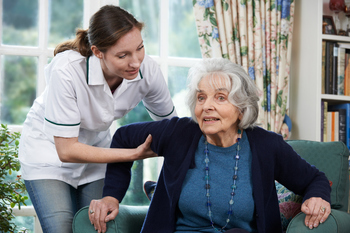 All Rights Reserved
If you have an aging loved one who is no longer able to take care of themselves or needs some help with activities of daily living, chances are you're considering outside care help. For many seniors, the best option is in-home care, which allows your loved one to get the care they need while remaining in the comfort of their own home.
One of the most important steps when starting in-home care is a smooth transition from the previous caregiver, whether it was a medical professional in a hospital or a loved one at home. You and your loved one may not be sure what to expect on the first day of in-home care. The following are some things to keep in mind to make the transition as stress-free as possible.
What to expect
Kay Paggi, a certified geriatric care manager and owner of Aging Care Solutions, says to keep in mind that the ultimate goal of in-home care is to maintain or improve the care recipient's functionality and independence.
And as a caregiver, or family member of the loved one needing home care, there are a few things you can expect on the first day.
You can expect your loved one to feel anxious, and you may feel some anxiety yourself. This is a new way of caring for your loved one, so feelings of anxiety are normal.
You can expect your caregiver to be understanding and compassionate on the first day. They know that you and your loved one are going to be anxious at first, and have likely been in similar situations before.
You can also expect a lot of questions from your caregiver, which is normal. The caregiver is getting to know you and your loved one just like you're getting to know him or her. Questions show that the caregiver is committed to doing things the right way.
How to Prepare
Talk openly and honestly with your loved one
It's important to take the time to talk with your loved one about the upcoming transition to home care. It's also critical that he or she is able to express their feelings and concerns, and that you deal with any issues compassionately. Moreover, let your loved one know that you'll still be involved in their care even if you'll no longer be their primary caregiver. It's important to assure them that you'll still be spending time together and that they can still rely on you.
Be there on the first day
You should plan to be home with your loved one on the first day of in-home care, if possible. This should not only help reduce their anxiety, but will help make the transition a smooth one. It also means you can be there to show the caregiver around and help him or her get used to your loved one's routine.
Have a discussion with the caregiver
It's a good idea to spend some extra time with the caregiver at the end of the first day of in-home care. That way, you'll have time to discuss issues that were challenging, or if there need to be changes made to the care plan. You may even decide to be home for the next few sessions before gradually decreasing your participation.
Paggi advises making a list of all of the things the caregiver could do if they have time to spare after helping your loved one with activities of daily living. This might include preparing a meal, changing the linens on the bed, or cleaning up any spills in the kitchen.
"Have a thought in mind of what they can do with those extra minutes," Paggi says.
Make sure things are easy to find
It's a good idea to make a list for the new caregiver of common items and where they can be found, especially items that are going to be used every day such as medications. Keeping these things in the same place at all times will also make it easier for the caregiver.
On the other hand, while you may be worried about making sure the house is spotless before a new caregiver's first day with your loved one, Paggi says that's not necessary.
"You don't have to clean up or make the bed – I understand you're not at your best right now," she says of family caregivers.
Show the caregiver around
You or another loved one should lead the new caregiver on a tour of the home to help familiarize them with the location of favorite rooms and items that will be a part of the care plan for your loved one. If the caregiver is there for just a few hours to help with tasks such as laundry and housekeeping, then they can help put your loved one at ease by performing these tasks on the first visit. Or, if more personal care is required, that should be the caregiver's first priority.
Talk money
In many cases, you'll want to make sure the in-home caregiver has a way to access money for trips to the grocery store, pharmacy or other errands on your loved one's behalf. The first day of in-home care is a good time to establish how they can access funds for those types of errands.
"It may be that you're going to give them a pre-paid card or ask them for a cash receipt," Paggi says. Either way, she encourages having a plan in place and discussing it with the caregiver.
Make a smooth introduction
Chances are good that someone from the home care agency, such as a representative you've already met, will accompany the caregiver on the first day. And it's possible that your loved one will have already met the representative, which should help put them at ease. It can be awkward when someone shows up for the first day as a complete stranger.
Build the foundation for a relationship
While it's of utmost importance that everyone carefully review the home care plan on the first day, it's even more important to create a foundation for a positive, trustful relationship. Help the new caregiver strike up conversations with your loved one and look for any common ground the two may share - whether it's hobby, children, food or favorite sports team.
Ditch the guilt
"When you're hiring a perfect stranger to come into Mom's home and help her do something that you can do, the tendency is to feel guilty," Paggi says.
However, she says, hiring a caregiver is not only an investment in your loved one's health, it can also help prevent you from burning out.
"Your goal is to be there for your loved one as long as you are needed, and if you've used up all your time and energy doing something that someone else can do just as well or maybe better, you're not keeping your ability to be around for the long haul," she notes.
Considering In-Home Care? Find options and compare costs near you.