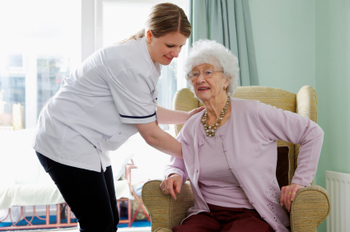 You or your loved one may feel that he or she needs home healthcare but find that Medicare (including a Medicare Advantage plan), Medicaid, VA health benefits, and/or private insurance will not -- or will no longer -- cover it. This often happens when a program or insurance has covered home healthcare for a while but decides that the patient no longer needs that level of care.
If you then start paying for home healthcare out of pocket, it can get quite expensive very quickly -- from a minimum of $20 per hour to upwards of $100 per hour. But there are several options to consider other than simply continuing with the same home healthcare and paying for it all yourself.
In-home nonmedical care from an agency
You may be able to get the care your loved one needs without having certified home healthcare. Instead, you may be able to use nonmedical in-home care provided by a home care agency. These agencies can provide different levels of care from personnel with different levels of training. If your loved continues to need some help safely getting in and out of bed or using a bath or shower, for example, a home care agency can send someone trained in those skills. Similarly, a home care agency can send someone at an even lower cost to provide less skilled care, such as simple companionship or help with meals.
These home care agencies charge considerably less than home health agencies do, and they may have sliding scale fees, depending on what level of care is provided. If you have to pay for care out of pocket, in-home nonmedical care will cost you considerably less than home healthcare. Also, there may be benefit programs or insurance coverage for in-home care after coverage for home healthcare runs out:
Medicaid -- Medicaid covers a limited amount of nonmedical in-home care in some circumstances. If your loved one is already enrolled in Medicaid, ask his or her Medicaid worker about eligibility for in-home care, at least on a short-term basis after home healthcare ends.

VA benefits -- If your loved one is a veteran, he or she may be eligible for a variety of care and cash benefits from the VA to pay for in-home care.

Long-term care insurance -- If your loved one has a long-term care insurance policy that includes home care coverage, it can pay a certain amount per day for nonmedical in-home care. If the policy pays a daily cash benefit, your loved one can use it for a combination of home healthcare and lower-level in-home care.
Visiting nurse
Every geographic area has a visiting nurse association that can provide a reference to a certified nurse who makes house calls. You may be able to use a visiting nurse on a limited basis to handle specific medical care-related tasks for your loved one, while using less skilled, lower-cost in-home care provided by a home care agency, an independent home care aide, family members, or some combination. To find a certified visiting nurse, search the Web for visiting nurse association and the name of your loved one's town, city, or county.
Family contributions
If your loved one continues to use home healthcare after all benefit program and insurance coverage stops, the costs can quickly rise high. If several of your family members pool contributions, however, the cost of home healthcare can be less painful. This is a particularly good option when one or more family members are spending a lot of time providing and overseeing care while other family members' work lives or geographic locations don't allow them to spend much personal caregiving time. Family contributions to the cost of paid care can be a good way to provide fair balance among family members who are in different circumstances with relation to actual hands-on caregiving.
Learn more about other ways to pay for home healthcare.