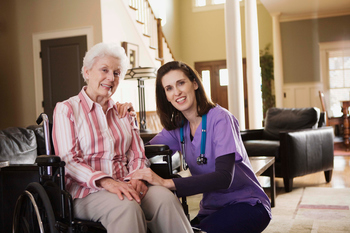 All Rights Reserved
Think of the last time you needed care. Whether it was an illness, surgery, or any type of medical procedure, chances are you wanted to recover at home. For seniors facing rehabilitation, recovery, or a decrease in mobility, the desire to remain at home is the same. Almost 12 million older adults in the U.S. live alone, and most want to live at home as long as possible. Fortunately, advances in technology make it easier than ever for skilled health workers to monitor and administer professional care from any location. But understanding what services are needed and finding the right resources is helpful for caregivers.
First, it's important to understand the difference between home care and home health, or skilled care, services.
What is Home Care?
One way to discern the difference between home care and home health or skilled care services, is to consider the condition of the patient. When an older adult is no longer able to keep up with household chores, shopping, fixing meals, paying bills, or handling their own transportation, they likely need home care. Professional in-home caregivers can provide a wide variety of care, from help with activities of daily living to regular companionship.
For example, 70-year-old Violet functions well at home, but a history of seizures prevents her from driving, and she would rather sit in front of her television eating a bag of Doritos than fix a hot meal. Plus, sometimes she forgets to take her medications. A home care aide visits Violet's home every afternoon to drive her to appointments, handle light housework, fill the refrigerator with nutritious, easy-to-prepare meals and check her prescription bottles. These non-clinical services satisfy household needs and provide a friendly social connection that compensates for any decreases in skills or abilities that are a natural part of aging.
SEE ALSO: Find In-Home Care Help Near You
If a loved one simply needs a little extra help around the house, a doctor or hospital administrator may offer referrals to an in-home care company, or you may want to approach family members or close friends who can commit to regular hours each week to provide care. The costs for home care are often out of pocket. But some long-term care insurance plans cover these services, and your loved one may qualify for Medicaid.
What is Home Health Care, or Skilled Home Care?
After Harvey's hip replacement surgery, a therapist visited his home every morning to provide therapy sessions, monitor Harvey's pain, medications, vitals and recovery progress. Once his doctor determined his full recovery and discussed necessary lifestyle changes to protect his new hip, Harvey was able to resume his independent life.
Home health care services are needed when a loved one has completed inpatient care and needs rehabilitation, recovery or other clinical healthcare services. As part of a doctor's treatment plan, a patient will participate in occupational or physical therapy, speech therapy, wound care, receive medications or injections, and will be monitored during recovery while remaining at home. This arrangement is likely temporary as the patient may resume normal function and can handle household duties and functions after recovery. Since these services are part of a treatment plan, Medicare or insurance often covers the cost of home health care.
The goods news is that caregivers can benefit from utilizing both types of services. "Partnering with the community for related healthcare services clinical and nonclinical can bring added support to families, including time for caregivers to take care of themselves and rejuvenate, added confidence in their homes, and easier teaching techniques to guide the care needed," said Cathy Hefko, BSN, RN., community nurse liaison for Golden Acres Living and Rehabilitation. "This can improve outcomes for all involved."
SEE ALSO: Find In-Home Care Help Near You
Both services provide essential benefits that are necessary for a senior's emotional and physical quality of life. "We have found our patients benefit most from combining the professional, clinical home health services of skilled nurses, therapists, and medical staff with the personal care that home care aides provide," said Derek Orme, administrator at Mission Hills Post-Acute Care.
Deitra McDonald, marketing director at Legend Oaks West Healthcare & Rehabilitation, agrees. "In this way, a patient's progress is monitored by healthcare professionals while the emotional needs are handled with a caring, personal touch," she said.
If a caregiver faces an increased need for services, understanding the supportive resources of home care and home health care services can ensure the right care can best fulfill the unique needs of your loved one.
Comparing Home Care vs Home Health Care
The chart below shows a side-by-side comparison of what home health and in-home care agencies offer.
| | Home Healthcare | In-Home Care |
| --- | --- | --- |
| Doctor prescribed | ✔ | - |
| Skilled care | ✔ | - |
| Administering medications | ✔ | - |
| Giving medication reminders | - | ✔ |
| Help with activities of daily living | ✔ | ✔ |
| Specialized services such as rehab | ✔ | - |
| Light housekeeping | minimal | ✔ |
| Transportation | - | ✔ |
| Payment options | Medicare, Medigap, Managed Care, Medicaid, Veterans Benefits, Private Pay (usually a combination) | LTCI, Private Pay, occasionally Medigap |