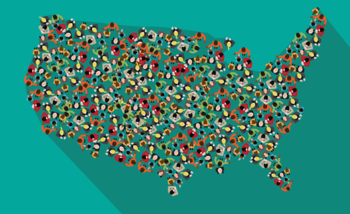 All Rights Reserved
In-home care can be a godsend for family caregivers who need help providing care for an aging loved one. These services also allow many seniors who want to age in place to remain in their homes. According to Genworth, the national cost of non-medical home care in 2016 is $3,813 per month. By comparison, assisted living on average costs $3,628 per month.
Professional in-home caregivers – whether through an agency or independent operators – typically provide assistance with activities of daily living such as dressing, bathing, medication management, light housework and running errands.
For those who need medical care at home, home health care nurses or trained health professionals are available. Home care can be pricey, and in some cases costs more than care in an assisted living community. As with other types of senior care, in-home care rates vary by state and region.
Below is a list of the average cost of non-medical home care by state, relying on data from Genworth's 2016 Cost of Care Survey. The following rates represent average daily, monthly and yearly in-home care costs for seniors in each of the 50 states. The yearly rates are based on 44 hours of care per week, multiplied by 52 weeks. It's important to keep in mind that the cost of in-home care in different areas can vary more widely within larger states.
Average Cost of Home Care
| State | Daily | Monthly | Yearly |
| --- | --- | --- | --- |
| Alabama | $100 | $3,051 | $36,608 |
| Alaska | $163 | $4,967 | $59,488 |
| Arizona | $125 | $3,813 | $45,760 |
| Arkansas | $113 | $3,432 | $41,184 |
| California | $144 | $4,385 | $52,624 |
| Colorado | $141 | $4,290 | $51,480 |
| Connecticut | $125 | $3,813 | $45,760 |
| Delaware | $138 | $4,195 | $50,336 |
| District of Columbia | $100 | $3,051 | $36,608 |
| Florida | $116 | $3,527 | $42,328 |
| Georgia | $113 | $3,432 | $41,184 |
| Hawaii | $150 | $4,576 | $54,912 |
| Idaho | $125 | $3,813 | $45,760 |
| Illinois | $132 | $4,029 | $48,345 |
| Indiana | $122 | $3,718 | $42,330 |
| Iowa | $132 | $4,004 | $40,048 |
| Kansas | $125 | $3,813 | $45,760 |
| Kentucky | $113 | $3,432 | $41,184 |
| Louisiana | $96 | $2,908 | $34,892 |
| Maine | $138 | $4,195 | $50,336 |
| Maryland | $125 | $3,790 | $45,485 |
| Massachusetts | $156 | $4,738 | $56,857 |
| Michigan | $127 | $3,861 | $46,332 |
| Minnesota | $150 | $4,576 | $54,912 |
| Mississippi | $107 | $3,241 | $38,896 |
| Missouri | $117 | $3,550 | $42,603 |
| Montana | $144 | $4,385 | $52,624 |
| Nebraska | $144 | $4,385 | $54,912 |
| Nevada | $133 | $4,052 | $48,620 |
| New Hampshire | $150 | $4,576 | $54,912 |
| New Jersey | $32 | $4,004 | $48,048 |
| New Mexico | $130 | $3,954 | $47,453 |
| New York | $138 | $4,195 | $50,336 |
| North Carolina | $111 | $3,384 | $40,612 |
| North Dakota | $175 | $5,331 | $63,972 |
| Ohio | $122 | $3,718 | $44,616 |
| Oklahoma | $135 | $3,813 | $45,760 |
| Oregon | $144 | $4,385 | $52,624 |
| Pennsylvania | $135 | $4,099 | $52,624 |
| Rhode Island | $144 | $4,385 | $59,161 |
| South Carolina | $113 | $3,432 | $41,184 |
| South Dakota | $144 | $4,387 | $52,647 |
| Tennessee | $113 | $3,432 | $41,184 |
| Texas | $119 | $3,613 | $43,358 |
| Utah | $132 | $4,004 | $48,048 |
| Vermont | $138 | $4,195 | $50,336 |
| Virginia | $119 | $3,623 | $43,472 |
| Washington | $156 | $4,736 | $56,834 |
| West Virginia | $100 | $3,028 | $36,333 |
| Wisconsin | $141 | $4,290 | $51,480 |
| Wyoming | $163 | $4,957 | $59,488 |
---
In 2016, the national average cost for in-home care was $45,760 per year, Genworth found. The states with the highest median monthly rates for in-home care were:
North Dakota-- $5,331
Alaska and Wymoing -- $4,957
Massachusetts - $4,738
Washington -- $4,736
And those with the lowest average monthly rates were:
Louisiana -- $2,908
West Virginia -- $3,028
Alabama and District of Columbia -- $3,051
Mississippi-- $3,241