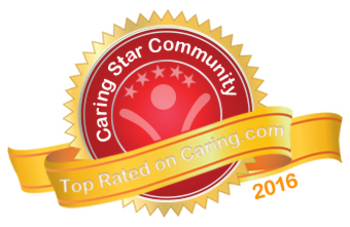 All Rights Reserved
Today's senior living communities are a far cry from the simple – or downright drab -- retirement homes of yesteryear. Today's seniors and their loved ones have come to expect a higher standard of senior living – with the best staff, top-notch care and an extensive array of facilities, amenities, and activities to choose from. And with 10,000 baby boomers turning 65 every day, the demand is only growing.
For the fifth year, Caring.com has rounded up the most outstanding assisted living and memory care communities in the United States, based on consumer reviews and overall online reputation. This year, nearly 800 communities in 44 states made the cut. We congratulate them all, and we hope this list helps you in your senior living search.
Whether you're considering assisted living or memory care for yourself or for a loved one, the following list includes only the top-rated communities that real consumers love.
Best Senior Living Alabama -- 8 Caring Stars of 2016
Baldwin County
Country Place Senior Living of Fairhope
Homestead Village of Fairhope
The Brennity at Daphne
The Brennity at Fairhope
Fayette County
Madison County
Regency Retirement Village
Morgan County
The Terrace at Priceville
Best Senior Living Arizona -- 26 Caring Stars of 2016
Cochise County
Prestige Assisted Living - Sierra Vista
Maricopa County
Atria Chandler Villas
Atria Sierra Pointe
Belmont Village Scottsdale
Bridge Loyal Assisted Living
Brookdale Camino del Sol
Brookdale Heritage Palmeras
Brookdale North Scottsdale
Brookdale Sun City West Sandridge
Brookdale Tempe
Citadel Assisted Living
D & L Adult Care Home
Gardens at Ocotillo Senior Living
Hacienda Del Rey
Pacifica Senior Living Paradise Valley
Solterra Senior Living at Chandler
Sunrise of Chandler
Sunrise of Gilbert
Sunrise of Scottsdale
The Montecito
Pima County
Atria Campana Del Rio
Fairwinds - Desert Point
The Fountains at La Cholla
Pinal County
The Garnet of Casa Grande
Yavapai County
Highgate Senior Living
Las Fuentes Resort Village
Best Senior Living Arkansas -- 2 Caring Stars of 2016
Pulaski County
Sebastian County
The Brookfield at Fianna Oaks, llc
Best Senior Living California -- 136 Caring Stars of 2016
Alameda County
Baywood Court
Brookdale Fremont
Carlton Plaza of Fremont
Fremont Hills
Heritage Estates
Oakmont of Mariner Point
Contra Costa County
Atria Park of Lafayette
Brookdale Danville Diablo Road
Merrill Gardens at Lafayette
Pinole Senior Village
Westmont of Brentwood
El Dorado County
Eskaton Lodge Cameron Park
Eskaton Village Placerville
Fresno County
Bella Vista
Oakmont of Fresno
Sunrise of Fresno
Kern County
Los Angeles County
Arcadia Retirement Village
Atria Covina
Atria Rancho Park
Belmont Village Rancho Palos Verdes
Brookdale Antelope Valley
Brookdale Central Whittier
Brookdale Chatsworth
Brookdale Monrovia
Brookdale San Dimas
Brookdale Uptown Whittier
Hollenbeck Palms
Mountain View Center
Oakmont of Whittier
Pasadena Highlands
Prestige Assisted Living at Lancaster
Silverado Calabasas
Summerhill Villa
Sunrise at Sterling Canyon
The Terraces at Park Marino
The Village at Northridge
Wellbrook South Bay
Whittier Place Senior Living
Windsor
Orange County
Atria San Juan
Atria Woodbridge
Brookdale Anaheim Hills
Brookdale Irvine
Brookdale San Juan Capistrano
Freedom Village
Huntington Terrace
Irvine Cottages 1
Kirkwood Orange
Newport Beach Plaza
Rowntree Gardens
Sunnycrest Senior Living
Sunrise of Mission Viejo
Town and Country Manor
Villa Valencia
Vintage Senior Living at Vintage Newport - Orange County
Vivante on the Coast
Westminster Terrace Assisted Living Community
Placer County
Brookdale Auburn
Oakmont of Roseville
The Terraces of Roseville
Villa Del Rey Manor
Riverside County
Atria Hacienda
Atria Palm Desert
Atria Vintage Hills
Brookdale Cherry Hills
Brookdale Hemet
Brookdale Magnolia
Brookdale Murrieta
Brookdale Rancho Mirage
Citrus Gardens
Sunrise at Canyon Crest
The Village Healthcare Center
Valencia Terrace
Wellbrook Senior Living Arlington
Sacramento County
Atria El Camino Gardens - Assisted Living
Atria El Camino Gardens - Memory Care
Eskaton Fountainwood Lodge
Eskaton Lodge Gold River
Oakmont of Carmichael
Summerset Senior Living
Sun Oak Assisted Living
Sunrise of Fair Oaks CA
Sunrise of Sacramento
The Commons at Elk Grove
San Bernadino County
Atria Del Rey
Brookdale Apple Valley
Mission Commons
Montclair Royale
Oakmont of Chino Hills
Sierra Vista Retirement
Sterling Commons
Sterling Inn
San Diego County
Belmont Village Sabre Springs
Brookdale Carlsbad
Brookdale San Marcos
Fredericka Manor
Las Villas Del Norte
Monte Vista Village
Paradise Village
St. Paul Senior Homes and Services
San Joaquin County
Atria Bayside Landing
Rio Las Palmas
San Luis Obispo County
The Villages of San Luis Obispo
San Mateo County
Santa Barbara County
Merrill Gardens at Santa Maria
Santa Clara County
Atria Chateau Gardens
Atria Sunnyvale
Belmont Village San Jose
Belmont Village Sunnyvale
Merrill Gardens at Campbell
Merrill Gardens at Gilroy
Merrill Gardens at Willow Glen
Pacific Gardens
Sunrise of Sunnyvale
Terraces Of Los Gatos
Shasta County
Willow Springs Alzheimer's Special Care Center
Solano County
Sonoma County
Brookdale Paulin Creek
Brookdale Place Chanate
Brookdale Rohnert Park
Brookdale Sonoma
Brookdale Windsor
Sunrise of Petaluma
The Terraces
Stanislaus County
Bethel Assisted Living
Samaritan Village Retirement Community
Tulare County
Prestige Assisted Living at Visalia
Ventura County
Atria Las Posas
Cypress Place Senior Living
Best Senior Living Colorado -- 14 Caring Stars of 2016
Adams County
Inglenook at Brighton
Keystone Place at Legacy Ridge
Arapahoe County
Chelsea Place Memory Care
Sunrise at Orchard
Boulder County
Atria Longmont
Sunrise of Boulder
Denver County
El Paso County
Brookdale Bear Creek
Brookdale Vista Grande
New Day Cottages
Jefferson County
Brookdale Lakewood
Brookdale Littleton
Northglenn Heights Assisted Living Community
Weld County
Best Senior Living Connecticut -- 9 Caring Stars of 2016
Fairfield County
Benchmark at Split Rock
Maplewood at Danbury
Hartford County
Arden Courts of Farmington
Atria Hamilton Heights
Middlewoods of Newington
The Village at Buckland Court
New Haven County
Carriage Green at Milford
The Village at East Farms
New London County
Best Senior Living Delaware -- 2 Caring Stars of 2016
New Castle County
Forwood Manor
The Lorelton
Best Senior Living District of Columbia -- 1 Caring Star of 2016
District of Columbia County
Sunrise on Connecticut Avenue
Best Senior Living Florida -- 78 Caring Stars of 2016
Alachua County
Plantation Oaks Senior Living
Brevard County
Century Oaks
Palm Cottages
Broward County
Active Senior Living Residence, Inc.
Aston Gardens at Parkland Commons
Five Star Premier Residences of Plantation
HarborChase of Coral Springs
Pacifica Senior Living Forest Trace
Presidential Place
Royal Palms Senior Residence
The Colony Club in Sunrise
Charlotte County
Citrus County
Clay County
Collier County
Barrington Terrace Of Naples
Brookdale North Naples
Duval County
Atria San Pablo
Brookdale Atrium Way
Brookdale Mandarin Central
The Windsor at San Pablo
Hernando County
Hillsborough County
Coventry Assisted Living
Cypress Creek Assisted Living Residence
Grace House of Tampa
Homewood at Freedom Plaza
Sun Towers Retirement
The Crossings at Riverview
Indian River County
Horizon Bay - Vero Beach
Isles of Vero Beach
Lake County
Benton House Clermont
Brookdale Lake Tavares
Brookdale Tavares
Freedom Pointe at The Villages
HarborChase of Villages Crossing
Lexington Park ALF
The Springs of Lady Lake
Waterman Village Retirement Community
Lee County
Brookdale Fort Myers Lakes Park
Brookdale Fort Myers the Colony
Cape Coral Shores Assisted Living
Lamplight of Fort Myers
Renaissance at the Terraces
Leon County
Broadview Assisted Living at Tallahassee
Manatee County
The Windsor of Venice
Water's Edge of Bradenton
Marion County
Marion Oaks Assisted Living
Miami-Dade County
Nassau County
Okaloosa County
Brookdale Fort Walton Beach
Orange County
Encore at Avalon Park
Spring Hills Hunters Creek
The Bridge at Orlando
Wellsprings Residence
Palm Beach County
Arbor Oaks at Greenacres
Grand Villa of Delray East
Stratford Court of Boca Pointe
Veranda Club
Pasco County
Atria Baypoint Village
Atria Windsor Woods
Pinellas County
Cabot Cove of Largo
Freedom Square
Grand Villa of Pinellas Park
Seasons Belleair
Polk County
Arbor Oaks at Lakeland Hills
Brookdale Highlands
Savannah Courth of Lakeland
Saint Lucie County
Brennity at Tradition
Palms at St. Lucie West
Sarasota County
HarborChase of Venice
Sunset Lake Village
Village on the Isle
Seminole County
Atria at Lake Forest
Brookdale Island Lake
Spring Hills Lake Mary
Volusia County
Brookdale DeLand
Countryside Lakes
Ormond in the Pines
Savannah Court of Orange City
Best Senior Living Georgia -- 24 Caring Stars of 2016
Chatham County
Oxton Court of Savannah
Savannah Commons
Cherokee County
Brookdale Canton
Brookdale Neese Rd Woodstock
Clayton County
Cobb County
Atria Johnson Ferry
Atria Mableton
Bethel Gardens
Brookdale Marietta
Day Break Village at Kennesaw
Coweta County
Dekalb County
Fulton County
Arbor Terrace at Cascade
Atria North Point
Brookdale Historic Roswell
Brookdale Sandy Springs
Country Gardens Senior Living
Summerset Assisted Living Community
Gwinnett County
Brookdale Lawrenceville
Ivy Springs Manor
Plantation South of Duluth
Sunrise of Johns Creek
Henry County
Mt. Carmel Personal Care Home
Houston County
Antebellum Grove Assisted Living
Summer's Landing of Warner Robins
Best Senior Living Hawaii -- 1 Caring Star of 2016
Honolulu County
Best Senior Living Idaho -- 2 Caring Stars of 2016
Canyon County
Prestige Assisted Living at Autumn Wind
Kootenai County
North Star Retirement Community
Best Senior Living Illinois -- 25 Caring Stars of 2016
Cook County
Autumn Green at Midway Village
Autumn Green at Wright Campus
Belmont Village Glenview
Brookdale Des Plaines
Brookdale Hoffman Estates
Brookdale Northbrook
Prairie Green at Fay's Point
Oak Park Arms
Sunrise of Palos Park
The Moorings of Arlington Heights
Victory Centre of River Oaks
Victory Centre of South Chicago
Waterford Estates Senior Living
DuPage County
Atria Park of Glen Ellyn
Brookdale Glen Ellyn
Kane County
Brighton Gardens of St. Charles
White Oaks at Spring Street
Kendall County
Lake County
Oak Hill Supportive Living
Paradise Park Assisted Living & Memory Care
Sunrise of Barrington
McHenry County
The Fountains at Crystal Lake
Peoria County
Will County
HarborChase of Plainfield
The Inn at Willow Falls
Best Senior Living Indiana -- 15 Caring Stars of 2016
Allen County
Elkhart County
Hamilton County
Johnson County
The Hearth at Stones Crossing
Lake County
Marion County
Brookdale Castleton
Clearwater Commons
Forest Creek Commons
Morningside of College Park
Robin Run
Rosegate Assisted Living and Garden Homes
Monroe County
Morgan County
Saint Joseph County
North Woods Village at Edison Lakes
Wells County
River Terrace Retirement Community
Best Senior Living Iowa -- 5 Caring Stars of 2016
Linn County
Keystone Cedars
The Villages at Marion
Polk County
Scott County
Silvercrest Garner Active Retirement Community
Woodbury County
Best Senior Living Kansas -- 9 Caring Stars of 2016
Johnson County
Brookdale Overland Park
Rose Estates Assisted Living
Silvercrest at Deer Creek
Sunrise of Lenexa
The Atriums
Leavenworth County
Country Place Senior Living Basehor
Sedgwick County
Cypress Springs Alzheimer's and Memory Support Residence
Lakepoint Wichita
Regent Park Assisted Living and Memory Care
Best Senior Living Kentucky -- 6 Caring Stars of 2016
Fayette County
Jefferson County
Atria Springdale
Elmcroft of Valley Farms
The Forum at Brookside
Kenton County
Warren County
Best Senior Living Louisiana -- 6 Caring Stars of 2016
Ascension Parish
Azalea Estates of Gonzales
Calcasieu Parish
Carriage House Assisted Living at the Verandah
East Baton Rouge Parish
Iberia Parish
Azalea Estates of New Iberia
Jefferson Parish
Ville Ste. Marie Senior Living Community
Lafayette Parish
Cornerstone Village South, Inc.
Best Senior Living Maryland -- 12 Caring Stars of 2016
Anne Arundel County
Baltimore County
Oak Crest
Sunrise of Pikesville
The Atrium Village
Frederick County
Country Meadows of Frederick
Sunrise of Frederick
Howard County
Harmony Hall
Sunrise of Columbia
Montgomery County
Aspenwood Senior Living Community
Brighton Gardens at Friendship Heights
Sunrise of Silver Spring
Prince Georges County
Arbor Terrace Senior Living
Best Senior Living Massachusetts -- 10 Caring Stars of 2016
Berkshire County
EPOCH Assisted Living at Melbourne
Bristol County
All American Assisted Living
Essex County
Middlesex County
Hearthstone Alzheimer Care
Hearthstone at New Horizons Alzheimer Care
Heritage at Framingham Senior Living
Norfolk County
Benchmark Senior Living at Forge Hill
Plymouth County
Allerton House at Harbor Park
Worchester County
Cornerstone at Milford Assisted Living
Dodge Park Rest Home
Best Senior Living Michigan -- 31 Caring Stars of 2016
Calhoun County
Eaton County
Ingham Regional Assisted Living
Genessee County
American House Grand Blanc Senior Living
American House North Senior Living - Flint
Kent County
Lenawee County
Livingston County
Independence Village of Brighton Valley
Macomb County
American House East I Senior Living
American House Lakeside
American House Sterling Heights Senior Living
My Doctor's Inn
Oakland County
American House Elmwood Senior Living
American House Farmington Hills Senior Living
American House Hazel Park Senior Living
American House Southfield Senior Living
American House Stone Senior Living
American House West Bloomfield Senior Living
Brookdale Farmington Hills
Brookdale Troy
Chester Street Residence
Independence Village of Waterstone
Sunrise of Bloomfield Hills
Sunrise at North Farmington Hills
Sunrise of Rochester
Ottawa County
Robbinswood Assisted Living
Saginaw County
Independence Village of Frankenmuth
Wayne County
American House Dearborn Heights Senior Living
Atria Kinghaven
Presbyterian Village
The Marquette House
Waltonwood at Cherry Hill
Best Senior Living Minnesota -- 9 Caring Stars of 2016
Anoka County
Copperfield Hill Assisted Living
Parkshore Senior Community
Sunrise of Edina
The Pines
Walker Plaza
Dakota County
Kingsley Shores Senior Living
The Rivers
Hennepin County
Washington County
Best Senior Living Mississippi -- 2 Caring Stars of 2016
Jackson County
Rankin County
Best Senior Living Missouri -- 7 Caring Stars of 2016
Gasconade County
Victorian Place of Hermann
Greene County
Close to Paradise Assisted Living
Lakewood
Platte County
The Gardens of Barry Road
Saint Louis County
Autumn View Gardens - Ellisville
Creve Coeur Assisted Living and Memory Care
Best Senior Living Montana -- 1 Caring Star 2016
Missoula County
Brookdale Missoula Valley
Best Senior Living Nebraska -- 3 Caring Stars 2016
Douglas County
Elk Ridge Village
Ridgewood Retirement Community
Lancaster County
The Windcrest on Van Dorn
Best Senior Living Nevada -- 14 Caring Stars 2016
Clark County
Acacia Springs
Atria Sutton
Desert Springs Senior Living
Pacifica Senior Living - Regency
Pacifica Senior Living Spring Valley
Prestige Assisted Living at Henderson
Siena Hills
Silver Sky at Deer Springs Assisted Living
Sunrise of Henderson
Willow Creek at Buffalo Assisted Living and Memory Care
Douglas County
Washoe County
Atria Summit Ridge
Brookdale Northwest Reno
MorningStar of Sparks
Best Senior Living New Hampshire -- 3 Caring Stars 2016
Hillsborough County
Benchmark Senior Living at Nashua Crossings
Ledgewood Bay at Milford
Rockingham County
Best Senior Living New Jersey -- 24 Caring Stars 2016
Bergen County
Atrium Senior Living of Park Ridge
Brighton Gardens of Saddle River
Sunrise of Paramus
Sunrise of Woodcliff Lake
The Bristal Assisted Living at Woodcliff Lake
Camden County
Brandywine Senior Living at Voorhees
Brookdale Voorhees
Essex County
Brighton Gardens of West Orange
Horizon Manor North
The Cliffs At Eagle Rock
Gloucester County
Middlesex County
Monmouth County
Atria Tinton Falls
Kensington Court
Reflections at Colts Neck
Morris County
Arden Courts of Whippany
Brighton Gardens of Florham Park
Jupiter Village at Chatham
Ocean County
Haven at Silverwoods
The Terraces at Seacrest Village
Somerset County
Union County
Warren County
Paragon Village, llc
The Chelsea at Brookfield
Best Senior Living New Mexico -- 6 Caring Stars 2016
Bernalillo County
Atria Vista Del Rio
Brookdale Valencia
The Aldea House dba Heaven Sent LLC
The Montebello on Academy
The Woodmark at Uptown
Sandoval County
Harmony Residential Care, Inc.
Best Senior Living New York -- 38 Caring Stars 2016
Albany County
Atria Guilderland
Atria Shaker
Cortland County
Dutchess County
The Fountains at Millbrook
Erie County
Brothers of Mercy Sacred Heart Home
Elderwood Assisted Living at West Seneca
Elderwood Village at Hamburg
Tennyson Court
Kings County
Sunrise at Mill Basin
Sunrise at Sheepshead Bay
The Waterford on the Bay
Monroe County
Atria Greece
The Landing of Brighton
Nassau County
Atria Tanglewood
Jones Manor on the Sound
Sunrise of Glen Cov
The Bristal Assisted Living at East Meadow
The Bristal Assisted Living at Lynbrook
The Bristal Assisted Living at Massapequa
The Bristal Assisted Living at North Hills
The Bristal Assisted Living at North Woodmere
New York County
Hearthstone Alzheimer Care
Onondaga County
Richmond County
Rockland County
Hearthstone Alzheimer Care
Promenade at Chestnut Ridge
Saratoga County
Beacon Pointe Memory Care Community
Suffolk County
Atria Huntington
The Arbors Hauppauge
The Arbors At Islandia East
The Bristal Assisted Living at East Northport
The Bristal at Lake Grove
The Bristal at Sayville
Warren County
Emeritus at Landing of Queensbury
Westchester County
Hearthstone at The Esplanade
Sunrise of Crestwood
The Bristal at White Plains
The Country House in Westchester
Best Senior Living North Carolina -- 20 Caring Stars 2016
Cabarrus County
Brookdale Concord Parkway
First Assembly Living Center
Morningside of Concord
Catawba County
Craven County
Croatan Village Assisted Living Community
Cumberland County
Durham County
Forsyth County
Lincoln County
Carillon Assisted Living of Lincolnton
Mecklenburg County
Brookdale South Charlotte
Summit Place of South Park
The Crossings at Steele Creek
Waltonwood Providence
Nash County
Union County
Carillon Assisted Living at Indian Trail
Wake County
Bright Horizon Senior Care
Brookdale Cary
Sunrise at North Hills
Woodland Terrace
Watauga County
Deerfield Ridge Assisted Living
Best Senior Living Ohio -- 22 Caring Stars 2016
Cuyahoga County
Brookdale Rockefeller
Brookdale Westlake Village
Gardens at Westlake Senior Living
Kindred Transitional Care and Rehabilitation
Delaware County
The Inn at Olentagy Trail
Franklin County
Brookdale Chestnut Hill
Brookdale Lakeview Crossing
Brookdale Trillium Crossing
Hamilton County
Atria Northgate Park
Brookdale Springdale
Evergreen Retirement Community
Renaissance West at North Bend Crossing
Lake County
Mahoning County
Montgomery County
10 Wilmington Place
Brookdale Englewood
Portage County
Stark County
Brookdale Canton
The Inn at Belden Village
Summit County
Brookdale Montrose
Cardinal Retirement Village
Tuscarawas County
The Inn at Northwood Village
Best Senior Living Oklahoma -- 9 Caring Stars 2016
Jackson County
Tamarack Assisted Living Center
Oklahoma County
Concordia Life Care Community
Copper Lake Estates
Legend at Council Road
Tealridge Retirement Community
Town Village
Rogers County
Tulsa County
The Parke Assisted Living
Best Senior Living Oregon -- 11 Caring Stars 2016
Benton County
Clackamas County
Royalton Place
The Springs at Carman Oaks
Deschutes County
Jackson County
Prestige Senior Living Arbor Place
Lane County
Fox Hollow Residential Care Community
Sheldon Park Assisted Living
Waterford Grand
Marion County
Multnomah County
Washington County
Rosewood Park Retirement and Assisted Living Residence
Best Senior Living Pennsylvania -- 18 Caring Stars 2016
Allegheny County
Harbour Senior Living of Monroeville
Juniper Village at Forest Hills
Berks County
Chestnut Knoll Personal Care and Memory Care
Bucks County
Ann's Choice
The Solana at Doylestown
Butler County
Concordia at Cabot
Concordia of Cranberry
Chester County
Delaware County
Rose Tree Place
The Residence at Glen Riddle
Lackawanna County
Clarks Summit Senior Living
Oakwood Terrace
Montgomery County
Sunrise of Blue Bell
Sunrise of Dresher
The Birches at Arbour Square
The Solana Horsham
Philadelphia County
Arbor Terrace at Chestnut Hill
York County
Country Meadows - Leader Heights (South York)
Best Senior Living Rhode Island -- 4 Caring Stars 2016
Kent County
Providence County
EPOCH Assisted Living on Blackstone Boulevard
Pocasset Bay Retirement Living
The Village at Waterman Lake
Best Senior Living South Carolina -- 9 Caring Stars 2016
Beaufort County
Berkeley County
Summit Place of Daniel Island
Charleston County
Brookdale Charleston
Somerby of Mount Pleasant
Greenville County
Horry County
Brightwater
Myrtle Beach Manor
Richland County
The Crossings at Columbia
Spartanburg County
Best Senior Living South Dakota -- 1 Caring Star 2016
Minnehaha County
Best Senior Living Tennessee -- 18 Caring Stars 2016
Anderson County
Bradley County
Davidson County
Belmont Village Green Hills
Brookdale Belle Meade
Elmcroft of Brentwood
Hamblen County
Regency Retirement Village - Morristown
Hamilton County
Brookdale Hixson
Elmcroft of Shallowford
Knox County
Atria Weston Place
Elmcroft of West Knoxville
Manorhouse Assisted Living
Loudon County
Morning Pointe of Lenoir City
Shelby County
Belmont Village Memphis
Foxbridge Assisted Living Community
Heritage at Irene Woods
The Glenmary at Evergreen
The Solana at Germantown
Washington County
Broadmore Senior Living at Johnson City
Best Senior Living Texas -- 62 Caring Stars 2016
Bell County
Bexar County
Autumn Leaves of Stone Oak
Blue Skies of Texas
Franklin Park Stone Oak
Pipestone Place Assisted Living
Seasons Alzheimer's and Assisted Care (Nacogdoches Road)
Seasons Alzheimer's and Assisted Care (Old Tezel Road)
The Laurels & The Haven in Stone Oak
Collin County
Brookdale Stonebridge Ranch
DaySpring Assisted Living
Mustang Creek Estates Residential Assisted Living
Dallas County
Abby's Place
Appletree Court Assisted Living
Brookdale Club Hill
Brookdale Farmers Branch
Brookdale Irving
River Oaks Assisted Living and Memory Care
Silver Creek Assisted Living
Denton County
Brookdale Denton South
Knight's Assisting Life LLC
Mustang Creek Estates Frisco TX
El Paso County
Fort Bend County
Galveston County
The Cottages at Clear Lake
Harris County
Belmont Village West University
Brookdale Kingwood
Brookdale Shadowlake
Brookdale The Woodlands
Elmcroft of Braeswood
Isle at Kingwood
Spring Creek Village
>Sunrise of Cinco Ranch
The Gardens of Bellaire
The Village of Meyerland
Hays County
Jefferson County
Atria Collier Park
Pelican Bay
Johnson County
Montgomery County
Sunrise Senior Care Home
Village Green Alzheimer's Care Home
Nueces County
Potter County
The Cottages at Quail Creek
Randall County
Smith County
Atria Copeland
Atria Willow Park
Garden Estates of Tyler
Tarrant County
Bethesda Gardens
Brookdale Oak Hollow
Isle at Watercrest - Mansfield
Isle at Watermere
Legacy at Bear Creek
Mustang Creek Estates
Travis County
Brookdale Gaines Ranch
Brookdale North Austin
Brookdale Parmer Lane
Van Zandt County
Country Place Senior Living of Canton - Mulberry
Wichita County
Williamson County
A Touch of Home Assisted Living
Horizon Bay Round Rock
The Cottages at Chandler Creek
The Lodge at Rocky Hollow
Tiffin House
Best Senior Living Utah -- 13 Caring Stars 2016
Cache County
Legacy House of Logan Assisted Living
Davis County
Apple Tree Assisted Living
Chancellor Gardens
Fairfield Village of Layton
Heritage Place Assisted Living
Legacy House of Bountiful
Salt Lake County
Atria Sandy
Cottonwood Place Senior Living
Golden Living Taylorsville
Highland Cove
Utah County
Bel Aire Senior Living
Osmond Senior Living of Lindin Utah
Washington County
Best Senior Living Virginia -- 21 Caring Stars 2016
City of Alexandria
Arlington County
City of Chesapeake
Chesterfield County
Commonwealth Assisted Living at Chesterfield
Fairfax County
Spring Hills Mount Vernon
Sunrise of Hunter Mill
Sunrise at Mount Vernon
Gloucester County
Goochland County
City of Harrisonburg
Henrico County
Morningside in the West End
City of Lynchburg
Bentley Commons at Lynchburg
Heritage Green Assisted Living and Memory Care
Roanoake County
Spotsylvania County
Chancellor's Village
Greenfield of Spotsylvania
Stafford County
City of Virginia Beach
Marian Manor

City of Winchester

The Willows at Meadow Branch

Best Senior Living Washington -- 17 Caring Stars 2016

Benton County

Brookdale Canyon Lakes
Brookdale Meadow Springs

Clark County

Touchmark at Fairway Village

Cowlitz County

King County

Brookdale Bellevue
Brookdale Federal Way
Chateau at Bothell Landing
Fairwinds - Brittany Park
Madrona Park
Redmond Heights Senior Living
Sunrise of Bellevue

Kitsap County

Brookdale Montclair Poulsbo

Pierce County

Kings Manor
Silver Creek by Bonaventure
The Lodge at Mallard's Landing

Snohomish County

Spokane County

Sullivan Park Assisted Living Community

Best Senior Living Wisconsin -- 8 Caring Stars 2016

La Crosse County

Eagle Crest Senior Living Community

Milwaukee County

Harbour Village
Meadowmere & Mitchell Manor West Allis

Outagamie County

Racine County

St. Monica's Senior Living

Rock County

The Heartwarming House, LLC

Waukesha County

Winnebago County