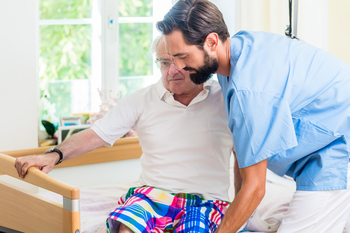 All Rights Reserved
If you're caring for an aging loved one who lives at home, whether only occasionally or round-the-clock, chances are you could use some help. Most family caregivers either don't have the time, strength or training to fulfill all of their loved one's care needs.
That's where a personal care assistant can come in. Also known as personal aides, these trained in-home caregivers can help with a range of activities of daily living and chores, not to mention companionship.
When to Use a Personal Care Assistant
Many family caregivers of aging adults enlist personal care assistants to solve problems in their home care situations. For instance, a small woman caring for her spouse may hire a strong aide who can help move her spouse from bed to a chair. A son concerned about privacy might hire a personal care assistant to bathe his mother.
The added assistance often enables the aging adult to remain at home rather than moving to a facility. And for caregivers, hiring this help can provide a much needed break as well as peace of mind, especially if the personal care assistant provides regular services and is familiar to the person receiving care.
Services Provided by Personal Care Assistants
Personal care assistants can help with the following:
Companionship

Light housekeeping

Grocery shopping

Preparing meals

Grooming & hygiene, including bathing and dressing
It's important to note that personal care assistants do not provide medical services, such as diabetes care, but can help administer prescribed medications and -- if they have the proper training -- can help move those with mobility limitations.
Difference Between Personal Care Assistants and Elder Companions
Personal care assistants are sometimes confused with elder companions, but there are some key differences, says Jennifer Voorlas, a Los Angeles-based geriatric care manager and owner of Geriatric Care Consultants, LLC.
Elder companions typically have less training than personal care assistants and assists with tasks like meal preparation, light housekeeping and grocery shopping. However, unlike personal care assistants, elder companions are not qualified to provide help with personal care such as grooming, bathing or dressing.
Cost of Personal Care Assistants
Personal care assistant rates range from $15 to $40 per hour on average for intermittent help, and about $150 to $200 per day for live-in care. These costs can vary widely depending on where in the U.S. you live. More information on average home care rates can be found at Genworth.com.
How to Hire a Personal Care Assistant
Start your search for a personal care assistant in Caring.com's Senior Living Directory. There, you'll find listings for in-home care agencies, most of which provide personal care assistants. Search by city or zip code to see ratings and reviews.