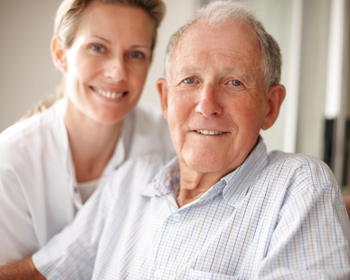 All Rights Reserved
Elder companions -- sometimes called home companions, who also cater to a younger population -- do just what the name implies: provide company for people who live alone, especially those who are homebound because of frailty or dementia. Most importantly, these companions function as an extra set of hands, eyes, and feet to the person you care for when you can't be there.
Specifically, most companions can assist with the following:
Meal preparation

Light housekeeping

Laundry

Grocery shopping

Errands
How they help
Elder companions are ideal for those who spend much of their time alone and require some assistance with basic daily tasks. Family members can work or handle other activities -- or simply take a few hours of respite -- while their loved one has company and some supervision. Companion care also provides valuable social benefits, decreasing isolation and improving quality of life. Warm relationships are often formed when a consistent companion is on the job -- a boon for both the companion and the person he or she visits.
What they cost
Cost can range from free services provided by local volunteers to between $10 to $25 per hour for help arranged through an in-home care agency, depending on the type of care needed, time of day, location, and services provided. Medicaid or Medi-Cal may help pay some of the costs of care from a licensed provider for those who have low income and few assets.
How to get started
You can find companions on your own in much the same way you'd find a babysitter: by talking to neighbors, friends, or family members. Or you can try these options:
In-home care agencies. Use Caring.com's Senior Living Directory to search for in-home care agencies, most of which provide elder companions, by city or zip code -- and to see ratings and reviews.

Meals on Wheels. In addition to providing the hallmark service they're known best for -- home deliveries of meals to older adults and others with mobility limitations -- many local Meals on Wheels programs provide outreach services, including a Friendly Visitor Program that pairs a volunteer with a neighboring senior. Begin your search for local help at the Meals on Wheels website.

Area Agencies on Aging. Trained staff at your local Area Agency on Aging can usually provide referrals for local help.

Local newspapers. Try placing an ad briefly describing your needs in a local newspaper.

Local high school students. Contact area high school counselors. College-bound students often need community service experience and are available to provide some care and company during afternoons and evenings.