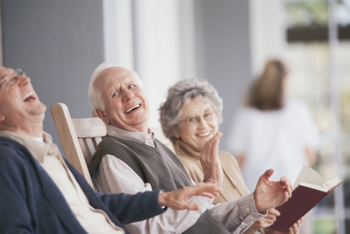 All Rights Reserved
What they do
Adult day services -- sometimes called adult day health services or adult daycare -- provide care and supervision outside the home for older adults with physical or mental limitations. Many provide limited health services, mind and body exercise, social activities, meals, transportation, and other support services. Most offer a safe, supervised environment, even for those with dementia or those who are so frail they'd otherwise have to be cared for in a skilled nursing facility. More and more adult day services operate as stand-alone centers; others are a part of senior centers, churches, hospitals, or residential care facilities.
How they help
Adult day services are a godsend to families who can't afford full-time, in-home care and need some way to keep their loved ones busy and engaged in a safe, supportive, supervised place. And because many offer door-to-door transportation, at least one hot meal, and a range of health services and activities, many family caregivers find that this option allows them to keep working -- or to take a periodic much-needed break from caregiving.
What they cost
Expect to spend $25 to $150 per day, depending on location and services provided, but many offer sliding-scale fees and accept Medicaid and other types of insurance coverage.
How to get started
It's best to contact and tour possible adult day services providers to find the best fit for your loved one. Two good places to find leads:
Use Caring.com's Senior Living Directory to search for adult day services by city or zip code -- and to see ratings and reviews.

Contact the staff at your local Area Agency on Aging and ask for a referral.