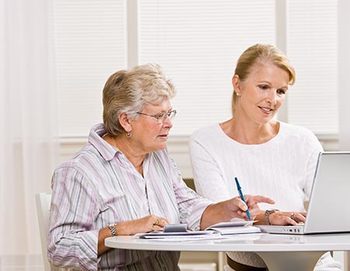 All Rights Reserved
Medicare provides health insurance coverage to 48 million Americans, nearly one-sixth of the U.S. population. California has the largest Medicare population of any state, with 5 million Medicare beneficiaries (more than 10 percent of the entire Medicare population). Chances are, everyone reading this knows somebody who depends on Medicare for their health insurance coverage. Elaine Wong Eakin, executive director of California Health Advocates, discusses what we all need to know about the current state of Medicare, as it relates both to California residents and to the nation as a whole.
For those who are unfamiliar, tell us about California Health Advocates.
EWE: California Health Advocates (CHA) is an independent, not-for-profit organization. Our mission is to provide quality Medicare and related healthcare coverage information, education, and policy advocacy. CHA was founded in 1997 by managers of the Health Insurance Counseling & Advocacy Program (HICAP), the Medicare benefits counseling program. CHA continues to support the work of HICAP by providing training, technical assistance, and policy advocacy. CHA has a website for both beneficiaries and professionals at www.cahealthadvocates.org. CHA sponsors California's Senior Medicare Patrol, which educates the public on how to protect themselves from healthcare fraud and abuse.
In terms of Medicare advocacy, what are the hot-button issues for Medicare recipients and their families?
EWE: For all Medicare beneficiaries, but especially those new to Medicare, they should be aware that they have different options to receive their Medicare benefits, and they should understand the differences and consequences of each choice. For example, Medicare beneficiaries can choose to receive their Medicare through Original Medicare, which is fee-for-service, or through a Medicare Advantage plan, depending on where a beneficiary lives. Whichever they choose, they are in the Medicare program but there are some differences, including their choice of providers and cost sharing. For example, a beneficiary who chooses Original Medicare can go to any doctor who accepts Medicare assignment, but the beneficiary has to find these doctors. A beneficiary who enrolls in a Medicare Advantage plan, depending on the type of plan, may choose doctors within the plan's network (usually listed in the provider directory), and if he or she wants to see a doctor outside the network, the plan most likely will not cover.
Another difference is cost sharing. A beneficiary in Original Medicare has a deductible ($147 in 2013) for most outpatient medical services (Medicare Part B), and after the deductible is met, the coinsurance is 20 percent of the Medicare-approved amount. Depending on the Medicare Advantage plan a beneficiary chooses, there may or may not be a deductible, and many plans have a co-payment rather than coinsurance. A beneficiary's decision is not for life but can be changed annually. During the Annual Election Period (October 15 to December 7), beneficiaries can make changes, such as enrolling in a Medicare Advantage plan from Original Medicare or disenrolling from a Medicare Advantage plan and returning to Original Medicare. In making such changes, a beneficiary should consider how his/her access to care may change. For example, if he/she must change providers (doctors and/or hospitals), if his/her prescriptions will be covered, etc. The Health Insurance Counseling & Advocacy Program (HICAP), the Medicare benefits counseling program, can help a beneficiary who is considering such changes. HICAP is the State Health Insurance Assistance Program (SHIP) in California and can be reached at (800)-434-0222.
A couple of hot-button issues are observation status and the improvement standard. Observation status has to do with how a hospital classifies a patient, depending on the patient's condition. Is the beneficiary admitted as an inpatient and billed for inpatient services, or is the beneficiary put under "observation" as an outpatient and billed differently from an inpatient? In recent years, an increasing number of beneficiaries are being classified as under "observation" past the 24- to 48-hour time limit for observation status, which can have grave financial consequences for Medicare beneficiaries. Besides having different out-of-pocket costs, a beneficiary who was an outpatient under observation would not have Medicare coverage for a subsequent skilled nursing facility (SNF) stay. For Medicare to cover a SNF stay, a beneficiary must have been admitted as an inpatient in a hospital, stayed in the hospital for at least 3 consecutive days, and needed SNF care for the same condition, and been admitted within 30 days of discharge from the hospital. A beneficiary who is under observation as an outpatient does not satisfy the requirements and would have to pay for the SNF stay out of pocket. A couple of Medicare advocacy groups have jointly filed a lawsuit on behalf of 7 beneficiaries who represent a nationwide class of beneficiaries negatively impacted by this policy and practice. See our blog article about observation stays for more info on this issue.
The improvement standard was the target of a class-action lawsuit, which challenged the practice of denying necessary care to beneficiaries because they showed no improvement. A proposed settlement agreement was reached in November 2012, which confirms that skilled services are covered by Medicare if they are required to maintain a patient's condition or to prevent or slow further deterioration. In other words, skilled services cannot be denied because the beneficiary does not show improvement.
Although the settlement must be finalized, we want Medicare beneficiaries, their families, and especially their providers to know that Medicare does cover skilled nursing and therapy services if they are necessary, and the practice of denying services using the improvement standard must stop. If services are denied, a beneficiary can appeal.
Another hot-button issue that we all should be concerned about, not just Medicare beneficiaries, is how the Medicare program will survive attempts to cut federal spending to reduce the budget deficit. In light of the increasing costs of healthcare and a growing Medicare population as baby boomers become eligible, several Medicare "reform" proposals have been circulating, such as premium support and raising the eligibility age. California Health Advocates does not believe these proposals, or others that cut benefits or raise beneficiary cost sharing, would be effective. We advocate for changing the healthcare system to aim for better healthcare that results in better health outcomes and controls healthcare costs. For instance: focusing on wellness and prevention, bundling payments, reducing waste, encouraging efficiency (such as coordinating care and using electronic health records), and preventing fraud and abuse.
The new health law, the Affordable Care Act, introduced initiatives to control costs as well as pay for value instead of volume. Instead of focusing on cutting Medicare spending by shifting the cost to beneficiaries, lawmakers should build on the initiatives in the Affordable Care Act and address the challenge of taking care of a growing Medicare population without adding to the federal deficit. We encourage everyone to pay close attention to proposals being made and tell their congressional representative how important Medicare is to present and future beneficiaries.
What types of information does CHA provide?
EWE: CHA provides information for both beneficiaries and professionals who work with beneficiaries. We have comprehensive and easy-to-read information on all parts of the Medicare program on our website, including:
Medicare eligibility
Enrollment periods
Medicare cost sharing
Resources and FAQs for those new to Medicare
Prescription drug coverage
Medicare Advantage plans
Ways to supplement Medicare, including Medigap plans and retire plans
Appeal rights
Medicare for people with disabilities
Long-term care options
Medicare fraud
We also have extensive information on programs for people with low income and few assets, such as Medi-Cal; Medicare Savings Programs; and Extra Help for Medicare Part D prescription drug coverage, a low-income subsidy program that pays the drug plan deductible and co-pays for people who qualify.
CHA has a blog and newsletter articles with updates on current Medicare news and other health insurance-related issues, including healthcare reform. And CHA provides 32 Medicare Fact Sheets covering 9 major topic areas for professionals working with beneficiaries, available via an annual subscription.
In addition, CHA provides Medicare training on all the above-mentioned topics for service providers.
CHA's website has the contact information for all the Health Insurance Counseling & Advocacy Program (HICAP) offices throughout the state. HICAP provides free, unbiased individual counseling on Medicare and related health insurance questions to California residents and can be reached at (800) 434-0222. HICAP is California's State Health Insurance Assistance Program (SHIP), and every state has a SHIP.
As the name implies, CHA focuses primarily on Medicare issues as they relate to California residents. What issues involving Medicare are specific to Californians or tend to impact Californians differently than in other states?
EWE: California has the largest Medicare population of any state. There are 5 million Medicare beneficiaries in California (10% of the total Medicare population), and the next state (Florida) has fewer than 4 million. Size matters when change affects so many people. An initiative from the Affordable Care Act to integrate care for individuals dually eligible for Medicare and Medicaid, commonly referred to as "duals" for short, illustrates the point. California has 1.2 million duals. The initiative in California, commonly called the Duals Demo, is estimated to affect 44 percent of duals for the first three years. However, the size of this population, 526,902 duals, is huge for a demonstration project and bigger than the populations that will be affected by approved demonstrations in two other states. As advocates, we are concerned that people might not understand how the Duals Demo would affect their access to benefits, make them lose access, disrupt their care, and impact their health.
Medigap, or formally, Medicare supplemental insurance, policies are state regulated. California law provides certain extra rights and protections that are not found under federal law. Medicare beneficiaries sometimes experience changes to their coverage and want to buy a Medigap policy to supplement their benefits in Original Medicare. In such situations, California law broadens existing federal protections and adds new ones to allow people to buy a Medigap policy without a health screening.
For example, under federal law, Medicare beneficiaries at age 65 or older can get a Medigap policy without health screening for six months, starting with the effective date of their Part B. California extends this protection to disabled beneficiaries under age 65 when they first enroll in Part B. California law also requires companies to issue Medigap coverage to Medicare beneficiaries without health screening or exclusions for preexisting conditions if they lose access to healthcare at military bases or their retiree benefits are reduced or eliminated. In addition, beneficiaries can trade their Medigap policy, for 30 days starting on their birthday each year, for another Medigap from the same or different company for benefits that are the same or less than they already have in their current Medigap policy.
Some common mistakes:
Buying a Medigap policy without comparing companies or rates. Tip: A person looking to buy a Medigap policy should know that there are ten Medigap plans (one has a high deductible option) and compare the benefits among the different plans before deciding on a plan. Next they should find out which companies sell the Medigap plan they want. They should short-list at least three companies and call each company about rates, customer service, etc., before deciding on the company. The Health Insurance Counseling & Advocacy Program (HICAP) provides information and guides people in the process to buy a Medigap policy. HICAP can be reached at (800) 434-0222.

Buying a Medigap policy to help pay the cost sharing in a Medicare Advantage plan. Tip: A Medigap policy will supplement only Original Medicare.

Buying the most basic plan when a beneficiary is younger. Tip: It is understandable why a Medicare beneficiary would choose a basic plan or a plan with fewer benefits when he/she is younger and feels healthy. If the beneficiary wants a Medigap plan with more benefits later when he/she needs more healthcare, he/she may be subject to health screening and/or medical underwriting, or his/her Medigap application may be declined.

Assuming that the Medigap policy will cover the services of a doctor who has opted out of Medicare. Tip: If Medicare does not cover a service, neither will the Medigap policy.
What are the most common misconceptions Medicare recipients and their families have in terms of using Medicare?
EWE: Some common misconceptions:
Medicare is all-inclusive and will cover all of beneficiaries' healthcare costs and services. Fact: Although Medicare covers many hospital and medical services, it does not cover all services, and for the services that Medicare does cover, beneficiaries have cost sharing.

A beneficiary who enrolls in a Medicare Advantage plan "signs over" or gives up their Medicare. Fact: A beneficiary who enrolls in a Medicare Advantage plan is still in the Medicare program and is not stuck in the Medicare Advantage plan for life. If he/she disenrolls from the Medicare Advantage plan (there are certain periods when a beneficiary can disenroll), the beneficiary goes back to Original Medicare. Beneficiaries in a Medicare Advantage plan have the same rights and protections as those in Original Medicare.

A beneficiary who enrolls in a Medicare Advantage plan does not have to pay the Part B premium. Fact: A beneficiary who enrolls in a Medicare Advantage plan continues to pay the Part B premium (to Medicare) plus the plan's premium (to the plan if there is a premium).

Everyone who retires gets Medicare. Fact: A person who turns 65 becomes eligible for Medicare regardless of whether they are retired. People who retire before they turn 65 must wait until they turn 65 to get Medicare. People who continue to work past 65 and have health coverage from their employer (or their spouse works and gets employer health coverage for the couple) are eligible for Medicare when they turn 65, but they may delay enrolling in Medicare until they stop working.

Medicare covers nursing homes.
Fact: Generally, care in a nursing home is custodial care, which Medicare does not cover. Medicare does not cover long-term care, such as in a nursing home or assisted living facility, to assist with activities of daily living (ADL). Medicare does cover a skilled nursing facility (SNF) stay if the requirements are met. If the requirements are met, Medicare pays 100 percent for Medicare-covered services for the first 20 days of the stay. From the 21st to the 100th day of a SNF stay, the beneficiary has a daily co-payment ($148/day in 2013). Medicare does not cover any services after 100 days.

People who have not worked enough to earn credits to get Part A "free" are not eligible for Part A. Fact: People who did not work 40 or more quarters are not entitled to "free" Part A, but they are eligible for Part A and can get coverage by paying a premium.
What are the key factors regarding prescription drug coverage that Medicare recipients and their families should know?
EWE: Medicare Part D is a voluntary prescription drug insurance program available to everyone who has Medicare, regardless of income or health status. Private companies contract with Medicare to offer insurance plans for prescription drugs, and beneficiaries choose the drug plan and pay a monthly premium. Beneficiaries with low incomes may qualify to get extra help to pay for most of their drug costs. Although Medicare Part D is optional, people who don't sign up for a drug plan when they are eligible and don't have other creditable drug coverage (coverage that is actuarially equivalent to or better than the Medicare Part D standard benefit) will be charged a penalty if/when they do eventually sign up for a Medicare Part D plan.
Medicare beneficiaries can get Part D coverage through a stand-alone prescription drug plan or a Medicare Advantage plan with prescription drug benefits.
There are certain periods where one can enroll into, disenroll from, or switch Part D plans. When a person first becomes eligible for Medicare, he/she has a seven-month Initial Election Period to enroll in a Part D plan. Every year during the Annual Election Period between October 15 and December 7, people can enroll, disenroll, or change Part D plans, and the change becomes effective the following January 1. See our website section on Enrollment into Part D for more information.
Part D plans contract with Medicare yearly. Sponsors of Part D plans (private insurance or health plans) can change plan costs and formularies for the next contract year, if the plan renews. Therefore, it is important for each enrollee to review their plan's changes for the coming year in the fall, and evaluate whether to switch plans during the Annual Election Period. The Health Insurance Counseling & Advocacy Program (HICAP) provides information and helps people compare Medicare Part D plans. HICAP can be reached at (800) 434-0222.
Healthcare reform is a high-profile issues these days. In terms of the Affordable Care Act, what are the advantages and disadvantages for Medicare recipients?
EWE: The Affordable Care Act (ACA) offers many advantages to Medicare beneficiaries, including:
No deductibles or co-payments for many Medicare-covered preventive services.

New preventive benefits, such as an annual wellness visit, cancer screenings, smoking-cessation counseling, obesity screening and counseling, alcohol misuse screening and counseling, counseling to reduce the risk of cardiovascular disease, and screening for depression.

Lower out-of-pocket Part D prescription drug costs for those with large medication expenses. Beneficiaries who reach the coverage gap (also known as the donut hole) now pay 47.5 percent of their brand-name drug costs and 79 percent of their generic costs -- not 100 percent, as before the ACA. This amount will decrease gradually until 2020, when beneficiaries will pay 25 percent of their drug costs until they reach catastrophic coverage. As of June 2012, nearly 4 million Medicare beneficiaries had saved more than $2.1 billion on prescription drugs while in the coverage gap (for year 2012).
An end to overpayments to Medicare Advantage (MA) plans, saving both taxpayers and the Medicare program millions of dollars. By 2014, MA plans will be required to invest at least 85 percent of all the funds they collect in premiums and co-payments back into quality healthcare services for beneficiaries, versus high administrative costs and profits.
More tools to prevent and fight Medicare fraud and abuse. The ACA allocates more resources and facilitates data-sharing to fight and prevent Medicare fraud, expands efforts to prevent and recover overpayments, enhances penalties to deter fraud and abuse, imposes tougher new rules and sentences for criminals convicted of Medicare fraud, and requires providers and suppliers to establish ethics and compliance plans as a condition of enrollment to participate in Medicare.d abuse, imposes tougher new rules and sentences for criminals convicted of Medicare fraud, and requires providers and suppliers to establish ethics and compliance plans as a condition of enrollment to participate in Medicare.
The main disadvantage of the ACA for the lay public is that it is a long piece of legislation (more than 2,000 pages) and covers many topics. Many people learn about the ACA through another source and, unfortunately, the ACA is often presented with a political bias rather than objectively. Do people who oppose the ACA, especially Medicare beneficiaries, understand what is in the law?
Medicare fraud is, unfortunately, common. What advice do you have for Medicare recipients and their families when it comes to identifying and reporting possible fraud or abuse?
EWE: The days of being a passive healthcare consumer are over. Today's Medicare beneficiaries must be informed about their benefits and alert to possible schemes that compromise their healthcare identities. There are many schemes that try to steal Medicare numbers (which, for most beneficiaries, is the same as their Social Security number). Medicare beneficiaries must treat their Medicare card like a credit card. Our motto is "Guard the Card," and that means not giving their Medicare number out to anyone other than the healthcare entity they have chosen to work with. We tell beneficiaries to never give out their Medicare number to a stranger calling over the phone. Many scammers call Medicare beneficiaries claiming to be from Medicare or Social Security and ask for the beneficiary's Medicare number and/or their bank routing number. If someone is unsure of a phone solicitation, they can simply hang up and call (800) MEDICARE for verification. Beneficiaries should beware of "free" medical services or people touting new services/regulations under "Obamacare." Medicare benefits are fundamentally unchanged by the Affordable Care Act, and no new Medicare cards are issued to replace old ones. People who have received calls or mail or any solicitations that seem suspicious should contact CHA's Senior Medicare Patrol at (855) 613-7080.