Sex After 40
7 Hidden Romance Stoppers -- and What to Do
92% helpful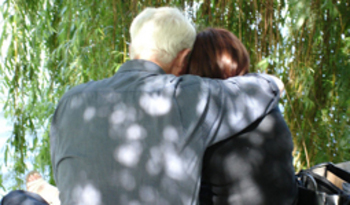 Couples whose sexual relationship has vanished into thin air like so much birthday-candle smoke tend to blame the ravages of time: boredom, menopause, just getting older. But those aren't the real problems.
A 2008 study of more than 40,000 women found that 45 percent experienced sexual dysfunction, compared with 31 percent of men. The peak age for complaints: 45 to 64.
"Impaired sexuality and sexual function aren't normal consequences of aging," says geriatric psychiatrist Ken Robbins, a Caring.com senior medical editor. Adds Elizabeth G. Stewart, an assistant professor of obstetrics, gynecology, and reproductive biology at Harvard Medical School and the author of The V Book, "Sex can be more satisfying than ever during perimenopause and after menopause -- if you avoid certain traps."
Here are seven of the most common sex-stoppers of the 40s and beyond:
Romance Stopper #1: Pain and discomfort
Discomfort during intercourse -- usually vaginal dryness -- is the number-one sexual complaint of women over 40, the years of perimenopause and postmenopause. That's because falling estrogen levels cause the vaginal walls to thin and the usual pH and bacterial balance of the vagina to change (a cascade of changes known, alas, as "atrophy").
Fortunately, it's a problem for which there are many effective, safe treatments today, especially those that replenish estrogen, according to Stewart. "The real problem is the perception out there that estrogen is awful and will give you cancer immediately," she says, referring to popular concerns about the health risks of hormone replacement therapy. "The local options are so safe and release such tiny amounts of estrogen that oncologists even recommend them for women who have breast cancer, because they don't bump systemic estrogen levels."
Solutions: You don't have to take estrogen by mouth. Estrogen-based treatments available by prescription come in the form of creams (such as Premarin cream), a ring inserted for three-month intervals (Estring), and a dissolvable tablet that's inserted in the vagina (Vagifem). You can also try over-the-counter, water-based lubricants (such as KY Jelly, Astroglide) and longer-lasting vaginal moisturizers (such as Replens and Lubrin).