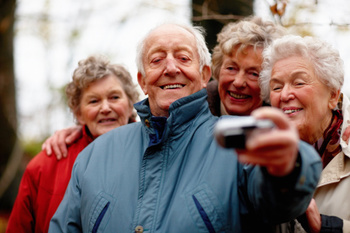 All Rights Reserved
It's no secret that aging comes with numerous challenges, but it might surprise many to learn that loneliness doesn't have to be one of them.
According to a new study commissioned by Caring.com, it would appear that far fewer Americans aged 65 and older are as lonely as one might assume. The study, conducted by Princeton Survey Research and Associates International in January 2016, asked 628 adults 65 and older how often they feel lonely or isolated from family and friends.
According to the survey's findings, only 6 percent of respondents said they "often" feel lonely, while 16 percent said they feel lonely "sometimes," and a staggering 59 percent said they "never" feel lonely.
"This is a subset of a much larger issue, which is the subjective well-being of older adults," says Dr. Paul Chafetz, a Dallas-based geropsychologist and former associate professor of psychology at The University of Texas Southwestern Medical Center. "And what we're finding from more and more research is really the opposite of what most people believe about late life."
Loneliness shouldn't be assumed
According to Chafetz, our assumptions about senior loneliness stem from a subtle form of ageism and "unjustified negative beliefs about older adults" that unfairly correlates aging with general feelings of isolation and depression.
To that end, Chafetz isn't surprised by the survey's findings.
"When I was a young graduate student they used to call depression 'the common cold of late life.' They believed everyone in late life was depressed," says Chafetz. "But the opposite is true. Depression gets much less common as we look at older and older age groups."
This is what he calls "the paradox of well-being late in life." On one hand we know older Americans struggle with greater health and financial problems than younger age groups, and yet time and time again—on average—their mood and subjective well-being is better than those in younger adult age groups.
"We attribute this to personality skills that give older adults wisdom and perspective and an appreciation for what's good in their lives," says Chafetz. "With more life experience people learn how to adjust to their reality…and overall they're more emotionally well-balanced."
What's more, frequent connections to family may also play a significant role in stemming the tide of loneliness amongst senior adults.
According to the study, the vast majority of respondents (58 percent) said they interact with family every day, either in person, over the phone, or in "some other fashion." What's more, 24 percent said they interact with family at least once a week.
"This is so important because isolation from friends and family is a recipe for disaster," says Lynette Whiteman, executive director of Caregiver Volunteers of Central Jersey, a nonprofit that helps the homebound elderly remain independent. "I've heard from older adults who only interact with other people when they go to the doctor, or who wait for the mailman just so they can talk to someone. Without human interaction, loneliness slowly sets in. Maintaining relationships is key."
Loneliness varies by demographic
Despite its overall positive implications, the survey found that loneliness can depend on a variety of demographic factors.
For instance, seniors who live in urban areas report being "often" lonely at twice the rate of suburban and rural seniors.
According to Jennifer FitzPatrick, gerontologist speaker and author of "Cruising Through Caregiving: Reducing the Stress of Caring for Your Loved Ones," the reasons for this disparity are probably nuanced and subtle.
"Safety may be one component. Maybe seniors in urban environments feel less safe and therefore are less likely to sit outside or go out for an evening walk, which keeps them connected to neighbors," says FitzPatrick. "Also, seniors living in cities have probably lived there a long time and seen their friends and neighbors pass without connecting to the younger people who take their place."
Income, education, and political affiliation also play a significant factor in the rate of senior loneliness.
According to the study, people with an annual income of less than $30,000 report being "often" or "sometimes" lonely at a higher rate.
What's more, 30 percent of Democrats say they are lonely "often" or "sometimes" whereas only 19 percent of Republicans and 17 percent of independents say the same. Interestingly, fewer Democrat respondents say they own cats or dogs compared to Republicans or independents, which could have a possible impact on their higher frequency of loneliness (since pet ownership has historically been linked to staving off loneliness).
Finally, respondents with a high school education or less reported being lonely "often" or "sometimes" at a higher rate than those who attended or graduated from college.
"This doesn't surprise me at all," says FitzPatrick. "In general, the more educated people are the more they tend to try new things—to take a class at a community college or try a new activity or go to a senior center for something like a book club. These types of activities help prevent feelings of loneliness."
Tips for avoiding loneliness
Experts agree that the key to stemming the tide of loneliness is staying ahead of it as you get older, because it's much harder to escape feelings of loneliness than it is to try and prevent them.
"Even before you reach the age of retirement it's critical to get involved in something that interests you outside of work, like clubs, group activities, or volunteering," says Chicago-based geriatric social worker Alixandra Foisy. "It takes time to build meaningful connections with other people, so get involved well before you have to worry about being lonely."
Even if you're well beyond retirement age Whiteman says there are numerous programs and nonprofit organizations like hers out there to help combat creeping isolation.
"That first itch of loneliness is a sign that you need something else in your life, so don't be afraid to ask for help. There are so many people in your situation and you shouldn't feel embarrassed or think it's a personal failing," says Whiteman. "Find services that offer volunteer visitations or therapy dog programs. Don't just avoid it, because the longer you are entrenched in your loneliness the harder it is to get out."
Finally, Whiteman says society as a whole needs to confront senior loneliness with greater attention and care.
"We're much more eager to ask an older person about their health or safety than about whether or not they're lonely, but this needs to be recognized as a real issue," says Whiteman. "Loneliness causes pain and serious medical issues and we need to do a better job calling attention to it."