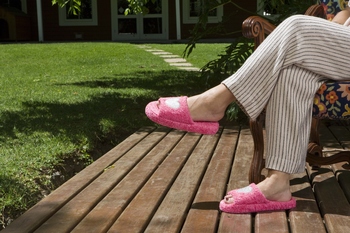 All Rights Reserved
You want your loved one to be comfy around the house, but what's on his or her feet has a huge impact on safety. Accidental falls are a major cause of broken bones and, in turn, out-of-home placement for older adults.
Look for nonskid soles.
Socks provide warmth and can be a good around-the-house choice, especially at nap time. Whether you choose slippers or socks for hanging around the house, look for nonskid materials. These are now readily available in socks as well as slippers and shoes. Nonskid surfaces provide traction against smooth wood and tile, reducing the chance of falls.
Don't let rubber meet the road.
Shoes with smooth rubber on the bottom, or shoes made of rubber (such as Crocs-style molded sandals) tend to catch on smooth floor surfaces, inviting accidental trips. A little tread, in contrast, provides a grip against the floor.
Avoid heavy treads.
Take care not to buy shoes with thick, overly heavy treads. Many running-shoe and walking-shoe styles seem like they'd be solid anchors on unsteady feet. However, when they have large, deep ridges in the soles, these can catch on carpeting and cause the walker to lose balance.
Avoid asking a woman to sacrifice her sense of style.
It can be hard for a "shoe person" to give up stylish footwear in favor of safer choices. First, try looking for brands (such as Merrell or Clarks) that emphasize movement without sacrificing style. Look for colors or detailing that can give the wearer that kick of pleasure. If such shoes prove hard to find, encourage a shoe gal to express herself with other accessories: Inspire or indulge a fancy for scarves, hats, or pocketbooks -- a different creative outlet that can take the sting out of giving up kitten heels and delicate T-straps.
Go for a good fit.
Shoes or slippers that fasten with Velcro are easy to put on and off, and they stay securely on the foot. Scuffs and slip-on styles, in contrast, are too easy to slip out of. Ideally, the shoe should be wide enough in the toe box to be comfortable and accommodate any bunions or bumps.
Don't go by your loved one's customary "old" size. Swelling and other conditions can make feet a size or more larger. Shoes that are too small pinch the foot and can impair gait. Try going up a size or two.
Take extra precautions once shuffling starts.
Many older adults shuffle their feet, either because of degenerative issues or as a complication of dementia. Comfortable footwear with safe treads becomes especially important.