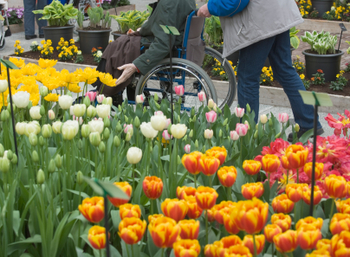 All Rights Reserved
Hospice care is for people who can no longer benefit from regular medical treatment and are likely in their final months of life. The goal of hospice is to keep pain and suffering to a minimum, not to cure the underlying illness. For both you and the person in your care, this requires a shift in mindset from searching for a treatment that will restore health to accepting that comfort, dignity, pain relief, and privacy are prime concerns toward the end of life.
How Hospice Care Works
Like most people, you may think of hospice as care received at home -- which is often the case. But someone can also receive this end-of-life care in a hospital, nursing home, or private hospice facility. Which is best depends on a patient's physical condition, whether the home is suited to providing hospice care, and the resources available in your community.
Hospice care isn't necessarily continuous, and a patient may switch into and out of it as a medical condition improves or deteriorates. For example, if a patient is in hospice care and goes into remission -- a period of relief from the symptoms of an illness -- the hospice care can be stopped, only to be resumed again if the symptoms reoccur or the condition gets worse.
The entree to hospice care usually comes from a diagnosis and realization: To qualify for most hospice care, a doctor must diagnose a patient with a terminal illness -- that is, a medical condition that may cause death within six months or less.
Getting Hospice Help
You may find that you need to use some steely persistence to get the mechanics of hospice care initiated, both in dealing with attending physicians and in finding a hospice organization willing and available to provide the needed care.
For one thing, hospice workers can't step in until they have a written referral from a physician. In addition, you'll have to locate hospice providers and make sure they're willing and able to help. In spite of the role hospice plays, it can sometimes take some lobbying to gain admittance to a hospice facility. For instance, if the facility thinks a patient might be too much of a handful (has a tendency to run off, for example), you may need to convince the staff that you'll visit and help regularly, if not daily.
During an initial orientation meeting, hospice workers meet with you, the patient, and interested family members to assess the plan of care. If you'll be providing care at home, the orientation workers will evaluate whether the place needs to be equipped with any special gear, such as an elevating hospital bed, a pad to help prevent bedsores, protective coverings for the floor, or ramps for a wheelchair. They may also investigate details ranging from the neighbors to the nearby barking dogs to the number of steps in the patient's house.
What to Expect From Hospice Care
If a patient requires elaborate medical care and monitoring, hospice care may be given in a building dedicated to hospice, or in a hospital or skilled nursing facility -- generally in specific rooms or wards decorated with touches such as curtains and couches to lend a more homelike feeling.
In hospice facilities, the usual rules on visiting hours and mealtime schedules are relaxed. Visitors are generally free to come and go as they wish, and meals are often family favorites. Again, the aim is to make the patient feel as comfortable and cared for as possible.
The fact that hospice care usually comes in a peaceful setting and is often given by people the patient knows and loves rather than administered in cold, clinical surroundings is one significant aspect that sets it apart from other types of traditional medical care. But there are many other differences:
Personalized Care
Hospice care is more personal and personalized than regular medical care. The most crucial thing is to ensure that the care fits the patient's wishes and offers the most comfort possible -- a challenge and an opportunity generally not available in conventional medical settings.It's not uncommon to hear that hospice workers make superhuman efforts to pay attention to detail and help maintain a dying person's dignity. They may try to make sure the patient gets the food he or she likes best or to make sure his or her clothes are clean and fresh.
Hospice Care From a Team
Typically, hospice care is a team effort, combining the talents and training of doctors, nurses, social workers, counselors, home health aides, clergy, therapists, and trained volunteers. Their joint efforts are focused on relieving symptoms and alleviating side effects of pain control medications -- and on giving social, emotional, and spiritual support.
Workers at hospice organizations coordinate and supervise the care that comes from various outside sources. But if you or any family members are able, you'll be responsible for administering much of the hands-on care, such as administering medicines and changing dressings. If a caregiver or family members aren't equipped to do this, hospice workers may help secure other caregivers to take over or contribute to the work.
A hospice case manager will usually be assigned to make sure that all care needs are met -- and to coordinate the comings and goings of all involved, which is especially important if the care is at home.
Other Services Offered By Hospice Care
Companionship
As they near death, many people seem to retrench, displaying less interest and energy in engaging with the world and people around them. But they may find it soothing to have someone read to them, play their favorite music, or simply sit quietly nearby as a calming presence.
Others seem energized at the end, with a strong urge to reminisce and discuss the past -- and they might find it most soothing to have a compassionate person around to listen and interact with them. Interestingly, many find it easier to open up to strangers rather than family members who carry the history and baggage of the years. Many hospice services can arrange for such social visitors, often drawn from a pool of community volunteers.
Spiritual Care
Hospice care emphasizes the spiritual needs of a patient and the rest of his or her family members. The spiritual care provided is tailored to the needs and beliefs of the individuals involved -- and can encompass issues as basic as talking about the meaning of death to performing particular religious rituals. For example, a hospice worker may be able to arrange to have a volunteer visit daily and read Bible passages to a patient who would find this soothing.
Transfer From Home Care To Inpatient Care
If a patient's medical condition changes and he or she must be admitted to a hospital, extended-care facility, or a hospice inpatient facility, the hospice provider can coordinate the transfer. Hospice workers can also stay informed about the treatment and keep in touch with you and family members, arranging to resume in-home care when appropriate.
Respite Care
As a caregiver, it's practically inevitable that you'll need time off from your responsibilities to relieve stress, regroup, and prevent burnout -- and respite care makes that possible. Hospice workers can provide temporary, intermittent, substitute care, relieving you of daily caregiving responsibilities.
During the break, you can rest and attend to your own personal and health needs. Most hospice services arrange for one to five days of respite care.
Family Conferences
Hospice services generally schedule regular family conferences, often facilitated by a nurse or social worker, so that family members can stay informed about their loved one's condition and can learn what to expect during the days of physical decline ahead. Such conferences also provide everyone with the opportunity to discuss their feelings, talk about expectations, and learn about death and dying.
After-Death Services
After a death, hospice workers can perform necessary cleanup, dispose of unused medications, and call for the body to be picked up by a funeral or cremation service if that has been arranged in advance.
Bereavement Care
Following a death, the hospice care team can help everyone through the grieving process. A trained volunteer, clergy member, or professional counselor can provide emotional support through visits, phone calls, e-mail messages, and letters. Many hospice agencies also offer support groups or will make referrals to other medical or psychological resources if needed. Bereavement services are generally available for about a year after a death occurs.
How to Pay for Hospice Care
How much hospice care will cost depends on the length and types of services required. But because a patient may receive the care at home rather than in a hospital, and because palliative end-of-life care generally doesn't require a great deal of technical equipment, it's generally less expensive than traditional medical care.
Another thing that helps hold down the cost of hospice care is that most providers have a policy of basing their charges on need rather than an ability to pay.
Still, hospice bills can easily run several thousands of dollars or more if care is required for more than a few months. While some of the costs must be paid with personal family assets and insurance, at least initially, the vast majority of hospice care bills are currently paid by Medicare, the federal health insurance program that covers some younger people with disabilities and those adults who are age 65 and older, tho who haven't turned 65 yet but have received Social Security disability payments for two years, and those who are diagnosed with end-stage renal disease.
In some locales, church and religious groups offer volunteer services and money for those who can't afford to pay for hospice care on their own. In addition, those with limited income and financial resources may qualify for such care through the Medicaid program. And still others receive financial assistance through programs offered by specialized groups, such as the Veterans Health Administration, Civilian Health and Medical Program of the Uniformed Services, or Indian Health Services.