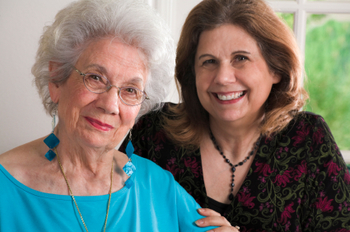 All Rights Reserved
When your loved one is discharged from the hospital back to home, skilled home health services probably will be ordered. That's because being well enough to be discharged from the hospital doesn't mean one feels well or is completely well.
Even under the best-case scenarios, many older adults need what are called "skilled" medical services for at least a few weeks after a hospital stay. Medicare covers skilled nursing or rehabilitation care and physical and speech therapy as needed while a patient recovers from an illness, condition, or injury. When this care takes place at home, it's generally because the patient needs less comprehensive care than is provided by a rehabilitation facility.
What services to expect from home healthcare
Post-hospitalization home healthcare is usually arranged by hospital discharge planners. These part-time skilled medical services may include:
Nursing care (checking wounds, checking on symptoms, reviewing medications).

Physical therapy.

Occupational therapy.

Speech therapy, including help with swallowing.
Services sometimes include "custodial care," which is help with such personal tasks as toileting, bathing, dressing, and so on. These services are usually provided for the short term. Most home healthcare also includes a visit from the agency's social worker.
But you should know this: The home healthcare providers will visit several times a week, depending on the care plan that's been worked out. They may not, however, come every day. They're not a substitute for the everyday care that you'll be responsible for. A doctor won't be coming to the home as part of home healthcare.
How home healthcare after hospitalization works
These services begin after a doctor certifies a need for them in writing. The home healthcare providers who are engaged by the hospital assess the patient's specific individual needs, propose a care plan, and send it to the doctor. (Note: It may be possible for you to choose home healthcare providers rather than having them assigned.) The doctor then reviews the plan and signs it to show approval. Hospitals usually try to designate the primary care doctor as the doctor of record for home healthcare. (Sometimes, though not ideally, this is how a primary care doctor finds out that a patient was hospitalized.) Other times, another physician or specialist is named on the home healthcare paperwork at discharge.
Depending on the patient's needs and how the home rehabilitation is going, the home healthcare agency may request that the doctor of record approve an extension of services. Coverage of an extension depends on one's insurance and the medical circumstances.
But you should know this: In reality, it often takes doctors a while to review the initial care-plan paperwork. In the meantime, most experienced nurses and therapists just get started with what they think the patient needs, unless they see an area of concern. This usually works well. Be aware, though, that care providers and doctors aren't necessarily conferring closely (or at all) about what's happening. So don't assume that everyone's on the same page about what's needed. If you have a question about any services, be sure to ask the care provider and the doctor.
When home healthcare services start
When services start, be sure you understand:
What the care plan is.

How often the various providers will visit.

How to contact the home healthcare agency if you have questions or concerns.
Ideally, this has been made clear by the hospital discharge planner before you left the hospital. If not, check in with the home health services agency after its initial assessment to clarify the specifics.
But you should know this: Your primary care doctor should have copies of the reports the home healthcare agency makes about your loved one, but sometimes these are sent only to the hospital (because, right after discharge, that's who ordered the initial care). Give the primary doctor's contact information to the agency and ask that he or she be copied on all reports.
More home healthcare resources
Find out how you can use home health services to make hospital discharge go more smoothly for a loved one with dementia.
Find out what to do if you have a complaint about how home healthcare services are going or a complaint about a specific home health aide.
When prescribed home healthcare services run out, find out how to explore options for in-home healthcare and how to interview in-home caregivers.