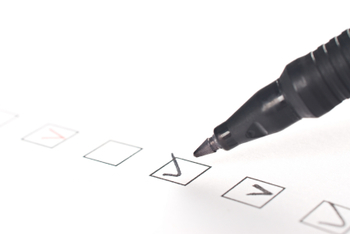 All Rights Reserved
Be sure to print this out and keep notes at each step; the more detailed responses and observations you record here, the more easily you'll be able to compare your options later.
Initial phone or online research
How much does care and housing cost for someone with my loved one's current needs -- and what does that include?
Is the facility certified to accept Medicare and Medicaid?
Are there currently any openings?
If not, what's the expected waiting period?
When can I tour the facility?
Initial visit
Your initial visit will likely include a brief interview with a staff member or marketing person, followed by a guided tour, during which you can record your own observations and request documents to review later.
Is the location convenient for family and friends to visit?
Is the facility pleasant and appealing?
Are there private rooms or spaces for residents and their visitors?
Are residents' rooms pleasant and appealing?
Are living spaces personalized with photos, mementos, or other possessions?

Is there adequate closet and storage space?
Do staff members seem attentive and caring?
Do they interact well with one another?

Do they seem to know residents' names?
Do the residents seem reasonably happy and well cared for?
Are most of them in their beds or out and about?

Do they appear to be at or near my loved one's level of functioning?
Do residents appear to enjoy their food?
Do the residents seem engaged and interested in the activities provided?
Request documents
It's a good idea to get as many of the following documents as possible. They can help you compare the fine details of one nursing home versus another.
Sample admission contract

Statement of residents' rights and responsibilities

Recent list of weekly activities and events

Recent weekly menu of meals and snacks

Recent report or agenda from a resident or family council meeting

Most recent inspection reports by state and federal authorities

Records showing the facility's financial stability
Follow-up questions
If your initial visit, impressions, and document review were positive, arrange a second visit or a phone call to get answers to more detailed questions about care and services there.
Does the cost include any special move-in fees or fees for services, such as laundry?
Under what circumstances might costs go up?

When was the last rate increase?
What special training has staff received?
What's the ratio of staff to residents?
What's the staff turnover rate?
Are background checks performed?
Is an initial assessment of needs conducted and a written care plan developed?
If so, who's involved?

How often are needs reassessed?
What specific care is available from doctors, nurses, physical therapists, occupational therapists, and others?
Is transportation provided for offsite medical appointments?

Is the facility affiliated with a particular clinic, hospice, or hospital if more care is needed?
What procedures are followed in case of a medical emergency?