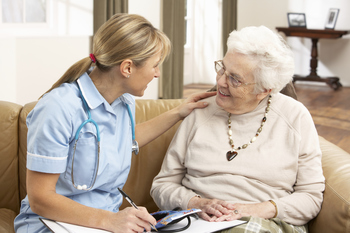 All Rights Reserved
Care homes, also known as board and care homes or residential care facilities for the elderly, offer residents assistance with daily activities in a small, locally owned, home-like setting. This type of senior care facility can be a good fit for someone seeking the level of care provided in larger assisted living communities in a smaller, more intimate environment with fewer neighbors and staff.
Most care homes offer limited nursing care, if any (such as medication management), but provide assistance with daily activities such as bathing, dressing, toileting and walking. Also, residents at most care homes can expect to find fewer activities and amenities than you'd typically see in an assisted living community.
Choosing the right care home for yourself or your loved one is a major decision. Feel free to use this checklist as a starting point, while keeping your own unique needs and preferences for day-to-day life in mind as you research and tour different facilities. Also, in states where care homes aren't required to be licensed (most states do require this), it's best to visit each home several times before making a decision.
What should you look for in a board and care home?
SEE ALSO: Find Assisted Living Near You
Location
One of the first considerations in your search for a care home is location. Most seniors prefer to live close to family, friends, or other pre-existing social networks. Many care homes are located within suburban neighborhoods. Some good things to ask include:
Can visitors get to the home easily?
Is the home close to shopping, dining and transportation options?
Is there parking for visitors or for residents who still drive?
Atmosphere
Is the care home clean, uncluttered and well maintained?
Is there quality furniture and pleasant décor?
What's the noise level inside the home or in the surrounding neighborhood?
Rooms and Common Spaces
Are there private rooms available or do residents have to share rooms?
Are bathrooms shared?
Are there handrails, wheelchair-accessible hallways, grab bars in the bathrooms and other safety features?
Are common living spaces comfortable and welcoming?
Are there areas in the home for large social gatherings and events?
Care Services
Perhaps the most important question to ask when considering a care home is whether the facility offers the type of care and services needed. More specific questions include:
Do staff help with toileting and bathing?
Is there assistance with eating, grooming and dressing?
Do staff assist with medication management?
Are there any health conditions the home won't accept? If so, which ones?
If the resident's medical needs increase, will they still be able to live there? (In most cases, the answer will be no, but some care homes are able to provide hospice care)
SEE ALSO: Find Assisted Living Near You
Meals
Are all three daily meals and snacks provided?
Is the food nutritious and tasty? Do residents seem to like what's served? (If possible, it's best to taste the food yourself)
Are meals served in a shared dining room? Can food be delivered to residents' rooms?
Are there alternative meal options for residents with special dietary considerations?
Staff and Management
Is the care home licensed, if the state you're in requires a license for board and care homes (in most states, this is required)
Does the staff appear to be friendly, knowledgeable and approachable?
Do staff members undergo a criminal background check?
How many staff members are there per resident?
Take a moment to observe the way staff treat residents – do they take time to talk to them, or do they appear rushed or stressed?
Activities
Does the care home organize activities for residents, such as games, arts and crafts sessions, movie nights or group outings?
Are any of the current offerings on the schedule of interest to you?
Do residents seem to enjoy the activities?
--
Taking the time to ask the above questions should provide a good foundation to gauge whether a care home will be right for you or your loved one. Doing your homework before making a decision – via online research, phone discussions and multiple in-person visits – will go a long way in helping you find the best option for you and your family.