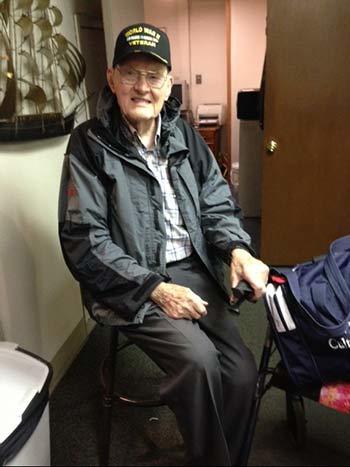 All Rights Reserved
It took a 98-year-old gadgets geek to make me feel like a technology slacker.
Chances are Bill Sleeper will make you feel like you need to catch up with the times, too. But that's not his goal. He simply wants to motivate seniors to fight their fears and complacency and embrace the digital world in order to stay connected to the people around them. In fact, he's evangelistic about it.
"Your brain is hungry for knowledge and feeds on new information," he says. "I wish the older people who avoid technology knew what they were missing."
Thanks to Bill and his efforts as onsite tech guru for fellow residents of the Emeritus retirement community in Mill Creek, north of Seattle, as well as his motivational speeches to seniors in nearby homes and communities, many older eyes are now seeing the modern wonders available to them.
Bill Sleeper: Modern Tech Leader
Before I met Bill, I considered myself to be what marketers refer to as an "early adopter" of technology: one who cares enough to pay attention to the ever-expanding horizon and hightail it to the nearest electronics store for the latest "iFix." I have a tablet and a smartphone loaded with the latest apps, and I tweet and post on Facebook semi-regularly.
But if I'm an early adopter, then Bill Sleeper is a modern leader. I wasn't prepared for this nonagenarian who was named "Geek of the Week" by GeekWire to school me in the newest websites, apps, and resources with the zeal of a young professor eager to share his knowledge. A 1939 Harvard undergraduate (with a bachelor's in physics) and a Navy veteran, Bill isn't doing it to show off. He just hopes that you too catch the glorious tech fever.
His work as an engineer kept him immersed in technology, but his personal interest in it expanded when his wife was ill with cancer (she passed away three years ago). He looked for new ways to both communicate with friends and family, as well as amuse himself. He knows it's still unusual to see an older person checking apps and communicating via smartphone, but he knows he's not the only one.
The Rising Trend of Seniors Embracing Technology
While Bill is a singular sensation in spreading the word about technology's benefits, he's not alone in using the devices and tools. According to Pew 2013 research reports on ownership of tablets and cell phones, nearly 18 percent of seniors now own a tablet, compared to 2 percent in November of 2010. Cell phone ownership among seniors is also on the rise:
Those who own cell phones now make up 76 percent of seniors (three out of four), compared to 69 percent a year ago.
Eighteen percent of seniors (nearly one out of five) now own a smartphone, up from 13 percent in 2012.
Increases in smartphone and tablet ownership are helping boost Internet usage among seniors to 56 percent, up from 53 percent a year ago.
Social media is on the rise, too. In fact, the number of seniors using social media more than tripled in the last four years. Forty-three percent of Internet users aged 65 and older say they use social media, compared with just 13 percent in spring 2009, according to a new report from the Pew Internet & American Life Project.
Q&A With Bill Sleeper
Bill Sleeper is the father of Barbara, 63, his primary caregiver ("without her, I'm toast") and a writer; and son Bill, 61, a 747 pilot. The irony of his last name isn't lost on anyone; he's hardly a sleeper when it comes to technology or talking. He's one of the most awake people I've had the pleasure to interview.
How did you get interested in technology?
Bill Sleeper: I'm an electrical engineer and I've always been interested in technology. My interest really peaked when I was 95. Because my wife was sick with cancer and passed away a couple of years ago, I had the latest technology to keep myself amused and keep in touch with our friends and family. I didn't have time to teach others then.
What do you use it for?
BS: There are four reasons, really:
Knowledge. The Internet is a tremendous source of information. I believe in spigots of information that I turn on whenever I need them. There's so much in so much depth, and it's all free.

Education. I use it to teach other seniors. I speak to others to help to get them interested and engaged.

Communication. I want to keep in touch. With modern technology, your family and friends are with you at all times.

Memory. I can keep track of everything I need to know right at my fingertips.
What are your favorite websites?
BS: My favorites are:
Wikipedia. I can't believe the entire encyclopedia is online.
TED. Short talks by brilliant people.
EDX.org. I love the free courses provided by MIT, Harvard, and Berkeley.
And I like doing online banking.
What are your three favorite apps?
BS: My favorite apps are those for monitoring heart rate, jokes, quotes, an alarm, and making notes.
How often do you tweet and post on Facebook?
BS: Sporadically. I go through periods of using them more than at other times. I am a big fan of both, especially because they link you to such great information.
Which of your gadgets do you use most and why?
BS: The iPhone 5 is my favorite. I couldn't breathe without it. I have it with me constantly. I get pictures and instant messages from the grandchildren and it's also a lifeline in case you're in trouble or want to keep track of appointments, notes, and contacts.
Do you encounter a lot of resistance when you talk to older people about technology?
BS: Yes, people have a lot of barriers and seem to get a little more rigid as we get older. You have to be careful helping people, because they get insulted when they perceive that you're attacking their belief structures, such as "I'm too old for this" or "This is too complicated." So I back off if anyone takes offense. Humor is a great tool because this is often a hard sell. If I can get them to show a little interest, then there's room to walk them through the selection process so they find technology that's right for them.
What's it like when you get a senior who really takes to technology after you speak with them?
BS: I love it! The biggest factor in this is their interest level, their curiosity. If I find a newbie who is interested, then they take right off with it and engage with technology.
Can you teach someone curiosity?
BS: That's a very fundamental question. I try to. I say how wonderful things are out there. If they have a closed mind-set, it's hard. But some seniors just need a spark, and then it triggers their curiosity and it comes back to them. It's a gradual opening up that I liken to someone coming out of a cave and seeing the sunshine for the first time in a long time.
Sometimes their kids think they can't do it. And the public buys into the stereotype of old age. But not everyone is going downhill. There's a certain negativity that holds some seniors back. If seniors buy into the stereotypes of what old age is, then they're cooked. People come in all sizes and shapes -- some are hurting, some are grieving. You have to respect where people are. But that's no reason to give up.
Have you ever not been curious?
BS: No. There's always something to be curious about.
What's your secret to longevity?
BS: Happiness, which is a choice. Keep a positive attitude. Say yes to things. You can control how you respond to situations. Look outside yourself for a purpose.
If you're a downer, your immune system says, "He wants to croak," and then it's a slide down. Focus on the good. Finally, eat Hershey bars with almonds, ice-cold kiwis, and oranges sliced six ways.
What's your advice for older people who might be afraid of technology?
BS: Just put your foot in. Try it. The whole world is shifting -- and it's faster, primarily because of all these gizmos. You can't get depressed if you use these devices. You won't be as lonely with all your people right there with you all the time. Consider that kids with no inhibitions march right in and master it fast. That can work for older people, too. It's like going into the library and thinking you have to read every book all at once. It's not like that. You can pick and choose and go at your own pace. You can just focus on one thing at a time. That works fine.
What's your advice for caregivers who are trying to get older people involved technology?
BS: Be patient. Recognize that older people move slower, so don't write them off. Just help them to take their first steps.
Follow Bill Sleeper on Twitter, find him on Facebook, and look for his autobiography, coming soon. The title? Appropriately, he's calling it Get With It, Kiddo: How to Say Yes to Life at Any Age.