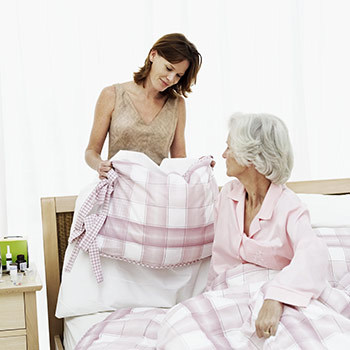 All Rights Reserved
If you're caregiving for a loved one with a serious illness, there's a chance that his or her doctor may suggest hospice care. Often families are upset to hear this recommendation because, to them, it means that we are "giving up on Mom." But what it really can mean is a shift of perspective, from curing Mom's illness to providing comfort and quality of life. Individuals with serious illnesses are often treated with invasive treatments and spend a significant amount of time in the hospital. Hospice care provides a more comfortable way to alleviate your loved one's pain and symptoms -- and it enables you to keep your loved one at home.
Hospice is a great option for patients who are experiencing a serious illness, have exhausted their treatment options, or do not want treatment for the serious illness. In order to qualify for hospice, two physicians must certify that the patient has a prognosis of six months or less to live. However, this is not to say that your loved one will only spend six months on hospice; he or she may be on hospice shorter or longer, depending on whether he or she continues to qualify every 60 to 90 days.
If you and your loved one are interested in learning about hospice care, there are several benefits to consider:
The hospice team will collaborate with other healthcare professionals to coordinate treatment and care.
For many, this is good news. Your loved one does not have to abandon a doctor that she has grown to love; her doctor will be a part of the team. And if your loved one is connected with other agencies, such as home care or a senior living community, hospice will collaborate with the care providers in place to create a comprehensive plan of care that addresses your loved one's needs.

Hospice will help build a support system to meet the needs of you, your family, and your loved one.
As your loved one declines, he will have ever-changing needs. The hospice team can help you monitor these changes and put the appropriate interventions in place. For example, if your loved one lives at home with you and needs assistance with toileting, a hospice nurse or hospice aide can teach you caregiving techniques to help you care for your loved one while putting less stress on your body.

The hospice team will visit your loved one anywhere they call home.
No matter where your loved one lives, whether it be alone, with a family member, or in any type of senior living community, the hospice team will visit your loved one there. This may cause a shift in mind-set, since your loved one might be used to having to schedule an appointment and leave the house to see the care provider. The hospice team comes to you.

Medications related to your loved one's terminal illness will be covered.
Depending on your loved one's terminal diagnosis, she may be on several medications. Hospice will cover these medications and may even review your loved one's medications to see if they're all still beneficial at this stage in the disease.

Medical equipment will be provided if it's related to your loved one's terminal illness.
As your loved one's needs change, he may need medical equipment to maintain independence and mobility. As the caregiver, you also may need equipment to help care for your loved one. Hospice will also cover the medical equipment related to your loved one's illness. For example, if your loved one is having increased difficulty with walking, he or she may get a wheelchair or walker through hospice.

Hospice provides different levels of care to help manage your loved one's symptoms.
Every person's disease process is different, and hospice is prepared to care for your loved one in many ways throughout their various levels of need. The first type of care is routine home care, which is exactly that: your loved one is cared for in her home, with a plan in place. If your loved one begins experiencing symptoms that cannot be managed with routine home care, hospice can increase visits to her home to help manage the symptoms through continuous care. If your loved one needs more intense symptom management, general in-patient care is available at a hospice in-patient unit, at the hospital, or at contracted nursing homes. The last level of care is respite care, where your loved one can stay at a hospice or care facility for a short period of time so that the caregiver can rest, go on vacation, and take care of other matters.

Your loved one will have access to a comprehensive team that addresses his or her physical, mental, emotional, and spiritual needs.
Each hospice team will include a nurse, nursing assistant, social worker, and spiritual care specialist, each addressing the comprehensive needs of both you and your loved one. Having a serious illness and facing end of life can bring up several issues for your loved one, you, and your family. This team is specially trained to help navigate and support you all through this process. Additionally, other professionals may be available for art, music, or massage therapy.

Hospice will provide bereavement follow-up for you and your family.
Choosing to have your loved one receive hospice care can bring up a lot of emotions. One great thing about hospice is that the team is concerned for your needs and your family's throughout this process. A bereavement counselor can help you and your family if you want additional support, including one-on-one meetings, support groups, and periodic calls to see how you're doing.
While you're considering hospice care for your loved one, understand that you may be your loved one's best advocate to obtain this type of care, as hospice is often under-recommended and underused by those facing end of life. This type of care may improve your loved one's quality of life and help you assist your loved one with care. You can find a hospice provider near you by searching Caring.com's hospice directory.