Parkinson's Disease and Assisted Living
Caring for a loved one with Parkinson's disease can be stressful, emotionally and physically draining and financially taxing. And while people living with the disease may wish to remain at home as long as possible, sometimes that isn't the best option. The good news is that assisted living communities can provide the ideal setting for those with Parkinson's.

Read on for information about the disease itself, how assisted living can help, and what to look for in an assisted living community for a loved one with Parkinson's Disease.
Understanding Parkinson's Disease
Parkinson's disease is a complex and progressive neurological disorder that specialists call idiosyncratic, which means that symptoms and disease progression differ greatly from person to person—so much so that there's no predicting for sure which ones a patient will experience or how quickly.
The disease stems from gradual destruction of certain nerve cells—in a part of the brain called the substantia nigra—that make a key chemical known as dopamine. Dopamine helps relay messages within the brain centers that orchestrate the muscles of the body to produce smooth, coordinated motions. Without that signal, muscles can't respond properly, resulting in a wide range of motor skill deficiencies.
The Symptoms of Parkinson's Disease
Parkinson's disease gradually impairs a person's ability to move, walk, talk and swallow, and it typically develops when patients are in their 50s or 60s (in roughly 8 percent of cases it strikes before age 40). For some people, the condition can be severely debilitating in the long term, while others are able to function relatively well even after 25 years of living with the disorder.

The Prevalence of Parkinson's Disease
According to the nonprofit Parkinson's Foundation, approximately 60,000 Americans are diagnosed with the disease each year, and nearly one million people will be living with Parkinson's disease in the U.S. by 2020.
If you're a caregiver for a loved one with Parkinson's or you suffer from the disorder yourself, this guide is designed to provide you with the key information you need to know if you're considering the transition to assisted living.
Care and Services Provided in Assisted Living Communities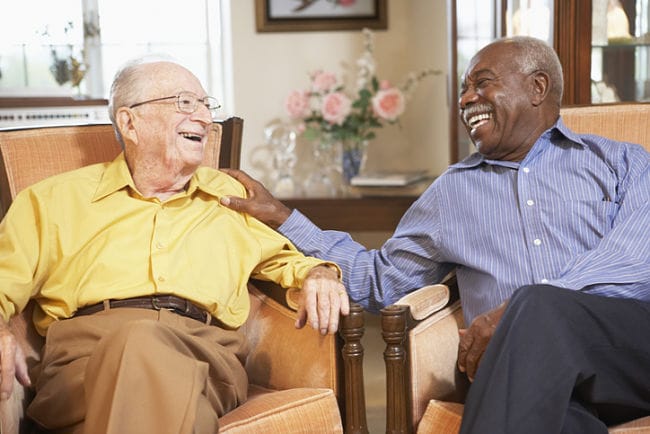 Many Americans may have lingering negative stereotypes when they hear the term "assisted living," bringing to mind drab, impersonal nursing homes that serve as a poor substitute for remaining at home. Luckily, this is far from the current reality, and for seniors living with Parkinson's disease, an assisted living community may be an ideal option.
Home Care Vs. Assisted Living Communities
"One of the things we encourage is that people living with Parkinson's have the highest and best quality of life possible—and that they live in the least restrictive environment possible," says John L. Lehr, CEO of the Parkinson's Foundation. "To be sure, people like to remain in their homes and be around familiar spaces and people, so as long as they can do that safely and without any concern, we think that's good. But Parkinson's is progressive and degenerative, and there does sometimes come a point where being home with a spouse or caregiver becomes no longer safe. At that point we would encourage, along with input from a physician and others, that they consider a different environment, including assisted living."
Not only do assisted living communities provide ample opportunities for communal social interaction—a significant benefit for those suffering from a disease that often leads to increased isolation—but they also provide help with activities of daily living like grooming, housekeeping and laundry, bathing, transportation, dressing, medication management, exercise and wellness programs and meal prep.

The Basics of Assisted Living
An assisted living community could be an apartment building, a campus-like setting, or even a large converted house. According to the Assisted Living Federation of America (ALFA), most have between 24 and 120 units that vary in size from a single room to a full apartment. Residents generally have a lot of freedom in terms of what they do and when they do it, but they should also get plenty of support from trained caregivers.
Assisted living is regulated (and defined) by each state rather than by the federal government, so you can expect wide variation in what each community offers, which is especially important to understand when considering this option for someone living with Parkinson's.
What to Look for in an Assisted Living Community
"Parkinson's is a movement disorder, so first and foremost you want to look at an assisted living facility that is easy to navigate, with wide corridors and a general layout that is easy to move around in," says Lehr. "You also want to make sure it has a well-trained staff that has experience caring for people with Parkinson's and understands how to respond to subtle changes in routines, behaviors, and corresponding therapies."
According to Lehr, the biggest benefits of assisted living for someone with Parkinson's come from closely monitored and concentrated care and increased opportunities for movement and socialization.

"Parkinson's disease is a very socially isolating and stigmatizing disease. Despite all our efforts, it continues to be so," says Lehr. "People can fall into deep depression or withdraw from their social lives altogether. Assisted living can bring them out for activities, social engagement, and opportunities to exercise and move around."
When is Assisted Living a Good Option for Someone with Parkinson's?

The decision to help a loved one transition into an assisted living community is never an easy one, but for those caring for a loved one with Parkinson's disease, the choice can be even harder and more perplexing.
"The key is understanding when someone with Parkinson's is no longer thriving in their own home. That's when assisted living becomes an option," says Lehr. "And when I say not thriving I mean your loved one is having difficulty caring for themselves or is increasingly at risk for injury. That's the time to start making new plans."
Before that happens, however, Lehr says it's important to understand the general symptomatic progression of Parkinson's disease and pay close attention to how those symptoms affect your loved one in particular (since again, Parkinson's affects everyone in vastly different ways and at vastly different paces).
Warning Signs of Parkinson's Disease
Generally speaking, the first hints of the illness are usually mild, intermittent and show up on just one side of the body. Three cardinal signs are:
Shakiness from a tremor in a hand, arm or leg or in the jaw or face when the patient isn't actively moving.
Stiffness or rigidity of the arms, legs and torso.
Slowness of movements, also known as bradykinesia.
Other common signs and symptoms may include:
Small, cramped handwriting.
A stooped posture.
Less arm-swinging than before while walking.
A blank, "masklike" facial expression.
Worsening Symptoms
As the disorder progresses, certain problems may grow more significant, which is where the additional care and attention of an assisted living facility may be beneficial. Some of these more significant problems may include:
Problems with balance and falling.
Walking with small, shuffling steps.
Moments of "freezing" when the patient's feet suddenly can't move forward.
Difficulty swallowing.
A weak and muffled voice.
"Because Parkinson's is a movement disorder, falls are a very significant concern," says Lehr. "With any elderly population a fall can have all sorts of negative consequences, and an occasional fall is not something to be dismissed, but instead looked at very closely. Keep in mind that your loved one may be falling more often than they're reporting. Or they may dismiss falls altogether. But a fracture here and a fracture there can start to have debilitating consequences."
Lehr also says caregivers should be vigilant about noticing sudden weight loss in a loved one living with Parkinson's, as this can be a sign that the disorder is progressing and/or impacting their quality of life in a substantial way, which may indicate that assisted living should be in the offing.
"A decrease in weight should be another signal," says Lehr. "If someone is starting to lose weight, that tells me either they're losing their appetite or they are no longer able to cook for themselves—or that a care partner is no longer able to do that for them."
Recommended Care Requirements
The Parkinson's Foundation provides a list of suggested requirements for anyone who cares for a loved one living with the disorder. If any of the following criteria are not met, an assisted living facility may be the better option:
The designated caregiver should have few other responsibilities not related to the person with Parkinson's. If you have a job, it will be difficult to provide comprehensive home care. If the designated caregiver is someone you hire to provide around-the-clock care, consider the impact of someone else living in your home. Even though you are not responsible for daily caregiving chores, having another person in your house might cause stress and make it difficult to relax in your own home.
The house must be large enough to comfortably accommodate the needs of the person with Parkinson's, including space for a walker, wheelchair, bedside commode, or other medical equipment.
All rooms should be on one level. The home environment must be
safe and supportive of maximum independence. Necessary structural changes, such as ramps, handrails, bathroom alterations, etc. have been made.
Arrangements should be made to provide medications to the person with Parkinson's at required times, as well as meals, assistance with personal care, housekeeping, transportation, and companionship.
Other Considerations
In addition to physical symptoms and impairments, Parkinson's disease is also frequently accompanied by several non-motor symptoms. A patient may not develop these difficulties, but over time, up to 60 percent of patients suffer from more than one non-motor symptom. Many are treatable with standard therapies and/or proper care and attention, both of which are often provided at assisted living communities. Cognitive and behavioral problems may include:
Depression
Apathy
Fatigue
Dementia
Anxiety
Sleep disorders
Difficulty with impulse control
Sensory difficulties
Loss of sense of smell
Pain in a limb affected by muscle stiffness
"The person with Parkinson's should be around experts who are familiar with the progression of the disease, which is something that can be found in an assisted living community," says Kaylynn Evans, executive director of the South Carolina-based assisted living community Vineyard Bluffton. "Those professionals are going to catch a progression and be able to address it, and also make sure the individual's physician is aware. If someone with Parkinson's is living at home, a loved one might not notice a quick change of progression. And people should also consider looking for assisted living that includes therapies related to the cognitive impairments associated with Parkinson's."
Referencing the Hoehn and Yahr scale—which is a commonly used system for describing how the symptoms of Parkinson's progresses—Evans points out that the debilitating affects of Parkinson's eventually progress to a point that surpasses the care capabilities of an assisted living community.
"When someone reaches level four or five on the scale, they have typically progressed beyond the care of an assisted living facility and probably need a skilled nursing facility or constant in-home care," says Evans. "Unfortunately those with Parkinson's also often have dementia, and they might start experiencing hallucinations or acting out. At that point, they need to be evaluated to be sure they aren't posing a threat to themselves or others."
Assisted Living Costs
According to Genworth's 2018 Cost of Care Survey, the national median cost of an assisted living community is $4,000 per month. However, individuals with Parkinson's tend to require more care than the average assisted living resident, and according to PayingForSeniorCare.com, a ballpark estimate for these additional costs is between $4,100 and $4,600 per month (see state-specific costs here). As a rule of thumb, you should estimate adding between $500 to $1,000 over your state's average assisted living cost to account for the additional care required for Parkinson's in assisted living communities.
If your loved one is in a more advanced stage of the disease—but still a viable candidate for assisted living—you may also consider hiring a private professional home health caregiver to come to the community and provide supplemental care. This will add to the overall monthly cost, but it may be worth it for additional peace of mind.
Nationwide in 2018, the average cost for non-medical home care is $20.50 per hour, with state averages ranging from $15 to $27.50 per hour. It should be noted that these are average costs from home care agencies. Private individuals can be retained to provide most of the same services with fees that are 20 percent to 30 percent lower. However, independent caregivers are typically uninsured, do not go through background checks, and may be unable to provide alternatives in case they are not available to work on short notice.
Paying for Assisted Living

As you consider whether or not assisted living is a good option for your loved one living with Parkinson's, you're also probably considering how to pay for it. The good news is that assisted living can be much more affordable than nursing home care or long-term in-home care. If an assisted living community is right for you or your loved one, here are some creative ways to pay for it.
Veterans Benefits
If your loved one (or your loved one's spouse) was a veteran, you're in luck when it comes to residential care. Veterans benefits can be used to pay for residential care in a variety of situations. One set of benefits is available to those with service-related injuries or disabilities; another set of benefits, known as Aid and Attendance, is available to any veteran or surviving spouse who's disabled and whose income is below a certain limit. To qualify for and access these benefits, you'll need to go through the Veterans Administration, which can be a tricky and time-consuming process. It's extremely helpful to work with a geriatric planner who knows the ins and outs of the system. Many senior living communities offer a financial concierge service that can include guiding you through the process of qualifying for benefits.
Another option is to work directly with services such as Elderlife Financial, which partners with assisted living and continuous care retirement communities (CCRCs) to provide this concierge service. Elderlife Financial connects you with its network of veterans benefits experts, who can help obtain the maximum benefits your loved one is entitled to.
Life Insurance Policies
If your loved one has a life insurance policy, he or she probably purchased it long ago, thinking to provide support to their family after death. But a life insurance policy can also provide financial support now, if that's when the money would be most helpful.
To cash out a policy, ask your life insurance company about "accelerated" or "living" benefits. Commonly, the company that originally issued the policy buys it back for 50 to 75 percent of its face value. The amount is decided based on the policy amount and monthly premiums as well as the policyholder's age and health. Different rules may apply depending on the company and type of policy. For example, some policies can only be cashed in if the policyholder is terminally ill; others are much more flexible.
If the company that issued the policy won't cash it in, don't worry. Your loved one can also sell the policy to a third-party company in return for a "life settlement" or "senior settlement," which is usually a lump sum of 50 to 75 percent of the policy's face value. After buying the policy, the settlement company pays the premiums until the policyholder dies, at which point the company, rather than the policy's original beneficiaries, receives the benefits. Another option, known as a "life assurance" benefit or life insurance conversion program, allows seniors to convert the benefit of a life insurance policy directly into long-term care payments. Life insurance conversion typically pays between 15 and 50 percent of the value of the policy—less than a life settlement—but is available for lesser-value policies that might not qualify for life settlement.
Long-Term Care Insurance
If you or your loved one bought care insurance, you're one of the lucky ones. Long-term care insurance policies apply to assisted living care; all you need to know is how to collect on it. Some long-term care policies have a specifically designated benefit for nursing home care, based on a mental or physical diagnosis, which can be used to pay for assisted living. Or the policy may set a designated payment for home care, which can be paid directly to the assisted living facility or to the beneficiary, who then uses it to pay for assisted living.
Note: If your loved one didn't buy long-term care insurance, it's probably too late now to consider this option. But there is time to sign up for a long-term care policy yourself, so you don't put your own family in the same pickle in the future.
Reverse Mortgages
If your loved ones own their home outright or have only a small mortgage on it, a reverse mortgage might be just the solution you're looking for.
A reverse mortgage allows you to cash out the value of your home equity, either in a lump sum or in a series of monthly payments. The bank decides on a value based on what the home is worth, interest rates, the applicant's age, and other factors, and the loan balance gradually increases over time. (If a bank holds a mortgage on the house, it has to be paid back before you can begin receiving payments.) The borrower can stay in the home until death, even if the loan balance exceeds the home's worth. Upon death, the loan balance must be repaid, which usually means selling the home.
Reverse mortgages were originally developed to help a spouse remain at home after the breadwinner passed away. Today they work best when one parent needs assisted living but the other can remain in the home. To apply for a reverse mortgage, one homeowner must be over the age of 62, and one person must continue to live in the home.
Be sure to do your homework about the pros and cons of reverse mortgages—they aren't for everyone. For example, it's probably not a great choice for a beloved property that you want to keep in the family.
Finally, a reverse mortgage is a big commitment, so it's important to work with a reputable company. Make sure you understand the terms and read the fine print, as there are many rules about homeowners' insurance and mortgage insurance and keeping the property well maintained. There may also be high fees involved, or clauses that make it easy to lose the home.
Renting Out Your Home
If only one parent is still living, or if both parents need assistance with daily living, the family home can be an important resource. Selling is an option, of course. But in many families, mom and dad's house is cherished and family members aren't ready to make this decision. In this case, consider renting out the house and using the rental income to pay for assisted living. The idea of being a landlord might seem scary, but for a percentage fee you can hire a service to manage the property for you.
Medicaid or SSI
If you don't have much in the way of savings or other financial assets and your income is low, you may qualify for government assistance to pay for assisted living.
Start with Medicaid, which is run as a partnership between the states and the federal government. In many states the programs go by another name, so look up the name of your state's program online or in the government pages of your phone book. Medicaid eligibility is different from state to state, but typically you must have less than $2,000 in assets, in addition to your home and your car, in order to qualify.
Only some assisted living communities will accept Medicaid, and Medicaid beds are usually limited. To find long-term residential care options near you, check with your local Area Agency on Aging. To help you navigate the maze of signing up for public benefits, you can also call for a free consultation from a Government Health Insurance Counselor.
For those living with Parkinson's, another option is supplemental Social Security income (SSI). Also administered by the state, SSI is part of the governmental safety net for those who are impoverished and partially or totally disabled by illness or injury. SSI comes in the form of monthly payments, which you could use to pay for assisted living. To qualify for SSI, contact your state disability department. You'll need to document your financial status and you'll also need a doctor to certify that you can't work because of a medical disability.
Family Resources
If you're worried about a loved one living with Parkinson's, chances are that other family members and friends are worried too. Getting everyone together to talk about it sometimes makes it possible to find a solution, such as pooling assets and trading money for time. For example, if one or two siblings or family members handle the brunt of daily care, such as driving to medical appointments, others with less flexible work schedules might contribute money instead. Or if there's a family home that no one wants to sell yet, siblings with available funds might pay for assisted living with the promise of repayment when the house is sold.
Bridge Loans
If your loved one doesn't have a lot of free cash or financial assets that are easily liquidated, the answer might be a bridge loan, an option developed by Elderlife Financial. Bridge loans are short-term loans of up to $50,000 designed specifically to provide the funds for a move to assisted living or a continuing care retirement community (CCRC). They come in two types. The first type is an unsecured (no collateral required) line of credit intended to finance the first months of living expenses while seniors sell their home, obtain veterans benefits, or take other actions to free up funds.
Interest rates for these lines of credit range from 8.25 to 12.5 percent, so this option is best used when the time to payback is relatively short. (Borrowers have up to five years to repay, but most repay the loans within a year, according to the company.)
The second type, called the Capital Access Program, is a lower-interest, lump-sum loan secured by real estate or another asset that the company recently introduced. It's designed to help seniors come up with the large up-front entrance fee typically required for a CCRC.
Seniors (or other family members) qualify for both types of loans based on the usual criteria, such as credit score, credit history, and debt-to-income ratio. The senior or an adult child can be the borrower, and up to six family members can cosign the loan application. Of course, as with any loan, cosigners are liable if the borrower runs into trouble with repayment. In many cases, payments can be made directly to the CCRC for convenience.
Ensuring Your Loved One's Parkinson's-Related Needs Are Met in Assisted Living
Depending on where you live, assisted living options may be numerous and overwhelming or somewhat narrow and restrictive. And finding an assisted living community that's right for someone living with Parkinson's can make the search even more stressful than it already is. But Lehr says that if you know what you're looking for the process doesn't have to make you anxious, because there are several criteria that prospective residents and/or their families should consider when searching for the right assisted living community.
Find a Community with Experienced Staff
First and foremost, prospective residents or their caregivers should ask about the staff's experience and training with Parkinson's in particular.
"An educated and trained staff is critical for Parkinson's," says Lehr. "Loved ones should look for those who know about this disease and its various levels of progression. I would ask very specifically, 'What are the triggers you look for when you consider someone a viable candidate for this facility versus when you think this person should be in long term care?' That's going to tell you a lot about their depth of knowledge around Parkinson's."
Lehr also says the assisted living community should have a neurologist on staff (or at least have quick access to one) and rehab specialists on site.
Exercise Is a Priority
It's important that the assisted living community has a dedicated space for exercise, which can either be a gym or ample open space to provide the opportunity for frequent movement.
"We've learned over the last number of years that exercise is so important for people living with Parkinson's. It has enormous benefits," says Lehr. "I would also want to make sure they offer speech and language therapy. So the bottom line is finding a place with Parkinson's experience and a commitment to exercise, activity, movement, and therapy. Those would be my priorities."

A Supportive Community Is Vital
At the end of the day, Evans says the assisted living experience should not be seen as a limiting one, but rather as an opportunity for nuanced care combined with an increased quality of life for someone living with Parkinson's.
"A great attribute of an assisted living community for someone with Parkinson's is support—a community that is friendly and loving where other people are suffering with the same diagnosis," says Evans. "It can be a beautiful experience."