Caring Currents
Home-Spun Gift Certificates: Unique, Meaningful, and Budget-Flexible
Last updated: Dec 01, 2008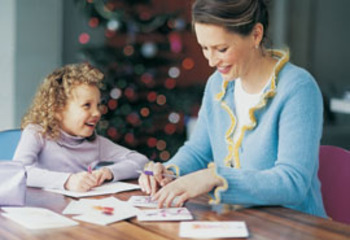 One of the best presents I ever received as a new mom was a homemade gift certificate for babysitting from a good friend. As I recall, she gave me a certificate worth "one night out" of childcare. And boy did I ever cash in.
Years have passed and now more of my friends need help caring for their parents than for their kids. As we face the thick of holiday shopping, not to mention a bleak economy, I'm officially dusting off what I'll call the "favor" or "service" gift certificate idea. I know a few folks who would really appreciate a night of trusted companionship for the senior in their care, so they can go out.
By the same token, personalized or home-spun gift certificates are an excellent option for seniors, too. Many, like my dad, aren't interested in accumulating more things or stuff, but are in a paring-down state of mind. Seniors with Alzheimer's or dementia may not relate to traditional presents -- but you can still enjoy the gift of giving.
Personal gift certificates can be pampering or practical and work for any budget. They're very easy to create.  Simply write the "gift" on a regular holiday card, or get creative and make your own certificate to stuff in an envelope. For fun, make it sound official: "This card hereby entitles ______ (your relative) to one _____ (back rub, trip to a movie theater, or whatever) from _______(your name). Please redeem this year." (These certificates are also fun and easy gifts for children to give their grandparents or older relatives.)
Here are some ideas from my brainstorming. What can you add?
For seniors, and in some cases, caregivers:
A massage, from you or a professional
A top-to-bottom house cleaning
Reading a book of choice (for seniors with vision problems)
A home-cooked meal with family or friends
A favorite movie and popcorn with family or friends, at home at a theater
A walk, (or weekly walks if you can swing it)
Taking a life history. Caring.com's Connie Matthiessen has put together great information on how to do this
A museum or gallery outing
A day's worth of yard work
A dental check-up. (Sounds almost too practical, but Medicare doesn't cover routine dental exams, so this is one way to help ensure your relative's teeth get checked.)
A drive to "anywhere you want"
A conference call with the whole family
For a child to give:
A hug
A foot rub
Sharing breakfast in bed
Doing a puzzle together
Reading a book together
Taking a walk
A puppet show or dance performance
A hair styling
A kid-made sandwich or plate of crackers and cheese
A sleepover
One nice thing about this kind of present is that you can make it super personal. If you're really game, take an "anything goes" approach -- a gift certificate for a summer's worth of fudgesicles, a weekly beard trim, or an arm to hold for a walk around the lake. Why not?
Photo by Flickr user CCCI under a Creative Commons attribution license.