Caring Currents
How to Get Your Health Insurance Company to Pay Up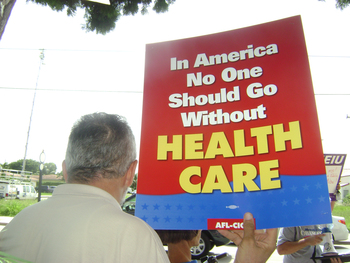 All Rights Reserved
While the government wrestles with national health insurance legislation, it seems like a good time for some in-the-trenches advice. The sad truth is that even if your family is fortunate enough to have health insurance, you can still find yourself in a financial nightmare if a family member becomes seriously ill.
I hear the stories every week, it seems: The last one was about a friend's mother, who received an enormous bill after her insurance company deemed a treatment for atrial fibrillation "experimental."
So here are some tips for making sure your health insurance actually pays for your healthcare, as it's meant to do.
"¢ Read your policy's fine print. It's tough to understand all that legalistic mumbo-jumbo, but do your best when it comes to understanding what your policy does and doesn't cover. If you have questions, don't be shy about asking.
"¢ Ask for help from your employer or insurance agent. If your insurance is through your job, the human resources department of your company can be a valuable asset. Your company as a whole has more leverage than you do as an individual, because the health insurance company doesn't want to lose your company as a client. So when your HR rep calls the insurer to ask why a procedure isn't being covered, chances are she'll be taken more seriously.
"¢ Appeal, appeal, appeal. This is your best option in many of the most common situations, such as when the insurance company says a procedure was "not medically necessary" or when it defines something as "experimental." Have the doctor write a letter explaining that she ordered the treatment and why it was necessary. If the grounds for refusal to pay was that the treatment was "experimental," enclose articles or studies showing that that procedure is being used elsewhere to treat the condition it was recommended for.
"¢ Get everything in writing. As much as possible, use email and letters to deal with insurance matters, because that gives you a written record of what was said. It's okay to pick up the phone, but you still want to make sure you have a record of all discussions (including the name of the person you've spoken to; see below). So take notes while you're talking and type them up afterward. And ask the person you're speaking with to keep a record of the phone call and put it in your file.
"¢ Know who you're dealing with. Literally, as in get a first and last name and title every time you have a phone conversation with anyone at either the insurance company or your doctor's office. There's nothing more frustrating for everyone -- and more guaranteed not to get results -- than having to say, "The person I spoke with last time said..."
"¢Keep all records for three years. Even once a claim has been paid, keep the records that resulted in the payment. You never know when you're going to need to refer to them.