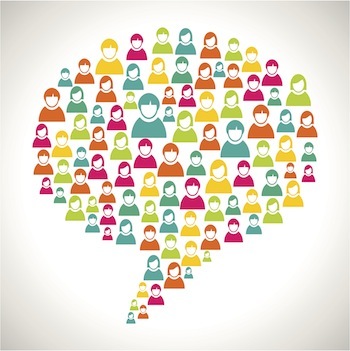 All Rights Reserved
No doubt you are aware of the importance of word of mouth in your everyday life. People talk to people about products and services all the time. It's no different when you're searching for an assisted living community: People share their opinions when they're deciding on senior living for their loved ones.
But guess what? So do the providers of care. And providers who use word of mouth to make themselves known to potential clients are not just good marketers -- they probably are also good stewards of care. Here's why.
When senior care providers embrace word-of-mouth strategies, they're embracing transparency with residents and families and encouraging community involvement and interaction. Here are some ways you might hear about senior living providers that could indicate they're worth a look when you're choosing care for a loved one.
1. They Engage People
Providers who "get it" are out in the community, seeking input into new services and providing previews and access to current plans. What do you really know about the care providers in your community? When you Google them, what do you find? Those providers who are hosting community forums and providing education are probably among those you want to bring to the top of your list for consideration. Being on the cutting edge is a good sign.
2. They Share Interesting Information
In the book Contagious, Jonah Berger uses the term "social currency." Social currency is about providing people with information that's useful or fun and makes them feel like an insider. When someone shares something that's interesting, surprising, or novel, they look good. For example, when you share a YouTube video with people and they like it, you look good in their eyes. Clark Retirement Home gave people an opportunity to create social currency when they created a video that residents and families could share with others. And let's face it, wouldn't you give this place a look-see after seeing how much fun the residents are having?
3. They Create Triggers
A trigger is something that makes you think of the source. Do providers show up where you live and work, adding value and educating you? For example, caregiving issues in the workplace are becoming more prevalent. Progressive employers are starting to address this trend through benefit programs and education. If a healthcare provider in your community is part of that education in the workplace, they not only are providing a valuable service but they're creating a trigger. You will remember who came and provided you with valuable information.
4. They Give Things Away
An assisted living community that will come into your home and give a home assessment for aging in place is one to consider. Yes, they may provide assisted living at home that they are trying to pitch to you. But if they don't have a hard-sell approach, it means they understand that when you need an advanced level of care, you'll remember and consider them.
5. They Adopt Causes That Are Meaningful to You
I consult with healthcare providers and tell them that it's good for them to support causes in the local community. But to really set themselves apart, they need to "own" their own social cause. For example, one of the biggest concerns you probably have for your elder loved one is making sure he or she doesn't fall and break a hip. So a healthcare provider that takes a particular interest in preventing falls could be appealing to you later, should your loved one need advanced care. Study the causes your local healthcare providers are adopting. It says a lot about them, their culture, and how a loved one might benefit under their care.
Providers of care know that getting out into the community with word-of-mouth strategies is the right thing to do for potential clients -- and that it may also result in business down the line. Smart consumers should recognize these behaviors in providers and know that those who are actively engaged in the community probably have little to hide and much to offer.