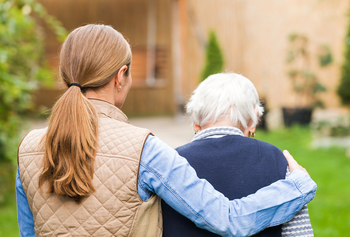 All Rights Reserved
One of the biggest risk factors for Alzheimer's disease you may not have heard of? Being a woman.
More women than men live with Alzheimer's, a type of dementia that causes problems with memory, behavior and thinking. According to the Alzheimer's Association, women make up two thirds of the roughly 5.5 million Americans living with the disease, but experts do not yet understand why. Now, the University of California at Irvine's Institute for Memory Impairments and Neurological Disorders (UCI MIND) and Maria Shriver's Women's Alzheimer's Movement (WAM) are partnering to fund research to get to the bottom of this striking gender divide.
"The partnership between UCI MIND and WAM is one about which we are extremely excited and believe will have a tremendous impact," says Joshua Grill, PhD, co-Director at UCI MIND. "We have already begun working together to educate the community about the ways women and men can change their lifestyles to reduce their risk for dementia later in life."
The new program is also designed to encourage women and men to participate in clinical trials and research studies in order to further Alzheimer's disease research. Grill says the two partners are now working to fund preliminary studies aimed at getting a better understanding of what's behind women's higher risk.
Hotly Debated Issue
The question of whether women are at greater risk for Alzheimer's is hotly debated, says Todd Golde, M.D., director of the Evelyn F. and William L. McKnight Brain Institute at the University of Florida in Gainesville . Experts do not universally agree that women have a greater risk for Alzheimer's disease than men purely because of women's biology.
"There are varying hypotheses as to why the prevalence of Alzheimer's disease is greater in women, including biologic risk factors stemming from hormonal influence, a greater prevalence of depression, which has been linked to a higher risk of dementia, and the physical and emotional impact of stress, including disrupted sleep," explains Sharon Roth Maguire, RN, Chief Clinical Quality Officer at BrightStar Care, a company that provides in home care services for seniors, including those with Alzheimer's.
Possible Explanations for the Link
What follows are some of the dominant explanations experts offer for women's higher likelihood of having the disease.
1. Aging
"The main risk factor for Alzheimer's disease is age, and women tend to live longer," explains geriatric psychiatrist Marc Agronin, MD, in practice at Miami Jewish Health in Florida and author of "The End of Old Age: Living a longer, More Purposeful Life." "More women live into the zone of higher risk."
2. Hormones
"Loss of estrogen after menopause is thought to be another factor," says Agronin. However, hormone replacement therapy (HRT) does not offer a clear protective benefit, he points out. Researchers do not yet fully understand how women's hormones impact Alzheimer's disease or whether HRT could be strategically used to reduce cognitive impairment.
3. Genes
While about a quarter of Alzheimer's patients have a significant family history of the disease, and a very small percentage inherit a gene mutation that causes early-onset Alzheimer's, there's another type of gene (APOE4 gene) that can influence your risk, especially for women.
"Having two copies of the APOE4 allele confers a 10 times increased risk in Alzheimer's disease in women compared to 4 times higher risk of Alzheimer's disease than men, which suggests that there may be other genetic or possibly hormonal factors that influence the effect of this allele on the risk of Alzheimer's disease," explains neurologist Rawan Tarawneh, MD, a neurologist at Ohio State University's Wexner Medical Center.
4. Lower levels of education
Alzheimer's disease has been linked with less education over the course of a lifetime, says Tarawneh. Although more women today are earning advanced degrees than ever before, women of earlier generations are less likely to have the same education level as their male counterparts.
5. Stress
A number of recent studies have suggested that women are more stressed than men, and experience that stress differently. "It is very possible that effects of stress or sleep disturbance on cognitive resilience differs between genders, with a more pronounced effect in women," says Tarawneh.
6. Heart disease risk
"A study from Framingham, Massachusetts states because men are more likely to die from heart disease in middle age, men living past 65 may have healthier hearts which protect the brain from Alzheimer's. Alzheimer's and heart disease share many risk factors including high cholesterol, diabetes and obesity," says naturopath Carolyn Dean, MD, author of The Everything Alzheimer's Book.
7. Caregiving roles
Sixty percent of family caregivers are women, according to [
Tips for Lowering Your Alzheimer's Risk
While women appear to be at higher risk for Alzheimer's the recommendations for prevention do not depend on gender.
"I wouldn't look at women any differently than men," says Agronin. Everyone should be living a brain-healthy lifestyle." And experts say prevention should start as early in life as possible.
"We tend to think of Alzheimer's disease as an old woman's disease, but we are now realizing that it is actually a young woman's disease," explains Nicole Absar, MD, medical director of the Senator William and Ellen Proxmire Neurocognitive Clinic at Integrace Copper Ridge, a memory care community in Sykesville, Maryland.
Research shows that Alzheimer's disease could begin in a woman's 20s, even though symptoms might not emerge for several decades. However, it's also never too late to start on a brain-healthy lifestyle (and set a good example for the younger adults in your family while you're at it).
Below are some key preventive steps you can take to lower your Alzheimer's risk.
1. Exercise daily
"Regular exercise, for example two to three times a week for 20-30 minutes per session, produces both physical and emotional benefit, thereby contributing to overall health benefits," says Maguire. National recommendations for physical activity for adults are a minimum of 150 minutes of moderate aerobic activity and at least two strength or resistance training sessions per week.
2. Eat a healthy diet
The Alzheimer's Association recommends a Mediterranean style of eating, while Absar recommends the MIND diet (a combination of the blood pressure-reducing DASH diet and the Mediterranean diet) as the best ways to lower your risk. Focus on eating whole grains, lean proteins such as fish or tofu, and plenty of fruits and vegetables.
3. Manage blood sugar, blood pressure, and cholesterol
"As vascular disease in the brain accelerates Alzheimer's disease pathology, it is important that individuals with diabetes mellitus, hypertension, and/or high cholesterol are treated for these conditions," says Tarawneh.
4. Aim for a healthy weight
Excess body fat could trigger a chemical cascade that raises your risk of Alzheimer's disease, according to researchers who published a December 2017 review of obesity-related studies. Talk to your doctor or a registered dietitian about how to lose weight.
5. Get enough sleep
"Both sleep quality and quantity are important, so treating sleep disturbance such as obstructive sleep apnea is strongly recommended," says Tarawneh.
6. Spend time socializing
"I have been intrigued by studies of loneliness and the importance of relationships in promoting overall health, reducing depression, prolonging life including most importantly, the quality of life," says Maguire. Make an effort to reach out to family and friends, new and old.
7. Challenge yourself
The Alzheimer's Association highlights the value of learning new and slightly challenging skills or information in possibly reducing Alzheimer's disease risk. "Practicing critical thinking every day will make sure you maximize your cognitive reserve. Daily activities like reading, completing crossword puzzles, and playing interactive brain games on your computer or game consoles like the Nintendo Wii will help ensure your brain stays active and continues to build new pathways," says Absar.
8. Stop smoking and heavy drinking
Both smoking and excess alcohol contribute to Alzheimer's disease risk. Health care professionals advise stopping smoking entirely and having no more than one alcoholic drink a day.
9. Enjoy your coffee
Although coffee is not officially prescribed to prevent Alzheimer's, research suggests that people who drink coffee are less likely to develop the disease.
10. Prevent brain injury
The Alzheimer's Association emphasizes protecting your skull to protect your brain. Wear helmets when biking and use protective gear when playing sports that could lead to brain injury.
11. Get treatment for depression
Tarawneh notes that there is a correlation between depression and Alzheimer's disease. If you live with depression, talk to a mental health professional about treatment options.
12. Check your nutritional status
Women who are lacking in certain nutrients, including vitamins B12, D and magnesium, may be at higher risk for cognitive impairment. Talk to your doctor or dietitian about your nutritional status, and whether you need supplements.
13. Avoid environmental toxins
Dean argues that consuming excess mercury could increase your Alzheimer's risk. While research is unclear about whether mercury, aluminum or other chemicals in the environment lead to the disease, it's worth reducing the chemicals you consume or use.
Future Research
"Understanding if and how gender differences play a role in Alzheimer's disease pathogenesis will improve our understanding of the underlying disease mechanisms which may open up new avenues for treatment and prevention of Alzheimer's disease in both men and women," says Dr. Tarawneh. She points to new avenues of research that are digging into the role hormones play in Alzheimer's disease, the genetic link to Alzheimer's disease and the impact of stress.
Dr. Absar says she's hopeful that future research will shed light on early stages of Alzheimer's disease in young adulthood, as well as provide a foundation for making brain imaging to reveal early changes more accessible.
](http://www.caregiving.org/wp-content/uploads/2015/05/2015_CaregivingintheUS_Final-Report-June-4_WEB.pdf)