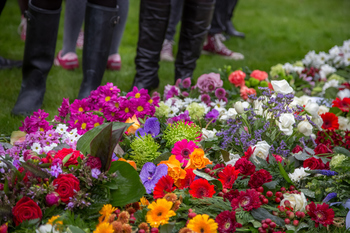 All Rights Reserved
When a loved one dies, how to pay for their funeral arrangements is the last thing anyone wants to think about. And many people, especially those who pass away in old age, have already made arrangements so their survivors won't have to face these costs. But for those who die unexpectedly, or for families who don't have the roughly $7,000 to $10,000 typically needed to cover funeral fees, a new option is emerging.
You've probably heard of crowdfunding—fundraising for specific causes or projects online. Memorial crowdfunding lets people raise money to pay for funeral services and related arrangements, to help the person's survivors, or for a memorial fund in the deceased's name. While paying for funeral services, burial or cremation has traditionally been a private family matter, memorial crowdfunders typically enlist the help of the deceased person's friends, acquaintances and in some cases, even strangers, to help cover these costs.
Crowdfunding's ever-growing popularity
In recent years, crowdfunding of all kinds has seen major growth. That includes rewards-based crowdfunding sites like KickStarter and IndieGogo, which typically raise funds to help finance creative projects, and sites like YouCaring, which allow users to crowd-source funds for more personal donation-based causes, including covering funeral expenses.
Crowdfunding sites provide an alternative way to cover costly funeral fees that for many families can be a welcome contribution at a financially trying time, says Dan Saper, president of YouCaring, which sets itself apart by not charging fees to fundraise, so the most money possible goes toward the cause.
"We've seen a lot of growth in memorial and funeral crowdfunding, and a big driver is that the average American cannot afford $2,000 in a pinch," Saper says, citing a 2011 paper by the National Bureau of Economic Research. Rather than risk going into debt to cover funeral costs, he says, many Americans are now heading online to ask for help.
"As crowdfunding becomes more and more prevalent, people are increasingly comfortable with this as an option and realizing that it's a really easy and fast way to raise the funds they need," Saper says.
The explosive growth of the crowdfunding industry underscores the public's increasing comfort level with this type of fundraising. Over the past several years, tens of billions of dollars have been raised through this type of fundraising. How it works
Most crowdfunding sites allow people to raise funds quickly and easily, as opposed to the lengthier process of taking out a loan. On YouCaring, for example, users can enter their personal information, share why they're raising funds, upload photos and videos, and set up their fundraising webpage in minutes. The pages are also easy to share via social media or email.
"With [crowdfunding] you're enlisting the help of your close friends and family and sharing it with them, so it's often the people who are already going to be at the funeral who will be the first to contribute – then others will come through Facebook or email," Saper says.
The money raised on memorial crowdfunding pages typically goes toward funeral services, burial or cremation and related expenses. In some cases, people raise funds to help cover medical bills or to support the deceased person's surviving dependents. Other times, funds may go into a memorial scholarship for a child or grandchild, or a fund to be donated to an organization that was dear to the person's heart.
A platform for emotional support
In addition to the financial support it generates, memorial crowdfunding also provides a platform to provide emotional support and to remember the person who passed away. Users often upload several photos of the person they lost and let visitors to the page know when and where memorial services will be held.
Each visitor to a memorial crowdfunding page has the chance to post comments, even if they're unable to donate. That often means an outpouring of condolences and support from loved ones and acquaintances as well as from friends of friends (including complete strangers) who hear about the fundraiser via social media or email.
For those who want to share their support with the deceased person's family or who aren't able to attend the funeral, memorial crowdfunding platforms offer a chance to honor the person online.
"We hear time and again that people come to the site [due to] financial need…but are left realizing, 'Wow, the emotional and social support I got out of that is what I'm going to remember,'" Saper says.