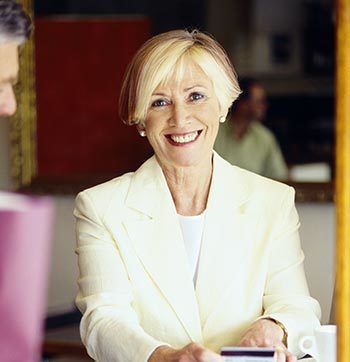 All Rights Reserved
She is a self-proclaimed "wonderful worrier," but it may be this character trait that makes Nancy Rubin, vice president of Human Resources for the Motion Picture and Television Fund (MPTF), exceptionally good at what she does, both professionally and personally.
It was 25 years ago when Nancy got the call that her father was declining in health and her mother was struggling as a solo caregiver. Despite having two other sisters, it was Nancy who made the difficult decision to move in with her parents and share the care burden with her mom. Since her father passed away 15 years ago, Nancy has remained roommates with her mother, now in her 80s, allowing her parent to grow old in the home she loves.
"I listen to the problems and issues of our employees all day, spending most of my time searching for solutions, and then I come home at night and do it all over again with my mom," says Nancy. Caregivers like Nancy represent 15 percent of America's workforce, with roughly six out of 10 caregivers working full or part-time. We've addressed the unique issues of the working caregiver, who wants to cope gracefully in the workplace and at home.
Share your caregiving situation with people who matter.
The dilemma for working caregivers is how much to share with coworkers, and especially supervisors, about their caregiving responsibilities. In a recent Caring.com survey, three-fourths of working caregivers of those with dementia told their coworkers -- more than told extended family but fewer than told their boss (66 percent). Similarly, ReACT (Respect a Caregiver's Time), a coalition of corporations and organizations dedicated to addressing the challenges faced by employee caregivers, reports that 28 percent of working caregivers had not told their employers about their situation.
"Caregivers don't want peers to feel their situation will be additional burdens for others; and they limit the information to supervisors, only disclosing that they may have to miss work or leave early rather than having a thoughtful conversation about their caregiving responsibilities," explains Dr. Zachary White, assistant professor at Queens University of Charlotte and creator of the Unprepared Caregiver website.
White advises this lack of information gives supervisors little context on why a caregiver may be missing work, causing ambiguity for both supervisor and the caregiving employee. In Nancy's case, she credits both her boss, MPTF CEO Bob Beitcher, and her colleagues and staff with creating a caring environment for working caregivers.
"Because our CEO helps care for his mother-in-law, he really understands and is empathetic to the challenges caregivers face," says Nancy. She also found her staff has become invested in her caregiving role after meeting her mother. "The culture of care at work really makes me feel that I don't have to hide anything from my employer and colleagues, which in turn makes me more loyal, dedicated, and present in my job."
Identify the exceptions you need and when to ask for them.
While the stigma and dilemma of how and when to share caregiving responsibilities at work may still exist, recently San Francisco passed a law, called the Family Friendly Workplace Ordinance, to support working caregivers. Essentially, the law provides caregivers the "right to request" changes in their working conditions -- such as flextime or telecommuting -- in order to stay on the job while managing their caregiving responsibilities. The state of Vermont passed a similar law earlier in 2013.
Nancy says she has found there is more acceptance in the workplace when caring for a parent as opposed to caring for a child. "All of us have parents, not all of us have children," says Nancy. "I think when you discuss caring for a parent, even if a coworker hasn't been a caregiver yet, they can picture themselves doing it in the future."
Start a caregiving-friendly culture at work.
Last year, Nancy started an on-site support group for other caregiving peers with full support from her employer. She also has benefited from some of MPTF's special programs, including a home-safety modification service offered in collaboration with Rebuilding Together, the nonprofit volunteer organization that modifies homes for seniors, disabled veterans, and others. The volunteers added grab bars in the shower and addressed other safety changes to the home she shares with her mom.
"Even though you feel like you are 'on duty' all the time -- working all day and then coming home at night to start all over again -- you adapt, you find your rhythm," advises Nancy. She believes being a caregiver has made her more flexible at work. "I don't sweat the small things anymore."
"Most caregiving situations are not a one-time need but a chronic, ongoing situation," says White. "Caregivers often feel they will be stigmatized at work if they communicate their caregiving challenges to supervisors and colleagues, but work environments can be very supportive because we spend so much time with the people we work with."

Previous: The Male Caregiver | Next: The Long Distance Caregiver