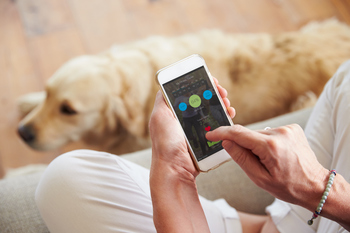 All Rights Reserved
No matter which report or survey you look at, the numbers are clear: More and more Americans report caring for a family member or another adult with age-related or health problems. And statistics show that the vast majority of these "informal" or unpaid family caregivers fall between the ages of 30 and 64, with an even larger percentage falling into the "boomer" category.
This means this age group is far more "wired" than previous generations of caregivers, which has some interesting implications for caregiving. Research from the Pew Internet and Life Project conducted in June 2013 found that family caregivers are "heavy technology users" and are more likely (72 percent) to research health information online as compared with the general population (50 percent). And original research from Caring.com shows that almost 65 percent of caregivers use Facebook or another social networking site to connect with others.
One of the most obvious ways advances in digital technology are changing caregiving is in the use of smartphones. And Caring.com user data shows that half of all caregivers own an iPhone and use it for research and connectivity.
Caregivers aren't just posting pictures of their dogs and kids, though -- they're using the Web, smartphone apps, and other digital services to help them with the often overwhelming tasks of caregiving. And they need that help -- in a recent study, a whopping 88 percent of boomer caregivers reported that caregiving had turned out to be much harder than they expected. In a study titled Retirement Care Planning: The Middle-Income Boomer Perspective, 57 percent of the approximately 500 boomers surveyed said caregiving took more emotional strength and 52 percent said it took more time than they'd expected. Caregiving, they said, was also costing them more financially and causing more stress on their health and relationships than they'd anticipated.
How can technology help solve the problems caregivers face? In practically every way you can think of. "With 44 million caregivers the US today and the aging of the Baby Boomers on the horizon, there is a huge need (and corresponding market opportunity) for products and services to empower and support caregivers today and in the future," says Katy Thomas Fike, an engineer, gerontologist, who consults with firms on technological innovations and aging. In fact, Fike says, "So many new digital products and services are becoming available to caregivers that it's hard to keep up."
Coordinating care among family and providers is centralized.
A host of new apps seeks to solve the challenges of coordinating care for an ill or aging loved one by linking caregivers and loved ones together in supportive ways. Apps like Caregiver's Touch and CareZone are designed to help caregivers keep track of medical information, appointments, medication schedules, and other important health information and share it with others helping with the loved one's care. Caregivers can use apps like CarePartners Mobile, Lotsa Helping Hands, and CaringBridge to set up a "private community" to receive updates, alerts for help, and share support tasks.
Tracking medications can be done with the click of a button.
Even more futuristic are two medication-related innovations. Already available are Vitality GlowCaps, pill bottle caps that flash and beep when it's time to take a medication dose. And coming soon from Proteus Digital Health is a pill capable of texting an alert when it reaches a patient's stomach. Already being piloted in England, the system involves a pill coating that is picked up by a sensor patch on the patient's skin.
Your smartphone can help you manage your time and verify your hired help.
There are also more general time-management and scheduling apps, such as TaskAssure and Unfrazzle, that can be customized to help caregivers stay on top of, delegate -- and verify -- responsibilities.
Monitoring remotely is getting easier than ever.
Change has also come to the more established area of home monitoring. "New sensor technologies and great design are bringing new capabilities and sensibilities to the markets of home monitoring and Personal Emergency Response devices," says Fike. GrandCare, a longterm player in the field, now takes advantage of digital innovations to provide a sophisticated interactive interface in addition to more traditional features such as activity monitoring, alerts, and mediation management. Caregivers and their loved ones can use GrandCare's multimedia communication interface to share photos, chat via video, and even play games in addition to more traditional home care monitoring.
Another system, Lively, features a cellular hub and home activity sensors that allows two-way communication, both passive and active. The caregiver knows what her loved one is up to, while the senior she cares for can receive photos and messages. A similar service connecting caregivers and other family members to seniors living in residential facilities is offered by CareMerge, which networks staff, residents, and family members to coordinate care.
The latest generation of health alert devices also takes advantage of digital technology to deliver "wear anywhere" support. Amulyte, for example, is a health alert system in the form of an amulet that's worn around the neck, allowing an instant text alert to be sent to the caregiver with a press of a button.
If it sounds like the future is already here, stay tuned -- there's more to come. Says Katy Thomas Fike: "The caregivers and seniors of the future will be totally connected with the help of smartphones, sensors, cloud-based services and even robots."

Previous: The Post Caregiver | Next: The Future Caregiver