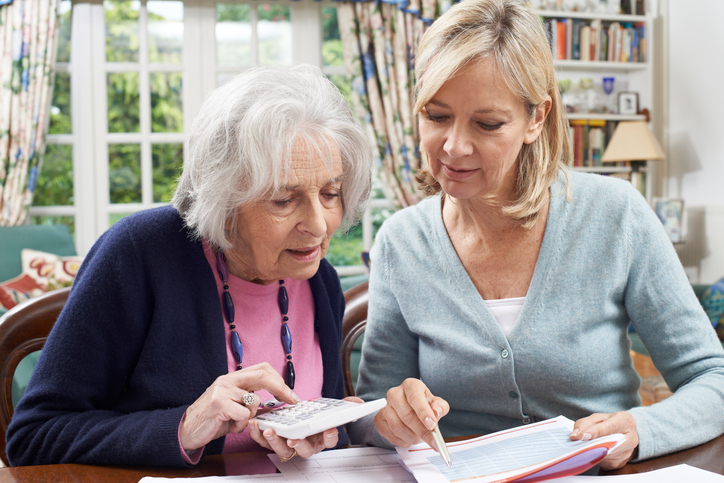 The monthly cost of assisted living can be quite shocking if you're unfamiliar with the factors that help determine that price tag. Everything from the level of care and amenities to room size and zip code can drive the cost of assisted living up—or down.
The average monthly cost of assisted living in the U.S. is about $3,628 a month; but that figure can swell to $5,000 per month. That average cost is expected to rise to $4,876 by 2026. Unless the expense of assisted living stems from the need for short-term rehabilitation, Medicare won't cover the bill. As painful as that may be to a pocketbook, the cost of assisted living can seem like a bargain when compared to the $5,000 to $10,000 or more that nursing home care can run every month. The average cost of assisted living in the U.S. is comparable to the $3,861 price tag of having a home health aide; it's nearly double the $1,473 adult day care costs in the U.S. per month.
As you're weighing the options of assisted living, nursing homes, in-home care, or other types of care for yourself or a loved one and determining affordability, keep in mind that costs are dictated by a number of key factors.
Choosing the level of care
Many assisted living facilities set their pricing structure on the level of care a resident requires.
A resident who doesn't require any specialized care can expect to pay less than someone who needs verbal instructional reminders or assistance with activities of daily living such as bathing, toileting or dressing.
However, if a person needs help cutting their food, is at a high risk of slips and falls or takes a great deal of medication (six to seven prescriptions is often the threshold), all of these factors can affect cost. Help with getting around, toileting and medication management are few other items that determine the level of care a resident will require, and the subsequent cost of that care.
And if your loved one's needs change during throughout their time in a senior care community, the monthly cost can be expected to increase. However, most facilities provide a detailed list of costs, and how care is reflected in them, both at the time of move-in and annually, or if requested during a care review.
Amenities
The monthly cost of assisted living can also hinge on any perks or "extras" your loved one may currently rely on family members for, or may be attempting to coordinate on their own. For instance, laundry service may be provided in the community's monthly rate, or it may be charged separately, depending on the facility and frequency of the service.
Transportation to and from doctor's appointments or shopping, education and entertainment, on-site health and wellness programs (exercise classes, art seminars, speakers, etc.) access to common areas for socialization and entertaining guests, housekeeping and how elaborate—or not—a menu your loved one prefers (if meals are included) are just a few conveniences that determine the monthly bottom line.
Sizing up space
Just as when you're buying a house, square footage, number of rooms (and bathrooms), location within the community (floor, proximity to amenities and/or elevator) view and availability are calculated in the price point.
Be sure to ask about all of your options, because most assisted living communities offer several different floor plans to help better manage the monthly cost of assisted living. Sharing space—and the subsequent costs—may also be an option if your loved one is interested in having a roommate. Some assisted living centers offer two bedroom apartment-style living which can trim costs anywhere from 10 to 20 percent or more a month. Along with the lower cost, the ability to have more space and a social companion can make shared living a better option for some residents.
Counting caregivers
The staff-to-resident ratio plays a major role in the amount of attention each resident receives. And while a well-staffed facility is desirable to ensure greater attentiveness to your loved one's needs, that concentrated attention will likely hike up the monthly cost of assisted living.
It's all about location The desire to choose an assisted living facility in—or near—a current zip code is understandable. If seniors find an assisted living facility in an area where they've lived for years, there's little need to change doctors, switch shopping habits and other routines that revolve around local establishments or organizations. But depending on where your loved one lives, changing towns—or even states—can greatly impact the amount monthly care will cost.
Assisted living facilities in urban areas typically cost more than their counterparts located in rural zones because of the increased real estate value and cost of doing business. Relocating even an hour outside of a major metropolitan area can mean a drop in cost of up to 25 percent. Swapping states can also net significant savings. For instance, moving from Illinois, where the average monthly cost of assisted living is $3,898 to its neighbor Iowa can save $380 per month. A little further north, the monthly cost in Minnesota shaves $698 off the average cost in Illinois.
Timing is everything
Although they're in the business of providing care, assisted living residences are still businesses. That means they wrestle with the same financial pressures as retailers, restaurants and other businesses. To meet budgetary demands, residences may negotiate price breaks at the end of month, quarter or year.
If your family isn't bound by a time constraint, waiting to move a loved one into an assisted care community might mean either a slightly lower monthly payment or financial perks like waiving the "community fee" (which can equal several months' rent) move-in credits.
Footing the bill
Now that you have a handle on how the cost of assisted living is determined, it's time to explore how to make those monthly payments.
Savings, retirement accounts and even well-investigated reverse mortgages are the most common ways to foot the bill. But there are some lesser-known options that may fit into your family's financial picture.
Bridge loans
A lack of free cash or easily liquidated financial assets can be offset with this option offered by Elderlife Financial. These types of short-term loans of up to $800,000 are designed to provide the funds for a move to assisted living or a continuing care retirement community. Either as an unsecured (no collateral required) line of credit or lump-sum loan secured by real estate or other assets, this can finance the customarily large up-front entrance fee typically required to move into an assisted living care facility.
Medicaid or Supplemental Security Income
Government assistance may also be available to pay for long-term care.
Medicaid can be an option for those with less than $2,000 in assets, in addition to a home and your car. However, not all assisted living communities accept Medicaid, and Medicaid beds are usually limited. Your local Area Agency on Aging can help determine eligibility and pinpoint the facilities in your area that may be an option in conjunction with Medicaid.
Seniors who are impoverished and partially or totally disabled by illness or injury may also be eligible for supplemental Social Security income to pay for nursing home care or assisted living. Each State has its own rules and qualification practices, which are available through the state disability department.
Rent out the family home
If your family isn't ready to sell a loved one's home, turning it into rental property can provide the income stream needed to cover the costs of assisted living. If throwing on a landlord cap sounds overwhelming, you can hire a service to manage the property for you, for a fee.
A longevity planner who specializes in the financial needs of seniors can help your family navigate these—and other—strategies to afford the care that's best-suited to a loved one's needs. Talking to the resident care coordinator at an assisted living facility can also help uncover unexpected ways to fund the monthly cost of assisted living.