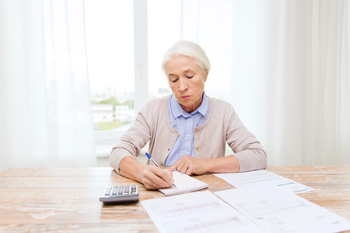 All Rights Reserved
The short answer: For now, it will depend on your income level and where you live, but in the long-term, seniors could see their healthcare premiums go up.
With the whirlwind passage of a massive new tax bill in December, many Americans were left wondering what to expect when they file their taxes this year.
President Trump signed the Tax Cuts and Jobs Act on Dec. 22 after weeks of contentious debate, with some Congressional sessions lasting into the early morning hours. It makes a host of changes to the tax code, including slashing the corporate tax rate from 35 to 21 percent permanently, a move lawmakers say they hope will spur economic growth.
For most older Americans, the effects of the tax bill will likely be minimal or beneficial for now. But a number of elder advocacy groups and economists believe some long-term consequences, particularly for health care costs, could be devastating to seniors.
The American Association of Retired Persons (AARP) opposed the bill, and while some proposals that would have hurt seniors didn't end up in the final version, the AARP remains concerned about its long-term impact on healthcare, Social Security and the federal budget in general.
Here are the 3 main ways that the new tax law will impact seniors.
1. Lower Tax Rates for Most...Offset by Reduced Deductions
The immediate effects of the tax bill for most Americans over 65 will largely depend on individual circumstances – your income bracket, whether you have a lot of deductions or where you live.
The law lowered tax rates for all but the lowest earners, but those savings could be offset for some taxpayers by changes in the way deductions are handled. For example, the new tax law caps federal deductions for state and local taxes at $10,000, which would particularly hurt taxpayers of all ages in states with high taxes, like New York and California.
"For elderly people who took advantage of that deduction for state income tax, that's a big one," said Priya Mishra, managing attorney for Top Tax Defenders in Houston, Texas. "That $10,000 cap is big, property taxes run high in some states, folks who were using that deduction were definitely impacted."
But William Abrams, a partner with AGMB law firm specializing in estate planning and tax law, pointed out that many seniors move to states with lower taxes, like Arizona or Florida, specifically to avoid paying high state taxes.
"I think it's more beneficial for them than anything else," Abrams said of the new tax law's effect on seniors.
2. Some Savings on Medical Expense Deductions, For Now
One change is likely to help many seniors, but it may not last long. The new tax law allows taxpayers to deduct more medical expenses and extends a lower threshold for seniors deducting medical expenses, but only for the next two years.
For now, medical expenses that amount to more than 7.5 percent of the patient's adjusted gross income can be deducted. Until this year, only medical expenses over 10 percent of adjusted gross income could be deducted for taxpayers under 65. That threshold would have gone up to 10 percent for people aged 65 and over as well this year, had the bill not passed.
"If you're caring for a disabled member of your family, it can be expensive," possibly thousands of dollars a month, said Mishra. "That was one of the good things, that they kept that medical expense deduction."
The new threshold is still scheduled to take effect, but not for two years, at which point only medical expenses above 10 percent of adjusted gross income will be eligible for deduction for everyone, unless Congress takes further action.
In one version of the tax bill introduced in the U.S. House of Representatives, medical expense deductions were eliminated entirely, a possibility that was strongly opposed by the AARP, said AARP legislative counsel David Certner.
"Obviously, if you had eliminated the medical expense deduction, that could cost you thousands, if not tens of thousands of dollars, per year," Certner said.
According to the AARP, most people who deduct medical expenses are older and low-income. Nearly three-quarters are 50 or older and live with a chronic condition or illness; 70 percent make less than $75,000 a year.
3. Healthcare Premiums Going Up
The decision that may cause the most impact for older Americans is the elimination of the Affordable Care Act's individual mandate. Without this tax penalty for not having health insurance, many younger, healthier people will likely go without it, causing premiums to rise for people who don't have insurance through a job or aren't yet eligible for Medicaid.
In November, the Congressional Budget Office (CBO) estimated that eliminating the individual mandate would cause average premiums in the Obamacare individual marketplace to rise about 10 percent per year and cause 13 million people to become uninsured.
This would affect millions of people between the ages of 50 and 64, said Certner. For a typical senior, costs could rise by about $1,500 more each year, he said.
Questions Remain for Medicare and Social Security
Possible cuts to Medicare coming
With the corporate tax rate slashed and taxes lowered for many others, there are also concerns that the reduced revenue for the federal government could lead to new calls to cut services, including Medicare and Medicaid.
House Speaker Paul Ryan fueled those concerns in December, pledging in a radio interview to reform "health care entitlements," including Medicare, to offset tax bill's effect on the federal deficit. So far, neither he nor other House Republicans have proposed anything specific.
Without cuts, the bill will add nearly $1.5 trillion to the deficit over the next decade, according to the Congressional Joint Committee on Taxation.
"The large increase in the deficit will inevitably lead to calls for greater spending cuts, which are likely to include dramatic cuts to Medicare, Medicaid, and other important programs serving older Americans," AARP CEO Jo Ann Jenkins wrote in a December letter to Congress opposing the tax measure.
In fact, the 2010 Pay-As-You-Go or PAYGO law would have required Congress to make severe budget cuts to offset the cost of the tax bill, but Congress swiftly passed legislation making the tax bill exempt from the requirement, at least for the next fiscal year. Medicare could have been automatically slashed by up to $25 billion under the PAYGO rules, according to the CBO.
"That's some temporary good news on that front," said Certner. "The problem is we're also going to face those automatic cuts in the years to come."
Potential decrease in inflation adjustments for social security
Social security is exempt from PAYGO cuts, according to the CBO. But Congress could mount an effort to make cuts soon, and there might be a clue as to how it would be altered in the tax law.
The tax code is indexed to inflation, so every year the seven income brackets are re-calculated, and deductions and brackets increase every year. The new method of calculating inflation will make adjustments to tax brackets more slowly than the more traditional Consumer Price Index, or CPI, which is calculated monthly by the U.S. Department of Labor.
Cost of living raises are often calculated using the traditional CPI, so wages and salaries will rise faster than adjustments are made to the tax bracket.
"Many have in the past suggested applying this same measure to social security, which would reduce the amount of your social security [Cost of Living Adjustment] every year," said Certner. Now that it's been applied by the tax code, he speculated there could be a new effort to calculate Social Security in this way.