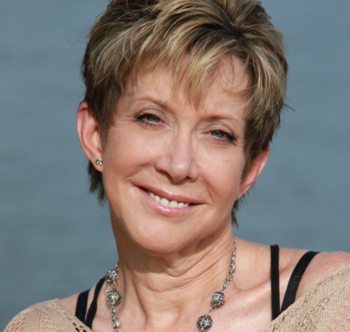 All Rights Reserved
Meet Dayna Steele, Caring.com's new Chief Caring Expert. The longtime radio and TV personality, entrepreneur, speaker and author is now lending her expertise to caregivers of aging parents and other loved ones.
Several years ago, Steele found herself juggling a crazy-busy career and her role as a wife and mom when her own mother was diagnosed with Alzheimer's disease.
As she struggled to navigate the often heartbreaking twists and turns of her mother's illness, sometimes referred to as the "long goodbye," Steele began sharing her experiences online. And true to her rock 'n roll radio instincts, she didn't filter anything – her Facebook community was privy to all of the stress, grief and dark humor. Her posts sparked an outpouring of support from friends, family and fans, many of whom urged her to publish her observations in a book.
The resulting book, Surviving Alzheimer's with Friends, Facebook and a Really Big Glass of Wine, features many of Steele's online posts along with insights from a neurologist, a long-term care insurance specialist, a documents expert, other caregivers, elder care attorney, an assisted living advisor.
We sat down with Steele to learn more about her caregiving experience, what she learned, and why she chose to share it with the world.
Did you have any inkling that your mother might have Alzheimer's before she was diagnosed?
Looking back now, I can identify almost every single one of the warning signs. I think part of it was, I was in denial because I've got kids to take care of and a job to do. It doesn't run in our family, so it never dawned on me that it was Alzheimer's – it was not a word that ever came up.
My brother-in-law who's a neurologist tried to broach the subject once, but I thought, "She's fine, she can get around, and I don't have time to deal with it." She was also in denial. She was never sick, never went to the doctor's office.
Later, I noticed that there were notes on everything [in her house]. Over the years, the Post-it notes really grew – there were notes on complete conversations with me, notes on how to cook, notes saying, "brush your teeth, comb your hair."
After my father died, we started to notice things she was doing that didn't make a lot of sense, but she was still ok, still in the jewelry business. Later, during a trip to Las Vegas, we were in a limo from the airport to our hotel and my mother became more and more frantic. Looking back now, I realize she was lost – I had taken her out of her comfort zone. She couldn't comprehend where we were, and just kept asking when we could go home.
When did you realize that there was something really wrong?
A friend of mine told me that her mom had Alzheimer's and about the series of very simple question doctors had asked her mother to make the diagnosis. I tried a few on my mom, like "What year is it?" and "Who is the president?" But she just laughed them off, and that scared me.
Then we went to the doctor's and they asked her a similar series of questions and told her to do things like, "Repeat a few words" or "Draw a clock." She couldn't do any of them. Soon after, doctors gave us the diagnosis: it was Alzheimer's.
You moved your mother into assisted living after she was diagnosed – why was that the right choice for you and your family?
Mom lived about 35 minutes from me -- we were best friends and we talked every day for years -- but I was starting to have to go over all the time. And 35 minutes here and an hour or a couple hours to deal with doctors or finances there, it turned into two to four hours a day, and I still had a business to run and a family to take care of.
She had a fall in the middle of 2012, and broke her nose. After that, I just didn't feel comfortable having her live at home anymore, I felt like I needed her closer to me. And she didn't fight me as much as I thought she would – I think she knew something was going on.
My aunt, who's a decorator, helped incorporate Mom's favorite pieces and colors into her new home. She made friends quickly, and I was there almost every day at one point, picking her up for dinner or lunch. After a while, it just became our reality.
What were some of the tougher parts of the "long goodbye"?
Hating my mother. I am not a person who uses the word hate – I just don't hate people or things. I was embarrassed by how much I didn't want to go see her, and [feeling like] I don't like her, I don't want to deal with this anymore. And, I didn't want to deal with anything else like the first time she said to me, "Tell me your name again."
One night, I surprised her with some of our family's old home movies, and she got so upset because she didn't understand who the people in the videos were, and we were there asking her, "Remember that, Mom?"
Another time, I walked into her room and found all these Post-it notes that said, "I'm going to kill my daughter." I almost hid those notes not only from my audience, but my husband and sons. I just wanted to hide the notes, but then I showed them to my family and I wrote about it online, and again, people made me feel better. They talked me through it and helped me understand that there was no black or white. I was her daughter Dayna, but I was not her daughter Dayna.
And when she became violent. Hands down one of the worst moments – the last week she was alive, this woman who could not hold her head up pulled me by the hair and started beating my face.
How did the support of your Facebook community help you through this time?
Facebook became my support group. My Facebook community gave me ideas, information, suggestions, laughter and love. And, once I wrote a particularly hard post, I would let go of the negative emotions. It was very cathartic to write and share.
I knew I was surrounded by a loving, protective community of friends, family and former listeners who gave me permission to have those mini-meltdowns and tell me I wasn't a bad person, when I felt so guilty and like I just couldn't do it anymore.
It was also really powerful when I voiced my feelings and saw that it helped so many people.
How did you use humor to help you get through the tougher times?
After we got mom moved in, and got the diagnosis, every once in a while something would happen that would make me laugh, and I thought, "Is there something wrong with me?"
So I would turn to my online community and say, "This made me laugh, is this funny?" And they started laughing along with me.
I think laughter cures a lot – it's an incredible release. When you laugh, your blood pressure goes down and your whole demeanor changes. I've always used laughter to offset sad or bad situations, to make them better.
Now, about six months after your mother's death, what do you remember about her? What space are you in?
In the last few weeks, all of a sudden, I remember more of the good things. I remember her laugh and her voice, and that horrible woman those last two years who was confused and angry and violent and shriveling up to nothing – I'd been so scared that was going to be embedded in my psyche for the rest of my life.
I'm starting to remember funny things – she used to take these rocks and paint them, and she was a great artist. So, I got a whole bucket of them, and now I give people who were close to her a rock and a Sharpie and tell them to write her a note and put it down in our garden, surrounded by her favorite flowers. My rock says, "Welcome home," because she felt at home there, she loved to be out in our yard. That's also where her ashes are. The very last words she said to me were "home." she wanted to be at my house.
You've been named Caring.com's Chief Caring Expert. How do you hope to help Alzheimer's caregivers?
I hope to be able to guide others to this great resource I wish I'd known about early on. Not only would I have been able to read the reviews and make a better informed decision on where to put Mom, but I also would have had access to so much content for caregivers. There is an answer to just about every question you may have as well as support groups for Alzheimer's and even more on the site. And, it's free. Alzheimer's is a very expensive disease, so when you can find any sort of free help, that's the best. And Caring.com is the best resource online. I'm proud to be a part of this community.
---
Dayna Steele is the creator and CEO of YourDailySuccessTip.com. She is the author of Rock to the Top: What I Learned about Success from the World's Greatest Rock Stars, the creator of the 101 Ways to Rock Your World book series, a Rock Radio Hall of Famer, and a successful entrepreneur. Dayna is currently traveling the country as the Chief Caring Expert for Caring.com. A professional business speaker on leadership and employee success, Dayna is also a regular contributor to the Huffington Post, Fox News Houston, and consults Fortune 500 companies. Dayna Steele is married to author and former NASA pilot Dr. Charles Justiz. Her mother, Fran Nicholson, was her biggest fan.