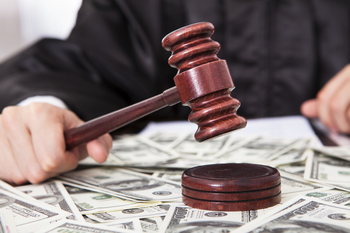 All Rights Reserved
It would take a book (or a lengthy Vanity Fair article) to provide a comprehensive look at the love life of media mogul Sumner Redstone. Suffice it to say, he's had his fair share of wives and companions over his 92 years, showering them with gifts, money, and homes. One woman, however, felt this generosity wasn't enough. When Manuela Herzer, a previous girlfriend, was removed as Redstone's designated healthcare agent last October, she filed a lawsuit questioning Redstone's mental competency.
Her efforts were futile: on May 9, a judge dismissed the mental competence suit, saying that Redstone's deposition made it clear the man knew exactly what he wanted—and it wasn't her. Herzer claimed that Redstone's daughter and nurse were interfering with her expected $100 million inheritance. But it doesn't take millions to cause rifts between families and friends. Even a pittance can send some people running to the courthouse claiming fraud.
While the dilemmas of billionaires are difficult to relate to, there is plenty to be learned from this drama. If you are an elder—or someone who cares deeply about the wellbeing of an elderly loved one—heed these lessons:
1. Old doesn't mean senile
According to the judge in Redstone's case, Redstone appeared to be in pain and struggled to speak clearly in his deposition, but showed no confusion about what he wanted. Just because the elderly person in your life makes choices and changes you might not agree with, that doesn't mean they are acting irrationally. "A person's advanced age should not form the basis for calling into question his or her judgment or competency," says writer and elder care specialist Michelle Seitzer. "Alzheimer's and dementias are prevalent, yes, but they are not part of normal aging, so one should never assume that an older adult has some form of dementia or is otherwise mentally unable to make sound decisions."
2. Be ready to back up claims of competency
If it's likely that the elder may be asked to prove his or her competency when their will or healthcare directive choices are called into question, be prepared. "Request the services of a neuropsychologist who has been trained in this capacity," says Julie Schoen, an attorney and deputy director of the National Center on Elder Abuse.
A geriatric psychological examination is also a smart idea, especially if fighting among family members is likely, says Philadelphia-based elder law attorney Debra G. Speyer. "I had a situation in which the elder told me that certain family members will be fighting over the estate. She was right. After her death the family member did call that they would challenge the will. However, once reviewing the psychological evaluation, I did not hear from that family member again."
3. Be careful who you trust
Many elder care cases revolve around what's in the best interests of the senior, but it's often tempting to question the elder's mental competency if the money or estate doesn't work out in a person's favor. A lot of these situations begin as a "he said, she said" dispute, like Redstone's dilemma. "Be very leery of family members who simply put complex legal documents in front of someone and ask them to sign, or threaten that if they do not sign this document they will put them in a nursing home," says Schoen. There should be no rush and no need to sign the documents without ample review and discussion.
4. Choose carefully
Choosing beneficiaries or a health care proxy are important, personal choices. Schoen advises selecting someone who holds the same ethical, moral, spiritual, and religious viewpoints; who knows you well and will not benefit or gain anything by making your health care decisions. "I will discourage the elder from choosing a person that has no time to handle the situation, or has a different philosophy than the senior," says Speyer. Trust is essential.
5. Keep an eye out for red flags
Family conflicts and indecision are warning signs, says Howard S. Krooks, attorney with Elder Law Associates in Boca Raton, Florida, as are people who are too involved in the decision-making. "We always meet with the elder alone and seek independent thoughts and opinions," says Krooks. Speyer operates on the same wavelength. "What really raises a red flag is someone that comes to me without the elder there and asks me to draw up a power of attorney or will, and he or she will get it signed by the senior," says Speyer.
6. Seek the support of an elder-law attorney
An often untapped resource, elder law attorneys are trained to handle competency and other issues that face the aging population. "Estate planning attorneys do not always understand the complexities of Social Security, Medicare, Medicaid, and long-term care planning. If you are looking for someone who takes all of these factors into consideration, seek out an elder law attorney registered with the National Academy of Elder Law Attorneys. Do not just take it for granted that an estate planning attorney is adept in this area. Elder law is a special certification," says Schoen.
7. Explain your decisions
Redstone isn't the first wealthy older man to cut out the girlfriend for a child in his will or healthcare directive, and he certainly won't be the last. What can, however, limit conflict is simply explaining the decisions you make. "It's important to foster clear communication between the people we're close to," says Dan Simon, attorney and CEO of Simon Mediation in Los Angeles.
"Open, transparent communication involving all children and any new partners or friends can alert you to conflict among them and give you the chance to clarify for all of them what your intentions are." It's unlikely that the millions that Herzer feels she was cheated out of would sting less if Redstone had had a heart-to-heart with her. Then again, maybe it would have made a difference.