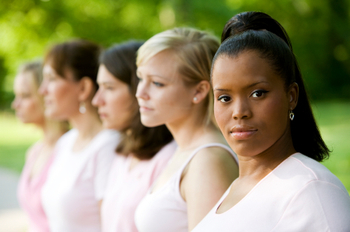 If you do your breast exams regularly and get your mammograms every year or two, you probably think you're being proactive about breast cancer. The problem is, looking for lumps isn't as easy as it sounds. Studies show that breast lumps often aren't detectable by feel (they're not "palpable," in doctor-speak) until they're at least 10 to 15 millimeters -- the size of a dime -- and then only 48 percent of the time. It's really not until a lump is 20 mm or more that you're certain to feel it. Meanwhile, mammograms also miss approximately one in ten tumors, and they're less reliable in younger women and women with dense breast tissue.
So what works to catch breast cancer early? Science is hard at work on the problem: In spring 2012, researchers in Canada announced the invention of a sophisticated new computer software system capable of analyzing mammograms for "architectural distortion" -- subtle but specific patterns in breast tissue that can appear more than a year before the development of a lump. But that technology is years away from general use. In the meantime, top breast cancer experts say women should become as familiar with their own bodies as possible and be alert for any changes. Here are some of the earliest and most surprising signs of breast cancer, as described by the women who know: breast cancer survivors themselves.
Breast cancer warning sign #1: Pain in the breast or chest
Whether it's an ache, throb, twinge, or sharp stab, pain or discomfort in the breast or chest area isn't a good sign.
How it feels: One breast cancer survivor describes the pain she brought to her doctor's attention as a "sharp pain that comes and goes." Another describes it as "a mild electric sensation that went from my left breast to my right nipple."
What causes it: Breast tumors can take many different forms; there can be a single lump, but there can also be an area of scattered seed-like tumors or an amorphous shape with multiple tentacles extending into the tissue. The tumor might also be directly behind the nipple or in one of the milk ducts. All of these growths cause different types of pain and discomfort.
Scary stat: As many as 30 percent of all breast cancer tumors aren't lumps, which makes them harder to detect.
What to do: Keep track of when, where, and how often the pain occurs. Tell your doctor, being as specific as possible. Make sure to be clear that this is a new symptom, different from any other sensation (such as the sore breasts of PMS) you've experienced before. If your doctor diagnoses mastitis and prescribes antibiotics (a typical response to breast pain), take the full cycle. But if the pain hasn't gone away, inform your doctor and ask for additional tests. Many women are told repeatedly that they have mastitis before they're able to make clear to the doctor that this isn't the case.