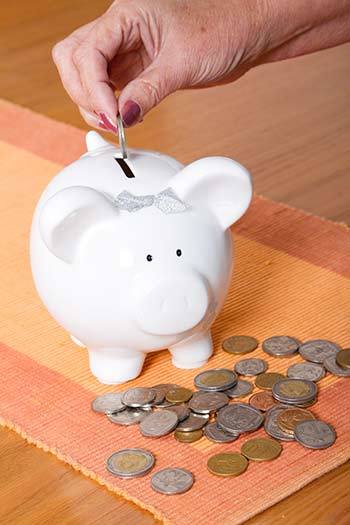 All Rights Reserved
Funeral arrangements are one of life's big purchases. Like buying a home, planning a wedding, or purchasing a car, paying for a funeral can have a significant impact on your budget.
Although you may be worried about money when someone dies, remember that this is a one-time event that can't be done over. The funeral arrangements need to show respect to the one who died, reflect that person's unique personality, and also be meaningful to those who loved him or her.
There are creative ways to honor your loved one every step of the way without breaking the bank. And if there's some aspect that will be particularly comforting and memorable, ask the funeral director how it can be incorporated within your budget. A good funeral director will help you make it happen.
Here are 8 things to consider when planning a meaningful funeral on a budget:
Save Money on Visitation and Services
Limit visitation. Your first preference might be to have visitation the day or evening before the funeral. But, if you're willing, consider having the visitation for two hours before the funeral; there should be a lower charge for that. You can save even further by not having a formally set time for visiting hours. Simply plan to let people arrive at the funeral home an hour before the funeral. Many people will come early anyway, and others will come beforehand to pay their respects even if they can't stay for the funeral itself.
Skip embalming. If you want to give people the opportunity to see the deceased, you may be able to do that without embalming. Some states will allow public viewing of the body without it being embalmed if the body has been kept in a cool or refrigerated environment prior to the viewing or service. This will eliminate the cost of embalming.
If, however, you live in a state that requires embalming for a public viewing, you have another choice. It involves the "public" part of that sentence. If you would like to avoid paying for embalming, you can opt to have a private visitation period for family members only. Because this visitation is not "public," embalming is not required. There may or may not be a charge for a small family visitation, but many funeral homes won't charge for it because they require that at least one person see the person simply for identification purposes. Keep in mind: If you're in a state that requires embalming for public viewing, and you opt to skip embalming, you'll be required to keep the casket closed during the service.
Save Money on Disposition
Limit attendance at the burial or cremation. Whether you opt to have your loved one buried or cremated, you can sometimes reduce the cost of the funeral by limiting attendance at graveside or at the crematorium. Some families choose to have the burial or cremation first and then have a larger service afterward at a church, which may or may not charge.
Opting for cremation versus burial. Choosing cremation or burial is a deeply personal decision, one you're not likely to make based on cost. However, it may help to know that cremation is usually a little less costly. This is because there is no charge for the burial of a casket. There is a charge for the actual cremation process. Some families opt to have the cremated body buried; the cemetery charge to bury "ashes" is lower than it is for a body in a casket. If the ashes are not buried, a family member can either scatter the cremated remains without cost (as long as there's no fine for doing it in an illegal location) or keep them at home.
Save Money on Funeral Merchandise
Opt for a less expensive casket. There are a couple of ways to keep costs low in selecting a casket. If you have a preference for wood or metal, there are low-cost options in either of these materials. There are also low-cost options for caskets made from fiberboard or even heavy-duty cardboard. (They don't look like cardboard but are covered with what resembles contact paper, so they look like wood.) Another style is referred to as a "cloth-covered" casket. Yet another choice is a "cremation" casket, made to be used for cremation and usually lower in price. This is because its design is a little simpler and includes no metal. Many of these can be used for burial as well as for cremation.
Opt for a plain vault. Many cemeteries now require a vault or outer burial container. It protects the grave from sinking in and also protects the casket from the heavy equipment that may be placed on a grave when digging surrounding graves. There are many options, with the least expensive being a plain concrete box. In some cemeteries a wooden box is permitted, but that is uncommon. If it's important to you to feel that the body is "protected," this may be the one area where you'll use more of your budget. You can either choose a casket with a seal and save on a vault that does not, or choose a casket that does not but a vault that does. If you choose the latter, the vault with a seal will also have a water-resistant lining.
Choose an urn made of man-made material. If the urn is going to buried, the least expensive urns are typically those made from a man-made material resembling marble or granite. These can also save money if burial is in a cemetery that requires an urn vault, because this substance is durable enough that it can serve as both urn and vault. The best way to save money on an urn is to provide your own. It may be something as simple as a plain or decorative box that you purchase or one you already have at home. This is especially meaningful if the container has personal significance and will not be buried.
Save Money by Planning Before Death Occurs
Many funeral homes offer price guarantees to people who plan ahead of time and prepay. The accrued interest takes care of price increases, and many funeral homes will guarantee that they will not charge more than the principal and interest. Be sure to ask about this regardless of the type of services you desire -- and know that if you do opt for a pre-paid funeral, most states have specific laws that regulate the arrangements. Another preplanning idea is to purchase graves or mausoleum spaces now, as these prices, like most everything, will only go up.
Funeral Resources
Funeralresources.com offers free quotes based on your needs.
FuneralGuide.co.uk offer insights on funeral planning and costs.