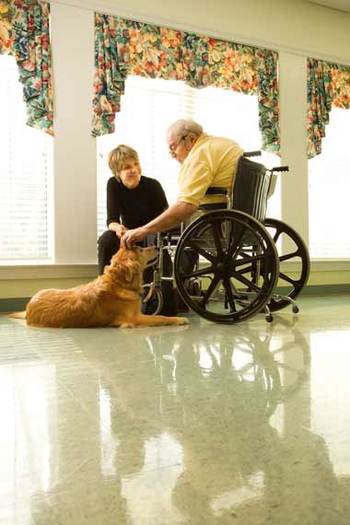 All Rights Reserved
I started my eldercare journey when I went into nursing and assisted living homes to perform and sing. You've heard of performers being upstaged by kids. For me it's usually dogs.
Many times during my shows, the local pet therapy lady would come in with her dog and show her off to the residents. Guess what happened to my performances!
Oh, well. I've adjusted.
If you're a caregiver for Mom or Dad and they've had pets during their lives, you probably know how they light up when they see one.
Now, more progressive assisted living communities are allowing residents to bring their pets with them. But to do that, you need some infrastructure. Pet-friendly assisted living must ensure proper care for the pet if the senior is not capable.
Silverado Senior Living is one such place. Loren Shook, Silverado's president, CEO, and cofounder, has written about why animals are an important part of Silverado's communities. As a young man, Shook witnessed how the presence of a gentle horse brought one woman out of a catatonic state and ultimately helped her start walking and speaking again. Since then he has believed in the positive power and influence animals can have on people with a variety of disabilities. As a result, assisted living communities in the Silverado network not only have dogs, cats, and fish on site but also miniature horses, llamas, chinchillas, and even baby kangaroos.
So if pets are important to you or a loved one, you may add criteria to your assisted living search that speaks to being pet friendly. Here are five reasons why a pet is good to bring along.
1. Pets are good for seniors' health.
A review in the American Journal of Critical Care reported that pets provide benefits including lowered blood pressure, less pain, more happiness, and motivation to get better. Studies have shown that heart rate and stress levels immediately drop when pets come into the picture. Over the long term, humans who interact with pets can experience lower cholesterol levels, better ability to fight depression, and possibly even increased protection against heart disease and stroke.
2. Pets provide purpose.
You may have read my Caring.com story on creating a meaningful life. Having purpose is the first point I make. Caring for a pet creates purpose for residents and also instills self-confidence. Grooming, feeding, and walking pets make the pets happy. But guess what? It makes you happy, too.
3. Pets benefit the entire assisted living community.
Pets are not only beneficial to their owners; they have positive effects on other residents at assisted living communities. New residents and withdrawn residents can be coaxed out of their shyness by another resident's pet.
4. Pets can decrease sundown syndrome.
Sundown syndrome -- evening periods of increased agitation and confusion in some people with Alzheimer's -- can be helped by an animal's nonverbal communication. The unconditional acceptance of a pet can be soothing for those with difficulty using language.
5. Pets improve life holistically.
Staff at the San Diego Humane Society's Pet-Assisted Therapy Program have noticed how even the most profoundly affected patients have displayed improved appetite, more social interaction, and tactile and cognitive stimulation after interactions with pets.
Says Judith Eisenberg, Pet-Assisted Therapy coordinator for the San Diego Humane Society, "What an animal can give and teach is a powerful source of healing and personal connection."
For those working in the industry, consider your pet policy's effect on resident life and understand that the experience of care is the marketing for your organization. If pets make it better, well. . . .
For those contemplating a move to assisted living, consider that you don't necessarily have to abandon your pet(s) to do so.
And for caregivers, add "pet friendly" to your criteria for helping a loved one choose an assisted living community. Remember that a familiar and beloved animal friend may help your loved one adjust to a new home and a new lifestyle.